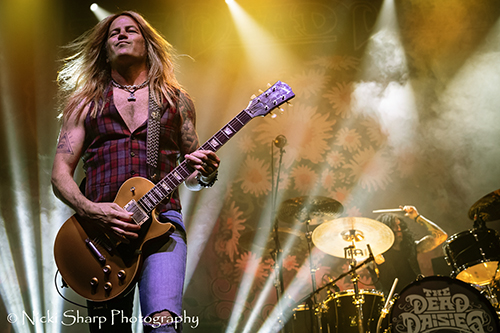 The much anticipated UK tour of supergroup The Dead Daisies finally kicked off this evening in the birthplace of Heavy Metal and the historic ornate surroundings of the Birmingham O2 Institute,
Founded in 2013 by accomplished rhythm guitarist and, stand aside Bruce Dickinson, jet fighter pilot, David Lowy, they are a musical collective with an extremely distinguished alumni of past members from across the Rock and Metal genres. Like a real life Nick Fury, Lowy has assembled a squad of super rock artists who are masters of their instruments and fabulous performers.
Whilst lead guitarist Doug Aldrich did manage to squeeze in a low key acoustic tour of the UK pubs and clubs, we saw them at Birmingham's Castle and Falcon, in 2019, the pandemic put paid to the last planned Daisies tour.
Fortunately, this year's release of the critically acclaimed fifth album 'Holy Ground', alongside plenty of airplay from Planet Rock Radio has raised anticipation levels for this tour to a new high.
On this 'Like No Other' tour, Lowy is joined by one of the nicest guys in the music industry, lead guitarist Doug Aldrich (Whitesnake/Dio/Burning Rain), drummer Tommy Clufetos (Sabbath/Ozzy) and new Hall of Rock inductee and the 'Voice of Rock' Glenn Hughes (Purple/Sabbath) who has returned tonight to his early stomping grounds of Birmingham.
Supporting them on this leg of the tour are perennial rock favourites The Quireboys. Although lead singer Spike did his best to keep us entertained over lockdown with his acoustic live streams, his audience of farmyard chickens never seemed as excited as the crowd gathered this evening to hear the electrified Quireboys perform some of their 90's classics. Spike doesn't seem to have aged at all, giving a high energy performance with plenty of signature gyrating and mic-stand twirling.
Thanks to the early curfew of 10pm (which bemused some of the regular gig going audience members from pre-pandemic times) The Quireboys were able to kick off proceedings with '7 O'clock' on the stroke of 7 o'clock and from the first notes it was clear that this band have only improved with age. Over 30 years have passed since the release of 'A Bit of What You Fancy' but tracks such as Hey You, Long Time Coming and There She Goes still sound fresh and go down well with the enthusiastic audience, hungry for the return of live music.
After a quick set change, and with an amazing light show to introduce them, the Daisies hit the stage with the driving sounds of Unspoken, from 'Holy Ground'. Glenn Hughes proves that age is irrelevant as he hits those high notes with his powerful voice and natural groove.
Whilst this tour could have easily been a promotion for the Holy Ground album, it is clear that with the choice of the second track.
"Rise Up" from the 2018 "Burn It Down", this gig is going to be all about sharing our mutual love of great music with friends.
At every opportunity Glenn reiterates how happy he is to be home and performing to a UK crowd. Whilst his adopted home of Florida is preferred for its climate, we are left in no doubt that his pleasure is sincere, as a Black Country accent creeps into the audience banter over the evening.
This band is clearly over the moon to be performing together, with Doug and Glenn trading licks like the long term friends they are. Aldrich's fluid solo guitar work was never less than superb, and Tommy Clufetos' drum solo was a thunderous and joyful interlude, and certainly not just an opportunity for the audience to sneak off to the bar. David Lowy's solid rhythm guitar work is in evidence as he and Doug continually trade sides of the stage, much to the audience's delight.
Alongside the Daisies' original material we do get some covers that this audience are eagerly anticipating. A sing-along to Midnight Moses (Alex Harvey Band) at the mid point keeps the energy levels high and the final track of the night, Burn, brings the house down, before the lights go up on the first, and sell out, night of this UK tour.
Tonight's audience were buzzing from the first note to the last, with an abundance of joyful energy. Sadly, there would be no meet and greets with fans this year due to the risk of catching Covid and the band being unable to return home for Christmas. A real pity for such a friendly and fancentric band, although Doug still passes his guitar out into the audience at the end of each set to show again how the band and their audience are one big happy family. We love the Daises and it is clear they love us!
Images: Nicki Sharp
Review: Nic Smith & Nicki Sharp