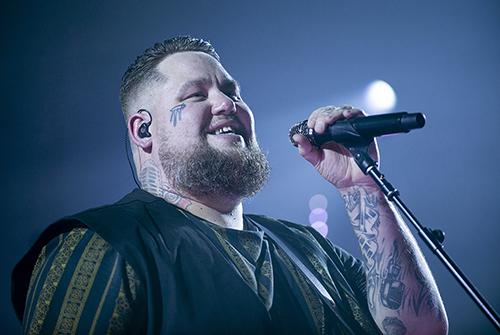 Rory Charles Graham, better known to most people as "Rag'N'Bone Man" dropped into Liverpool's Mountford Hall as part of his 2021 "Life By Misadventure" tour on Thursday 4th November 2021. Warren Millar was there to catch the action.
Theirs a cold chill in the air around the musical city of Liverpool tonight as we park up in Hope street right next to the Anglican Cathedral and walk down towards our venue for the night, Liverpool Guild of Students "Mounford Hall". We also walk passed Liverpool's other Cathedral officially known as the Metropolitan Cathedral of Christ the King and locally nicknamed "Paddy's Wigwam" with it's impressive round stained glass window Designed by John Piper a great sight and almost right opposite the venue.
The Chill was soon to be gone though as we looked forward to the music to come. First up as support was singer songwriter "Max White" who had a great way for us to remember his name "Just think of Colgate Max White Toothpaste" he told us at the beginning of his set (It worked too for me at least) A nice chilled out set with Max both playing guitar and keyboards.
Second support came from another solo singer songwriter "Emily Burns" who seemed genuinely pleased to be on stage with an ever growing crowd who seemed to enjoy her performance which again was a lovely chilled out solo effort and well worth catching.
It was time for the "Big Man" himself to take to the stage, which he did at exactly 9pm on the dot. Rag'N'Bone Man  is a formidable presence, a man mountain who looks every inch a man not to be messed with. Regaled with his many tattoos and gold tooth he has the looks of a "Hard Man". This could not be farther from the truth as he speaks in between songs in a soft, friendly way explaining to his fans that when this tour was in the planning stage Liverpool was one place he just had to visit and he was so pleased it was included. This of course made his fans love him that little bit more.
It was quite a small band consisting of Drummer, Keyboard player, Guitarist, Bass Player and two brilliant backing singers but the music they generated between them was just perfect.
Highlights of the set was the award winning song "Human" which of course was sang along with by everyone in the venue.
For his final song "Rag'N'Bone Man" of course had to perform his 2019 collaboration with Calvin Harris "Giant" and his fans loved it singing every word with a passion you very rarely see.
Then it was all over and it was back out to the chilly Liverpool City Centre feeling a little warmer because of the warmth "Rag'N'Bone Man" had shared with us all on a top night of great music.
Set List
All You Ever Wanted
Fall In Love Again
Skin
Time Will Only Tell
Somewhere Along The Way
Old Habits
Alone
Changing Of The Guard
Perfume
Grace
Anywhere Away From Here
Talking To Myself
Crossfire
Be The Man
Party's Over
Human
Encore
Hell Yeah
Giant
Words & Images: Warren Millar