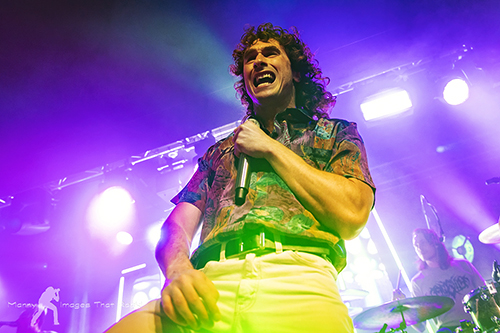 The night started with a quick run to Mansfield to collect my son, then off to Rock City to catch a band I'd never heard of let alone seen before. My boy had told me all about them and he was as keen, as I'd ever seen him, about a band. He had made a playlist from last night's show setlist to listen to in the car, I think he was trying to help his outdated dad, so I familiarise myself with what to expect as best I can.
We get parked up, but as we drove in, the queue for tonight's gig has gone right the way up Talbot street, I'd not seen it as long or as well organised. However, by the time we'd parked and make it to the venue, the queue had dropped to about 20 or so. Hats off to the Rock City door for clearing the street so quickly.
We go to my favourite corner and get my cameras sorted. I'd got the beers in while Jnr paid a visit, and now we are set. I forgot that in my little space there is an AC outlet and it's not long before its chilling to the bone, great later in the gig but maybe not just yet.
Kid Brunswick is up first, I think there's only a singer doing his thing to a programmed set, as the lighting is such you can just make the stage out. Energetic and popular he grinds his set out through strong blue neon light, with the occasional break in light giving the only chance for a shot worth keeping. A visit to the barrier gives another chance. The crowd are enjoying this young man as the cheers, horns and smiles prove. With a lot of the set done facing away from the crowd he manages to fly around the crowded stage, head held high in the air one minute then wildly plunging it forward trying to nut the stage as he gives it large the next. A short, banging set maybe, but it has warmed the already large crowd for the next 'act'.
Setlist: Prescription Kid: Stained: 4am: Nevermine: When You Were Young: Dear Anonymous: Bipolar Rhapsody.
Noisy follow KB and this time we have a bit more of a presence on the stage in that we can see more than just the singer, Cody, who is fully in control as he stalks the stage delivering his style of singing/rap. Flanked by guitar wielding Connor and Spencer behind what looks like flight cases full of intrigue, they program and play along, acting up to the video camera that is everywhere, recording their antics. A crashing thumping beat has Rock City shaking in its boots as a mosh pit opens up and topless guys are raging around. The set, again brief but consists of 'So What', Young Dumb', 'Rock 'n' Roll Raver' and set finisher 'All of You', all seemingly well known to the crowd. With lighting to make us photographers cry it's a struggle to get anything worthy, however try we must, and we get rewarded with some great antics. Another band I'd not heard of before but its very apparent that they know their audience and a large number were in to support them. A great set.
Setlist: So What: I Wish I Was A…: Young Dumb: Bring The Drums Back: Rock 'n' Roll Raver: Put A Record On: All Of You.
Don Broco apparently needs no introduction, this became apparent when they eventually hit the stage when Rock City erupted, like the Cumbre Vieja volcanic eruption on Las Palmas. A sea of hands bouncing frantically as the band were straight into that crowd favourite 'Manchester Super Reds Number 1 fan', this has fast become a staple in the set along with 'Technology' and 'Pretty'. Again, we are treated to a host of different lights as the band deliver a well-rehearsed live show. Singer, Rob Damiani is alive, like the proverbial Duracell bunny, dressed in white jeans and a colourful shirt, he races around the stage delivering his vocals, often unheard as the entirety of Rock City singing back drowns him out!
With a bouncing heavy beat, the sound is very familiar, and lots of the obligatory head thrown at the stage moments, the rhythmical beat of the pre programmed track and heavy kick drum have Rock City is throbbing along. You can feel it pulsating as if alive. As crowd surfers start to flow over the barrier its clear the security have a busy night ahead.
A circle pit is created to which Rob encourages that it should be bigger so you can go faster.
Bouncing and banging the crowd sing along as they race around. The atmosphere is upbeat, no intensity here, just good fun and enjoyment, to be honest that was the oddest thing of the night. With the previous support bands, I expected a lot more angst and attitude, it was lacking and better for it, making it all the more enjoyable.
'Action' see's Cody from Noisy and Kid Brunswick back on stage as they stomp their way through the tune. Rob is racing from side to side encouraging the crowd as together the whole room sing along. Stopping to chat to the crowd he mentions his lock-down hair and about getting it cut, the crowd go nuts, the girls especially, he puts it to the vote, needless to say its being grown.
The banging beats continue, along with lights and lasers. The security are lifting guys over the barrier as they continue to sail over the crowd held aloft by fans grinning as they do so.
'Bruce Willis', apparently a new song, has a bit of crowd participation and the usual right side versus left. Rob gets the crowd to shout out that famous BW quote 'Yippee Ki Aye Mother F*@kers' this fun moment goes on until he's happy with the volume and then it's on with the song, pointing to each side in turn to chant the rehearsed quote out, genius. This is the set closer and the band just walk off.
A brief round of crowd chanting, my son points out that it's the intro to 'Everybody' and the band are back on smashing out that very name tune. Looking around the sweaty venue, guys have tops off, women are sat astride the shoulders of their partners, arm's waving, and all are singing along word for word.
T-Shirts are now off and held high, a bit of a 'Skindred' moment coming up. Again, I'm enlightened that this is the 'T-Shirt Song'. Written after a night that Rob wasn't feeling his best after a show. He went to a club in a mood to find that inside everyone was having fun, tee-shirts were off and life was good, the song is a tribute to that night and that feeling.
A solid song with a good back story to finish the night off.
And then its quiet! A superb night being introduced to not one but three bands. Although some of them might not be my personal cup of tea, selling out 2 nights at Rock City prove that it is definitely others. A big round of applause has to go to the guys who carried the poorly lady out of the crowd to be dealt with efficiently by the Rock City staff. An action noticed and remarked on by Rob Damiani.
The familiar sound I was hearing now and again was Starset, commendable indeed. In fact, I think Don Broco are better than a lot that has come across to this side of the pond. They have come to Rock City to promote their new fourth album 'Amazing Things', amazingly they have a new fan in myself, I can't say fairer than that, a great night!
Setlist: Manchester Super Reds Number 1 Fan: Technology: Pretty: Gumshield: Greatness: Automatic: Uber: Come Out to L.A.: Action: One True Prince: You Wanna Know: Endorphins: Nerve (acoustic): Bruce Willis
Encore: Everybody: T Shirt Song.
Words & Images: Manny Manson