We're in the KK's Steelmill boxroom tonight, well, not quite a boxroom but the smaller side room away from the main area. Audience tonight was only expected to be around 100 people so quite an intimate gig in prospect.
The show kicks off with local band, The Soul Revival who have had to pretty much assemble a brand new setlist for tonight's show following a little bit of band politics from an ex-band member.
The band name is a bit deceptive, and if watchers were expecting soul they were very much going to be disappointed. This was a decent set of good old-fashioned rock.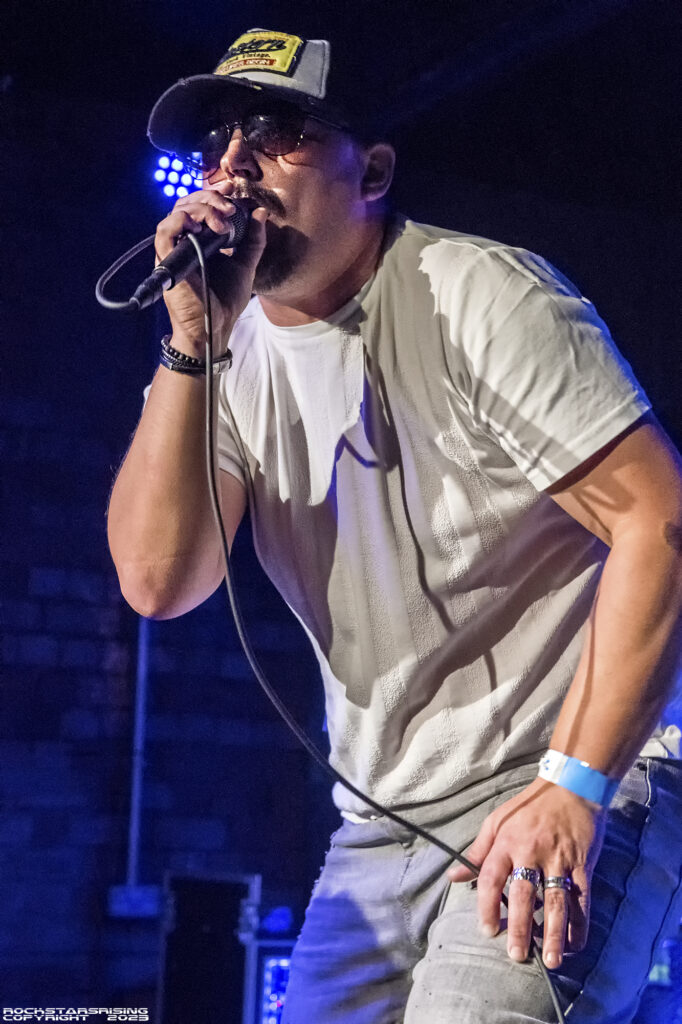 The, at times, gravelly vocals coupled with some stringent guitar playing, particularly from the band's newcomer, Andy, means that the 6-song set is over in a flash and that flash culminating with the new single, Won't Bring Me Down.
I hope I can look forward to seeing these lads on a bigger stage, they seem to have the character to take that on.
Headline band, Starbenders, were a different box of frogs altogether! Imaging a late 60's-early 70's psychedelic rock band crossed with an 80's pop-punk band crossed with a 90's backstreet glam-rock band and you have Starbenders!
The band comprises frontwoman Kimi Shelter on vocals and guitar, ably assisted by Kriss Tokaji (guitar), Aaron Lecesne (bass) and Emily Moon (drums).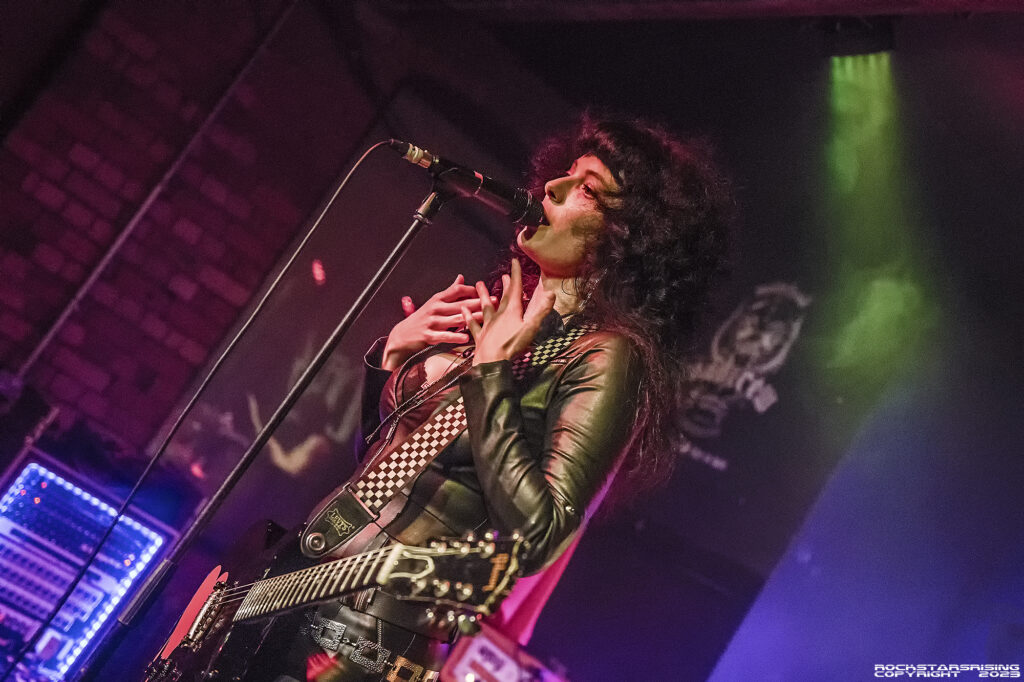 They put the boot in right away with Blood Moon, one of several songs taken from their new album, Take Back the Night, released just last month. This is a hard rock opener with some heavy riffs and distinctive vocals by Kimi Shelter. The band move on rapidly to what I thought was going to be London Calling by the Clash from the opening bars – but, no, this was Holy Mother. The variety of styles displayed by the band is quite remarkable, it's almost impossible to pigeon-hole them into a single genre or style. Bitches be Witches came next and, vocal timbe aside, this was very much in the Marilyn Manson mold. The band bounce along with Cover Me followed by one of the more 'musical' songs of the night, Seven White Horses. Keeping with the musical interlude, Push came next followed by Body Talk with its distinctly heavy metal opening bars.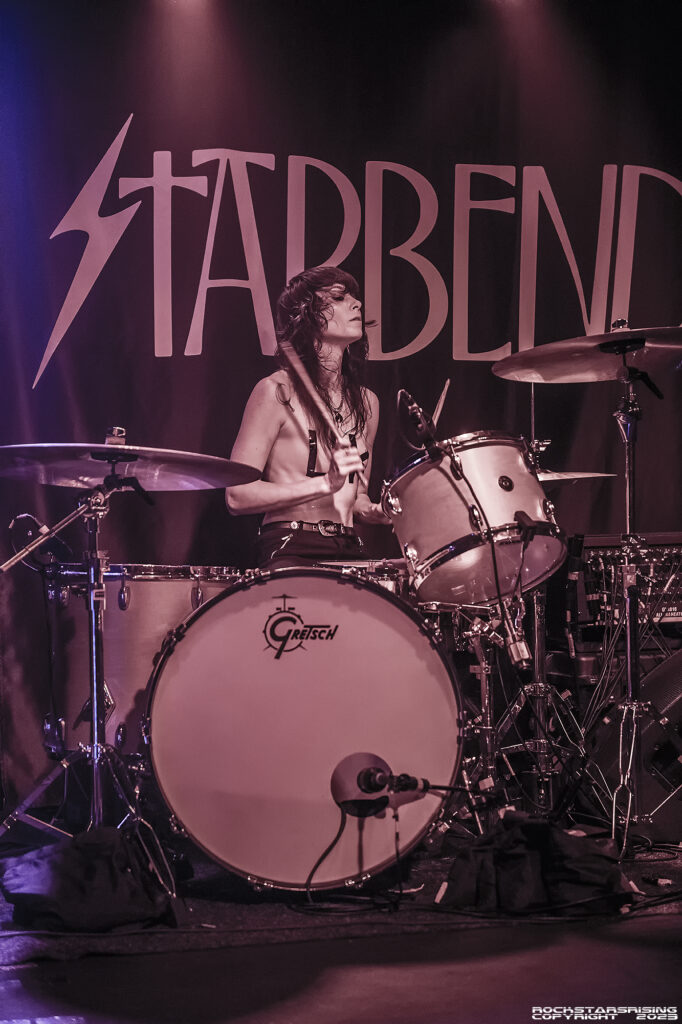 As we get towards the end of the night there was Sex on stage (oo-er vicar), with Kriss Tokaji sharing the vocals. This was a slice of electronica and was more punk than out-and-out rock. The set finally closed with the bouncy If You Need It which started quite tamely but as the minute mark was reached it then opened up into another hard rocking tune.
Kimi Shelter's voice has tones of singers like Queen Adreena and fits just about all of the styles adopted by the band. In addition, none of the band, apart from Emily on drums, stood still for more than a couple of seconds so this was a high energy set. It will be interesting to see where the band go from here, I suspect the 100 or so fans at KK's Steelmill tonight may have seen a band that could rise quickly given the opportunity.
Setlist:
Blood Moon
Holy Mother
Bitches be Witches
Cover Me
Seven White Horses
Push
Body Talk
Marianne
Instrumental (Dark Spell)
The Game
Sex
Kriss sprays it all over!
If You Need It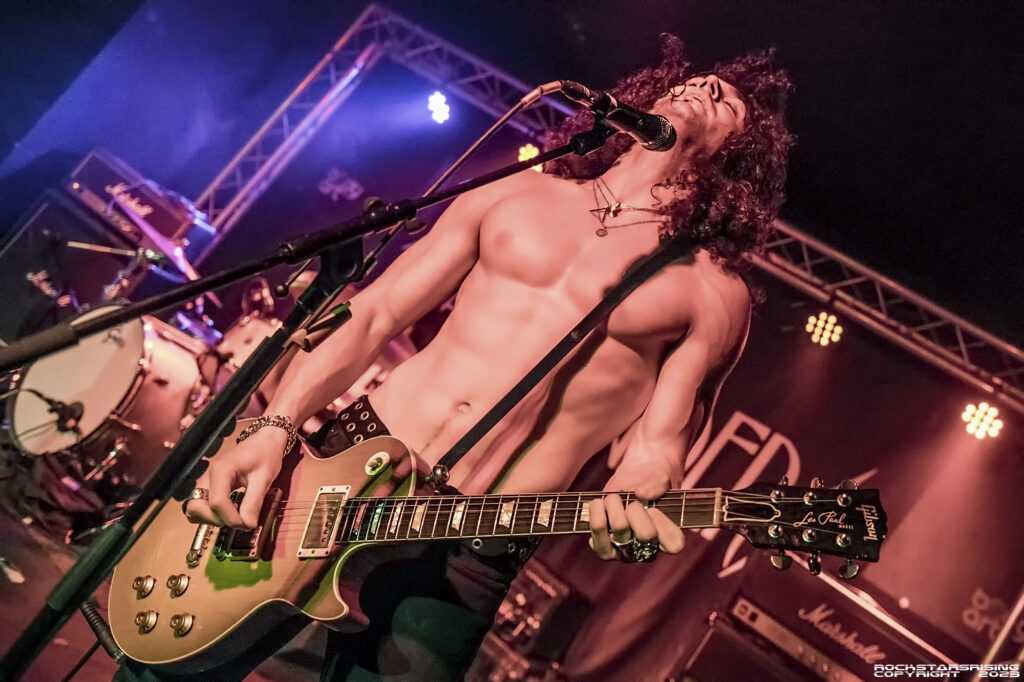 Images & words: Reg Richardson (RockStarsRising)