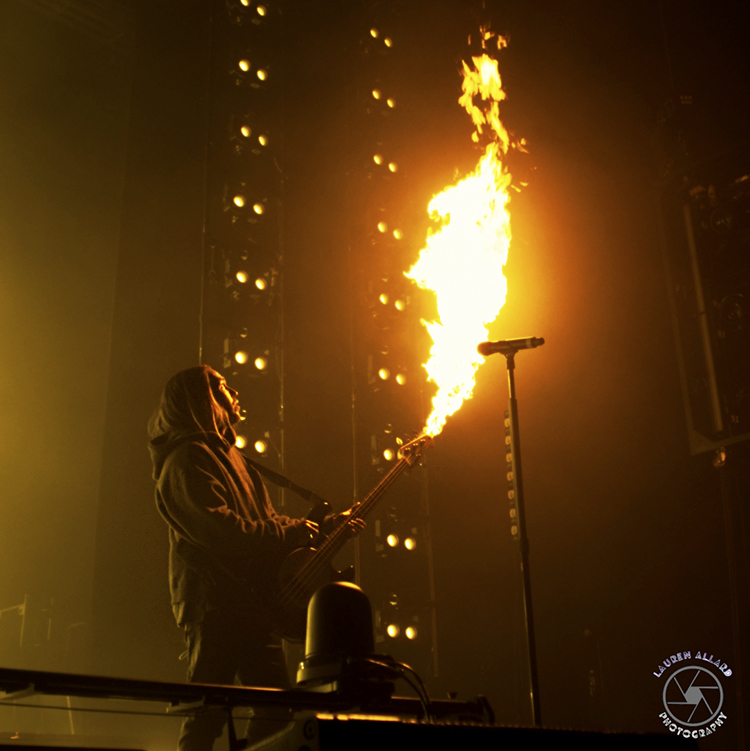 It's a Friday night in Leeds, at the First Direct Arena and there are two massive queues outside of the arena that travel around the entirety of the building, all Fall Out Boy fans ready for the new tour to promote the band's latest album So Much (For) Stardust. Before I jump right into the review, this was like Fall Out Boy's version of the Era's tour, we went back and forth between every single Fall Out Boy era with this set and it was incredible, the best setlist I have seen all year without a doubt hands down.
With two support acts, the first Nothing Nowhere is up first, now if you're not aware this isn't a band. Joseph Mulherin is an American singer and rapper, so already you know this is a very different vibe compared to Fall Out Boy. Mulherin and his friends kick off the show with incredibly high energy, these guys are giving the crowd rap-metal instantly, but then again a support act's job is to get the crowd amped up ready for the main act and to make sure the energy is alive for everyone in the room and they executed that job effortlessly.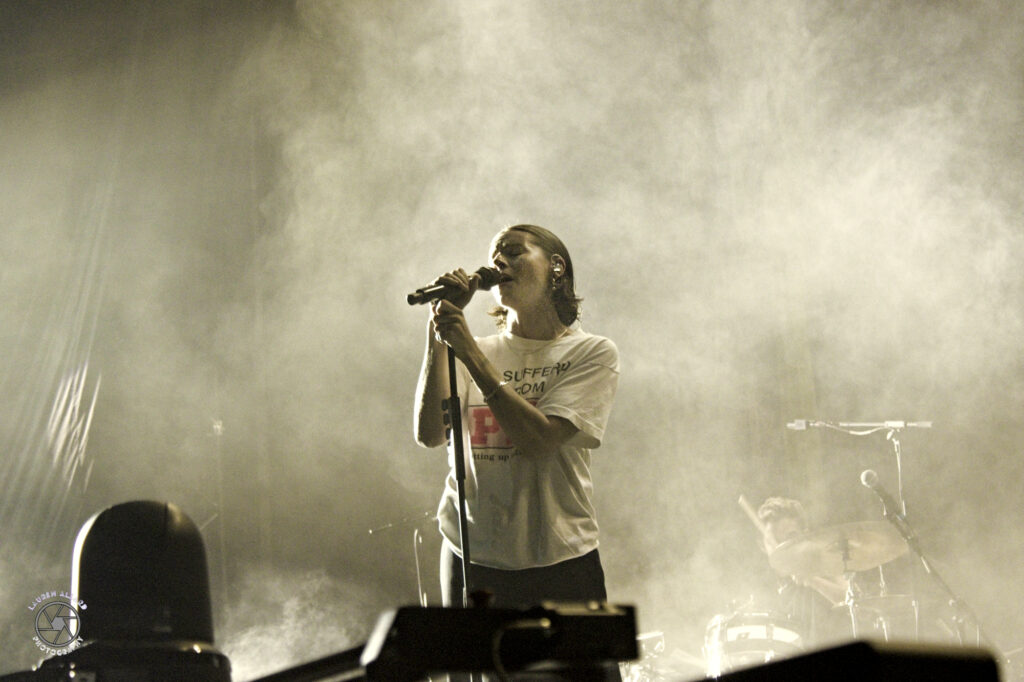 They did such an incredible set with every bit of passion thrown into this performance it brought me right in, the set might have shocked everyone else in the room who probably mostly stick to pop punk but I would be shocked if they didn't come away with some fans by the end of this tour. Mulherin runs from every section of the stage taking in the crowd around him, while demonstrating a mix of rough and soft vocals throughout. He's an act to see for sure and I beg you to check them out because even if you're not into anything that's heavy there's some songs from that set that would really bring you in.
Setlist
THIRST4VIOLENCE
PSYCHO_PSYCHIATRY
Nightmare
Fake friend
ANX13TY
Ornament
Pieces of You
One Step Closer (Linkin Park cover)
Hammer
Final support of the night and one I was immensely excited for was PVRIS (Pronounced Paris), a band I got massively into back in 2016 when they released their album White Noise. They're an American pop rock band from Massachusetts mostly composed of frontwoman Lynn Gunn and bassist Brian MacDonald. The band takes to the stage with just blue lights all round and you can feel that this performance is going to be much more toned down compared to Nothing Nowhere and that's exactly what it was, but PVRIS have never been known for being heavy but more in depth. In studio and live Lynn has this way of bringing you in with her voice and making you feel every single bit of emotion that she feels when she's performing these songs, some speaking of heartbreak and getting out of toxic situations.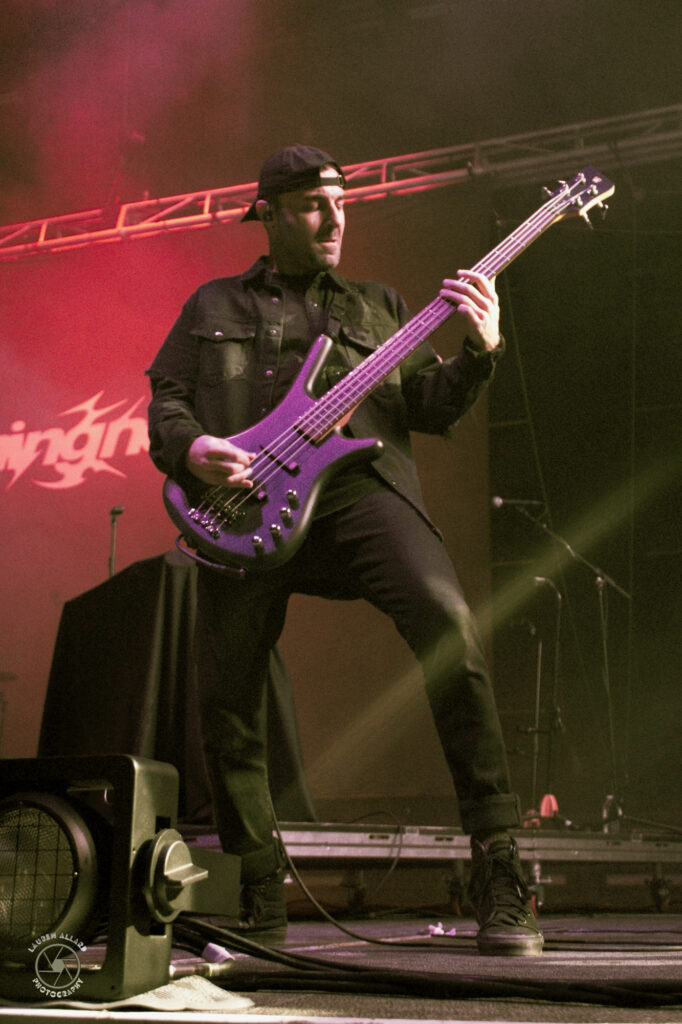 The key performance for me was hearing those tracks from their first album White Noise; Mirrorsand My Housesending me back to when I was a teenager and felt those emotions, screaming those lyrics back to them felt so refreshing and you leave a PVRIS set with a weight lifted and feeling so happy and free.
Setlist:
I DON'T WANNA DO THIS ANYMORE
ANIMAL
Dead Weight
Fire
HYPE ZOMBIES
SENTI-MENTAL
Monster
GOOD ENEMY
ANYWHERE BUT HERE
Mirrors
Hallucinations
My House
GODDESS
The stage is an empty bar with a drum set with red curtains behind, sending every fan back to 2006 with their album From Under The Cork Tree.
At 8:10pm The latest Billy Joel cover, We Didn't Start The Fire is played out to the crowd to really increase the suspense, before going into The Pink Seashell, the boys emerge onto the stage in simple clothing of Jeans and buttoned up t-shirts, or Pete Wentz sweating in a thick hoodie and Jeans. The first song is interrupted as they stop the show to a fan in the crowd who gets carried over by security in an emergency, before re-starting from the beginning.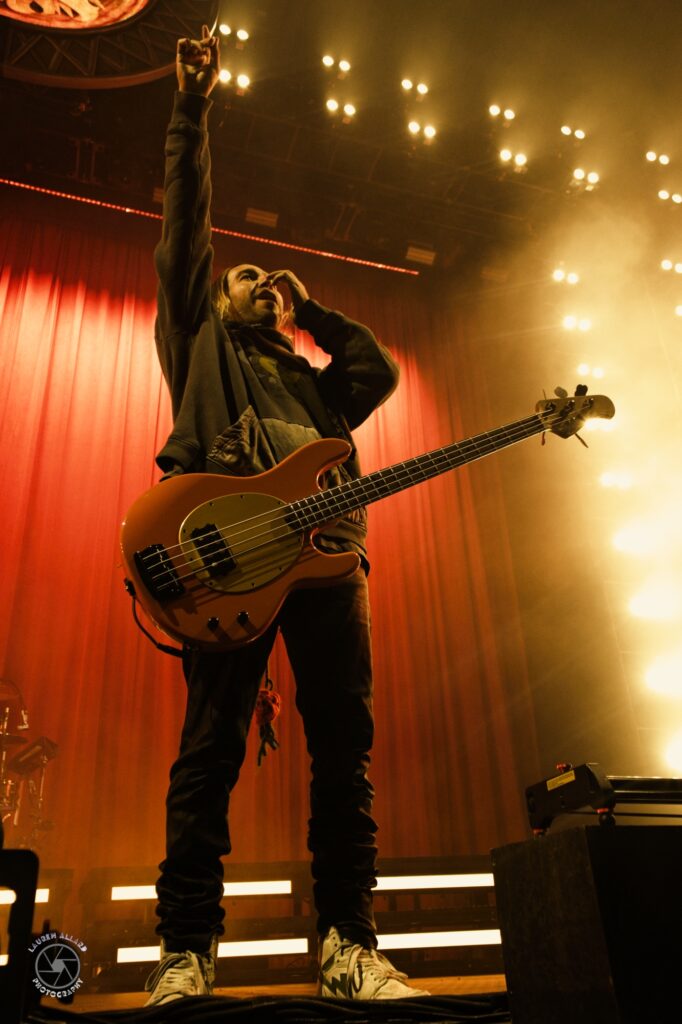 They jump into a song from the latest album, Love From the Other Side with a hell of a lot of energy and dramatic smoke emerging from both sides of the stage, Patrick's voice is known for being incredible in the studio and live and tonight he did not disappoint once! The crowd is amped up as the dramatic intro to The Pheonixstarts and the pyro appears, which fits in beautifully with the song. That seems to be the theme tonight, the stage performance and set changes to match the theme for each song and for the years they were released. Pete shocks everyone when he brandishes his toy for the evening, that being a flame thrower attached to his base, after being a fan of Pete Wentz for years I don't know if I trust him with this but it looks way too cool to even care.
We go straight into Sugar, We're Going Downand I'm back to mentally wearing a baggy hoodie with my badly cut fringe moved to the side with it covering one eye. We've gotten a sample of their older work already but it got even better as the night went on. This was followed by Uma Thurmanfrom their 2015 album American Beauty / American Psycho bringing the beat up even higher and everyone around me is dancing like no tomorrow, there was not a single moment during this entire show that everyone in the crowd wasn't screaming every single song lyric back to them. The set just gets even better, the stage changes and the stage lights go even lower so they're just over the band's heads, and they all get even closer together on stage. The entire set looks like a small venue stage like it was the early 2000s for the band once again as A Little Less Sixteen Candles, a Little More "Touch Me"kicks in shocking everyone in the room since this was from their 2006 album, but it got so much better when my personal favourite Chicago Is So Two Years AgoandGrand Theft Autumn/Where Is Your Boystarted from their 2003 album Take This to your Grave.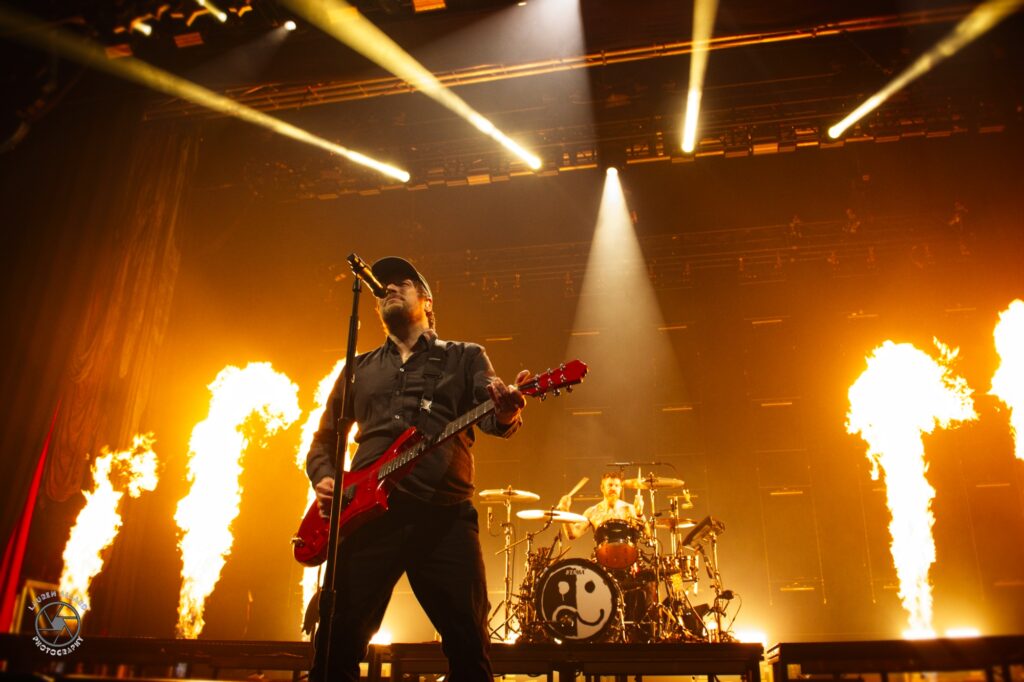 Pete Wentz keeps grabbing the crowd attention which is something that isn't new to the bassist, he's the member who wields the flamethrower bass, climbs inside the stage's giant animatronic dog head and pulls off a nifty trick that sees him disappear in the rafters. Patrick Stump had a brief moment on his own on stage as he mentions it's the part of the night where he's made to do something scary on stage which is being by himself, before taking place at the piano starting the intro to Save Rock N' Rollwhich is famously sung with Elton John. Stump's vocals have a kind of versatility that turns a decent rock band into one with its own distinct character and style.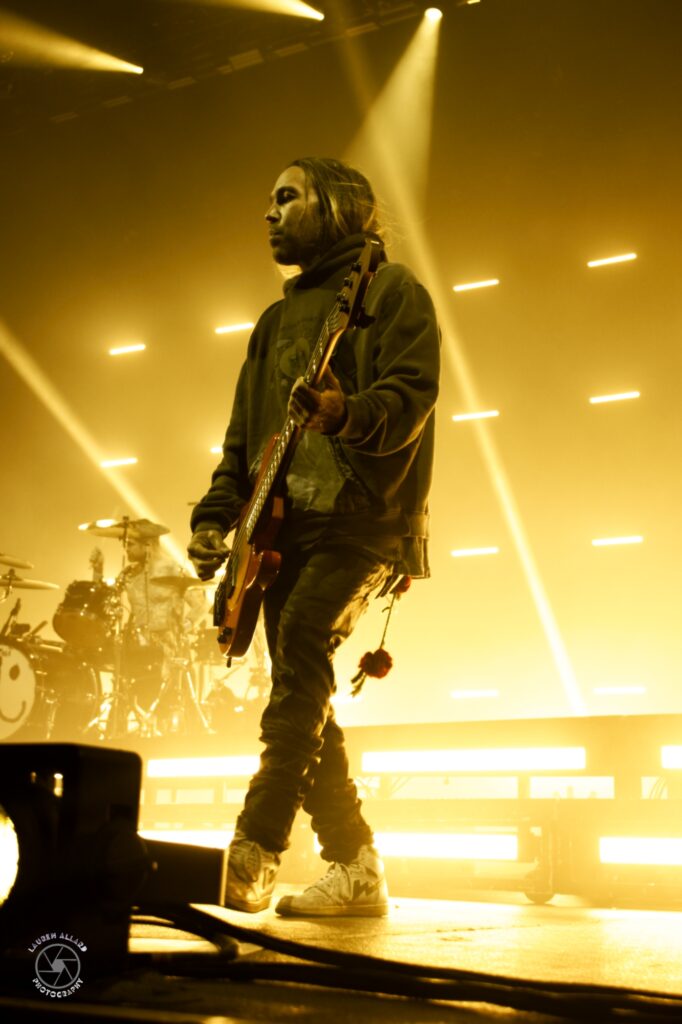 Fall Out Boy's performance in Leeds and on this tour is another level, the set list was beyond perfect and everything that a fan who practically grew up with them could ever ask for. Fall Out Boy have been announced as one of Download Festival's headliners for 2024, if you're attending the festival despite the controversy on if they're Download worthy, go and check out their set, there will be so many songs you didn't realise you knew and you will be thrown back to your emo teenage years in just one set.
10/10 – if i could give it a higher rating I would without a second's hesitation.
Setlist:
Love From The Other Side
The Phoenix
Sugar, We're Goin Down
Uma Thurman
A Little Less Sixteen Candles, a Little More "Touch Me"
Chicago Is So Two Years Ago
Grand Theft Autumn/Where Is Your Boy
Calm Before the Storm
This Ain't a Scene, It's an Arms Race
Disloyal Order of Water Buffaloes
Heaven, Iowa
Band the Doldrums
Headfirst Slide Into Cooperstown on a Bad Bet
Fake Out
I'm Like a Lawyer With the Way I'm Always Trying to Get You Off (Me & You)
Don't Stop Believin' (cover)
Save Rock and Roll
Baby Annihilation
Crazy Train (cover)
Dance, Dance
Hold Me Like a Grudge
Don't you Know Who I Think I Am?
My Songs Know What You Did in the Dark (Light Em Up)
Thks fr th Mmrs
Centuries
Saturday
Words: Lauren Allard & Jacob Robinson
Images: Lauren Allard