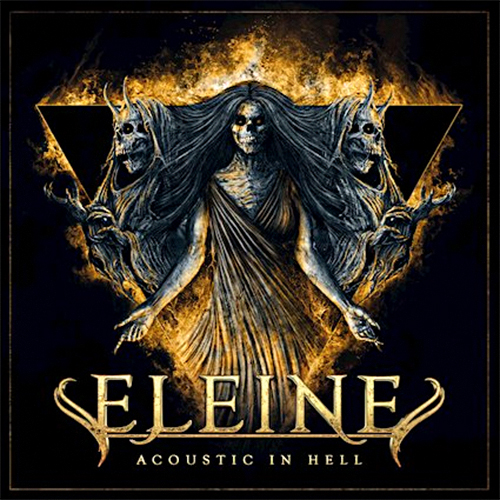 A good song is a good song. Enough with the banalities, you say? Why? There's actually a lot of truth to it! A good song has to work in whatever environment it is staged – be it full-blown oversized stadium rock or an intimate acoustic setting. Swedish dark symphonic metal high-flyers ELEINE have internalized this little piece of wisdom and have rooted it deep within their artistic integrity. There's no other way to explain their effortless shift between their bombastic side and the deeply spellbinding acoustic guise they present on their brand-new EP »Acoustic In Hell.«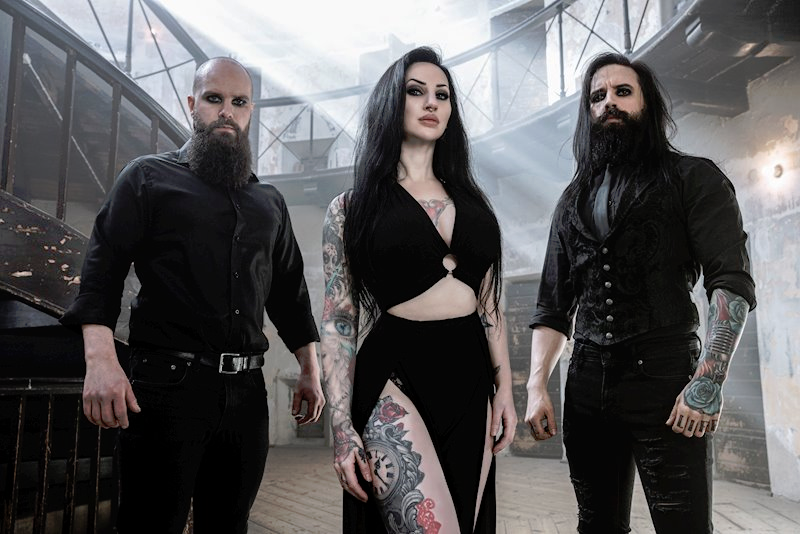 For the first time in their skyrocketing career, ELEINE unplug their gear to create a whole new musical experience – right in time for their anticipated acoustic tour with metal veterans SONATA ARCTICA. "We had never done acoustic versions of our music before, so approaching this challenge was something new to us," says Madeleine. "The main thing we had in mind for these versions was to keep the essence of our metal, to keep it authentic and raw. There is weight to our music, and it's important not to make it overproduced and cute when you get this opportunity," Rikard adds.
In stark contrast to your usual unplugged approach, ELEINE manage to retain a heavy sound and a visceral, feral aura befitting their splendorous songs. »Acoustic In Hell« sees the Swedish hopefuls take songs from their three lauded full-lengths — »Eleine« (2015), »Until The End« (2018) and 2020's genre favourite, »Dancing In Hell« — strip them down and extract their raw, dark essence. "It took a lot of re-arranging. We wanted to keep it raw and authentic but still give the acoustic versions their own identity," Rikard explains. "Yes, and as I always say to the guys: I have to feel it in my hips!" Madeleine laughs. "This applies to the acoustic versions even more." Indeed. Here are extraordinary acoustic versions unlike any you may have heard before.
From whipping opener 'Whisper My Child' to groovy, ominous finale 'Hell Moon,' ELEINE manage to capture an atmosphere somewhere between dark bards sitting round a campfire, an uncanny ritual and the feverish melancholy of Portuguese fado. While songs like 'Memoriam' or 'Enemies' will be remembered as 'tough nuts to crack' for this project, other tracks like 'Ava Of Death' and 'All Shall Burn' came into their new clothes fairly easy.
Recorded within a week in January 2022 in their dear friend Thomas "Plec" Johansson's The Panic Room Studio in Skara, »Acoustic In Hell« gets elevated by a stellar performance courtesy of Madeleine Liljestam who recorded all her vocals in just under three hours. More than anything, this shows the determination and the sheer will power with which things are done in camp ELEINE. No wonder their fan base grew exponentially since releasing »Dancing In Hell.« "We are so grateful to all our fans," Madeleine concludes. "Without them nothing would be possible."ELEINE may have shed their distorted guitars, symphonic splendour and thundering drums on this one. Even more astonishing, however, is that they have managed to create an altogether new acoustic soundscape while still honouring their unique brand of dark symphonic metal thousands more will fall in love with over the course of the next few years. This star has only just begun to rise.
TRACK LISTING:
01. Whisper My Child
02. Enemies
03. Memoriam
04. Ava Of Death
05. All Shall Burn
06. Death Incarnate
07. Break Take Live
08. Hell Moon
Line-up:
Madeleine Liljestam | vocals
Rikard Ekberg | guitars, vocals
Jesper Sunnhagen | drums
Connect:
www.facebook.com/eleineofficial
www.instagram.com/eleineofficial
www.youtube.com/eleineofficialwww.twitter.com/eleineofficial
https://label.atomicfire-records.com/project/eleine