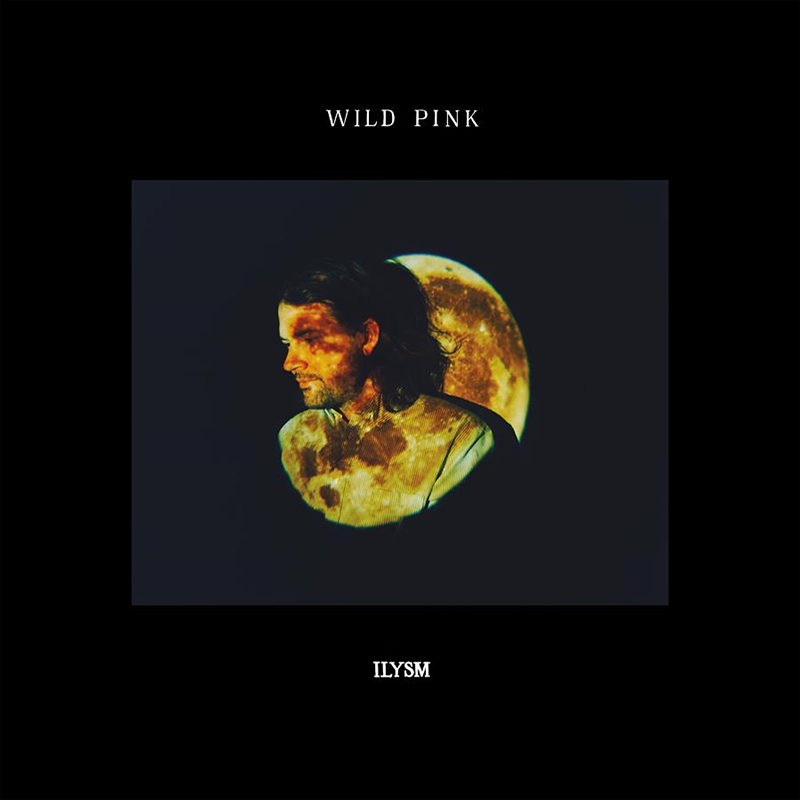 Today, Wild Pink are announcing their fourth full-length, ILYSM. Out October 14th on Royal Mountain Records, the album was co-produced by Ross with Justin Pizzoferrato (Pixies, Body/Head, Speedy Ortiz) and Peter Silberman of The Antlers, and finds Wild Pink joining forces with a thrilling lineup of guest musicians, including J Mascis, Julien Baker, Ryley Walker, Yasmin Williams and Samantha Crain. Over the course of 12 chameleonic tracks, the New York-bred rock band build another world inhabited by ghosts and angels and aliens, inciting a strange and lovely daze as the backdrop shifts from the mundane (subdivisions, highways, hotel parking lots) to the extraordinary (deserts, battlefields, the moon). But within its vast imagination lies a potent truth-telling on the part of singer/guitarist John Ross, whose lyrics closely examine his recent struggle with cancer. The follow-up to 2021's A Billion Little Lights—a critically acclaimed effort praised by the likes of Pitchfork, NPR, The New York Times, Billboard, MTV, New York Magazine, and Stereogum, who called it "one of the prettiest rock records of the past decade"—ILYSM emerges as a truly revelatory body of work, transforming the most painful reflection into moments of transcendence.

To mark the announce of the new LP, the band are sharing the album's title track "ILYSM".
LISTEN to "ILYSM" HERE

"This song, like a few others on this record, takes place where I live and the field next to it," Ross explains. "A full moon will light up all the rooms here in a way I've never really seen and I feel like this song wrote itself a little bit. This album is about love in its many forms and this song in particular is a metaphor for love and obsession"

The creator of the ILYSM visualizer, John Smith, who made the video using new Dall-E 2 AI system adds:
"These animations were created using machine learning, specifically with the new, much-buzzed about Dall-E-2 model. The imagery of the specific clips were directly inspired by different lyrical lines or references, then edited together to make an experimental animation – perhaps one of the first animations using this new model. Early in the pandemic I started a deep dive learning about how I could use and utilize machine learning in my creative practice, and I found that it can be a very exciting and expressive tool for image making."

As Ross reveals, ILYSM's feverish yet fragile intensity has much to do with the unmooring experience of being diagnosed with cancer early in the writing process. Now in the surveillance phase of recovery, Ross explains, "Even though I'd already started working on the record, everything took on new meaning after my diagnosis. I started writing songs that tried to make sense of the whole experience, including the love and support I felt from the people in my life—particularly my wife, which is where the title came from."
 
As the most experimental work to date from Wild Pink—whose lineup also includes bassist Arden Yonkers and drummer Dan Keegan—the album embodies a finespun yet mercurial sound embedded with so many unexpected details (e.g., the spirited gang vocals of its title track, the slippery grooves and unearthly narration of "Abducted at the Grief Retreat," Mascis's frenetic solo on "See You Better Now"). Mainly recorded at Sonelab in Easthampton, Massachusetts, ILYSM ultimately marks a bold departure from the lush orchestration of A Billion Little Lights, yet still bears an endlessly immersive quality. "I wanted to make a record with more organic elements than the last one," says Ross. "Playing live in the room together as a band was very important to me—I really leaned on them to bring their talents to the table, which they did."
 
An album informed by the odd poetry of everyday life, ILYSM opens on "Cahooting The Multiverse"—a gorgeously hazy track encapsulated by Ross as "a stream-of-consciousness tune inspired by watching the light come in through the sugar maples where I live, or taking a walk by the school and seeing this little mountain of cigarettes where the teachers sneak out to smoke behind the cedar trees." From there, Wild Pink drift into the quiet grandeur of "Hold My Hand" feat. Julien Baker, one of ILYSM's most profoundly vulnerable moments. "I wrote that song right after my first surgery, about lying on the operating table where a member of the surgical team held my hand right before I went under," says Ross. "It sounds kind of arbitrary, and like it shouldn't have been as impactful as it was, but I felt very comforted and wanted to capture that loving feeling in the song." Featuring the elegant piano work of David Moore (leader of the ambient ensemble Bing & Ruth), the result is a hypnotic piece of chamber-pop, brightened by Baker's warm and wistful vocals.
 
Graced with the dreamy pedal-steel tones of Mike "Slo-Mo" Brenner (Magnolia Electric Co., Badly Drawn Boy) and the syrupy clarinet of Jeremy Viner (Bing & Ruth), "War on Terror" presents a lonesome and sprawling portrait of wandering the beach at night, once again illuminating the gently jarring effect of Ross's lyrics ("Stay in the ocean because it's just me/And the big moon rowing across the sky/Time is always moving to the right/And measured in things like tumor markers"). "There's a running theme throughout this record of the moon being a constant companion, and I think that comes across in this song the most," notes Ross. And on "Sucking on the Birdshot," Wild Pink deliver one of ILYSM's most devastating tracks: a six-and-a-half-minute epic driven by crashing rhythms and gloriously careening riffs. "I was in Florida and saw a sandhill crane by the side of the road; its partner had been killed by a car, and the bird was mourning and screaming in pain—I've never heard anything like it," says Ross. "They're these very striking birds that look like dinosaurs, and I came to learn that they mate for life, which is unusual in the animal kingdom. I had that in mind when I wrote this song about a pure expression of love in the natural world, and how your own first love can feel huge in a similar way."
 
For Ross, the process of bringing ILYSM to life provided a certain sense of escape, even at its most daunting moments. ("I was actually back in another cancer surgery within a week of wrapping up the recording," he recalls. "It was pretty surreal to record this album knowing I had cancer in my lymph nodes—but since I couldn't have the surgery any sooner, I just stuck with my studio time.") And with the release of ILYSM, Wild Pink hope the album might supply others with their own outlet for solace and catharsis. "Writing about all this has helped me process my experience, or even just acknowledge that I still don't completely understand how I feel about it," says Ross. "It's been a very confusing, overwhelming time, and hopefully it'll offer some kind of comfort to anyone else who's feeling overwhelmed or confused too."

Wild Pink's ILYSM is out via Royal Mountain Records on October 14th. It is available for preorder here.
Tour Dates
10/12 – Boston, MA @ The Middle East (Upstairs) * 
10/13 – Portland, ME @ Sun Tiki Studios *
10/14 – Brooklyn, NY @ Brooklyn Made *
10/15 – Philadelphia, PA @ Johnny Brendas *
10/16 – Washington, DC @DC9*
10/17 – Pittsburgh, PA @ Spirit Hall*
10/18 – Toronto, ON @ The Drake* 
10/20 – Montreal, QC @ L'escogriffe* 
10/21 – Burlington, VT @ Foam Brewery*
11/8 – Amsterdam, NL @ Paradiso
11/9 – Brighton, UK @ The Hope & Ruin
11/10 – Bristol, UK @ The Exchange
11/11 – London, UK @ Pitchfork London
11/12 – Manchester, UK @ Yes Basement
11/13 – Glasgow, UK @ The Hug & Pint
11/14 – Dublin, IE @ The Workmans Cellar
11/16 – Paris, FR @ Supersonic 
11/17 – Luzern, CH @ Schuur
11/18 – Prague, CZ @ Cafe V Lese  
11/19 – Berlin, DE @ Marie Antoinette 
11/20 – Copenhagen, DK @ Rahuset 
11/21 – Hamburg, DE @ Aalhaus 
11/22 – Munster, DE @ Pension Schmidt  
11/25 – Kingston, NY @ Tubby's*  
11/26 – Syracuse, NY @ Funk N Waffles* 
11/27 – Detroit, MI @ Loving Touch*  
11/28 – Chicago, IL @ Sleeping Village*   
11/29 – Minneapolis, MN @ 7Th Street*  
12/1 – Denver, CO @ Globe Hall*  
12/2 – Salt Lake City, UT @ Kilby Court*  
12/3 – Boise, ID @ The Shredder*  
12/4 – Spokane, WA @ Lucky You Lounge*  
12/5 – Seattle, WA @ Barboza*  
12/7 – Portland, OR @ Mississippi Studios* 
12/9 – San Francisco, CA @ Bottom Of The Hill* 
12/10 – Los Angeles, CA @ The Airliner*  
12/11 – San Diego, CA @ Soda Bar*  
12/12 – Phoenix, AZ @ Valley Bar* 
12/14 – Austin, TX @ Mohawk*  
12/15 – Dallas, TX @ Three Links*  
12/17 – Nashville, TN @ The Basement* 
* w/ Trace Mountains 

Tracklist
1. Cahooting The Multiverse
2. Hold My Hand Feat. Julien Baker
3. Hell Is Cold
4. ILYSM
5. St. Beater Camry
6. Abducted At The Grief Retreat
7. War On Terror
8. Simple Glyphs
9. See You Better Now
10. Sucking On The Birdshot
11. The Grass Widow In The Glass Window
12. ICLYM
Facebook
Twitter
Instagram
Bandcamp
Website
Royal Mountain Records