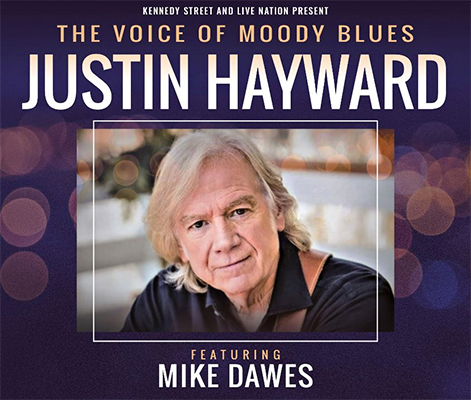 Live Nation / Kennedy Street are delighted to announce that legendary singer-songwriter Justin Hayward will undertake a UK tour entitled 'The Voice of Moody Blues Justin Hayward' in September 2022. The shows will go on general sale at 9am on Friday March 25th. Tickets available from ticketline.co.uk, ticketmaster.co.uk and the venues direct. Special guest Mike Dawes will perform an opening set, as well as play guitar in Hayward's band. Dawes is hailed as one of the world's finest and most creative modern fingerstyle guitarists. 
 
Justin Hayward said, "I'm so very pleased to be back on the road in the UK this September, with a set full of old songs and new, as well as the stories around them. With me will be the amazing, award winning guitarist Mike Dawes along with multi-instrumentalist and vocalist Julie Ragins -, a renowned recording artist in her own right – and Karmen Gould, the finest young flute player of her generation. We can't wait to bring our show home. 

Justin Hayward's career is now in its fifth decade. He is best known as the vocalist, lead guitarist and composer for the iconic Moody Blues, whose hits include the masterful 'Nights in White Satin', 'Tuesday Afternoon', 'Question', 'The Voice' plus other classic, era and genre-defining hits. These laid the foundation for the incredible success story of the Moody Blues – as well as Hayward's solo work –which continues to this day.  

Already established as a songwriter, he joined the Moody Blues in 1966. Hitting his stride immediately with "Fly Me High," he followed it with 'Nights in White Satin' and 'Tuesday Afternoon' from the seminal album Days of Future Past. The Moody Blues sold 70 million albums worldwide, which includes 18 platinum and gold LPs. They were inducted into the Rock and Roll Hall of Fame in 2018.  

Hayward created several solo albums such as Songwriter, Night Flight, Moving Mountains and The View From the Hill. He hit the Top Ten globally in 1978 with 'Forever Autumn' – created for Jeff Wayne's War of the Worlds album. Hayward took to the stage from 2005 – 2010, and starred in its spectacular live production – he returns for its arena tour of March / April 2022.

His Spirits Of The Western Sky (2013) was followed by DVD 'Spirits…Live', which reached No. 1 on the Billboard Video chart. 2016's All The Way followed – a compilation of solo work and live performances of Moody Blues classics — and 2020's digital EP One Summer Day/My Juliette.
 
These dates represent a rare chance for Justin's fans to connect with one of music's keenest talents and to hear the music that he loves presented with a truly personal touch. See also www.justinhayward.com.
Tickets are all priced at £40 except for London Union Chapel at £42