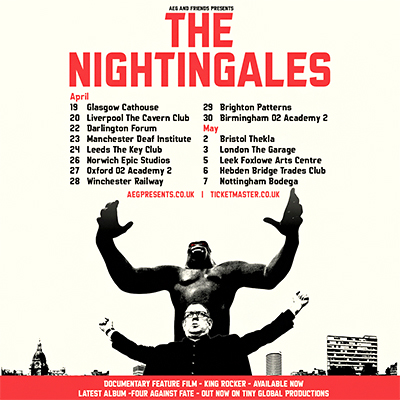 The Nightingales
UK tour from subjects of 'King Rocker' documentary starts 19 April!
The Nightingales – New Video / Single: 'I ❤️ CCTV (Anaglyph 3D)'

The Nightingales – New Video / Single: 'I ❤️ CCTV (Anaglyph 3D)'   AEG Presents announce that, following a much-postponed but largely sold out tour of 2021, The Nightingales will again tour the UK in Spring 2022.  Described by John Robb as "The misfits' misfits", The Nightingales are the subject of documentary feature film, "King Rocker" – written and presented by comedian Stewart Lee, directed by Michael Cumming ('Brass Eye', 'Toast Of London'). The reviews were amazing: "One of my all-time favourite rock-Docs" said Mark Kermode, "The new Gold standard for rockumentaries" agreed The Scotsman. This is a band that matters. Tickets on sale now from www.aegpresents.co.uk/events/detail/the-nightingales
 
Birmingham's original punk group The Prefects had been part of The Clash's 'White Riot Tour', recorded Peel sessions, released a 45 on Rough Trade and, years after splitting, had a retrospective released by Fire Records offshoot label Call Of The Void to glowing reviews.  The Nightingales was formed by a few members of The Prefects following that band's demise in 1979. Comprising an ever-fluctuating line up, based around lyricist/singer Robert Lloyd, they enjoyed cult status in the early 80's and were championed by John Peel, who said, "Their performances will serve to confirm their excellence when we are far enough distanced from the 1980's to look at the period rationally and other, infinitely better known, bands stand revealed as charlatans".
 
In the late Eighties the Nightingales stopped working but, following the occasional gig between times, they re-grouped in 2004, arriving at the current (and now long standing) line up, which features Lloyd, Andreas Schmid from Faust on bass, ex Violet Violet wonder drummer Fliss Kitson and on guitar James Smith, who Lloyd had spotted playing with Damo Suzuki. The latest album 'Four Against Fate' is out now on Tiny Global Productions.
 
The band's career-spanning soundtrack to 'King Rocker' will be released by Fire Records, alongside a bizarro 12″ remix EP 'The New Nonsense', and these will be followed by deluxe expanded versions of the band's 'Hysterics' and 'In The Good Old Country Way' albums, and a bookback DVD of 'King Rocker'. This activity is all capped off with the autumn release of their stunning new album, recorded in Spain, as well as a subsequent support tour and rescheduled shows in Europe and America.  

UK TOUR DATES SPRING 2022
April
Tue 19 – Glasgow, Cathouse 
Wed 20 – Liverpool, Cavern Club 
Fri 22 – Darlington, Forum
Sat 23 – Manchester, Deaf Institute
Sun 24 – Leeds, Key Club 
Tue 26 – Norwich, Epic Studios 
Wed 27 – Oxford, O2 Academy 2
Thu 28 – Winchester, Railway 
Fri 29 – Brighton, Patterns
Sat 30 – Birmingham, O2 Academy 2
May
Mon 2 – Bristol, Thekla 
Tue 3 – London, Garage
Thu 5 – Leek, Foxlowe Arts Centre
Fri 6 – Hebden Bridge, Trades Club
Sat 7 – Nottingham, Bodega

   

Music video featuring BBC broadcaster Samira Ahmed made for the feature documentary King Rocker released in 2021, exploring the mysterious existence of Robert Lloyd, Britain's ultimate post-punk survivor, and his bands The Prefects and The Nightingales.