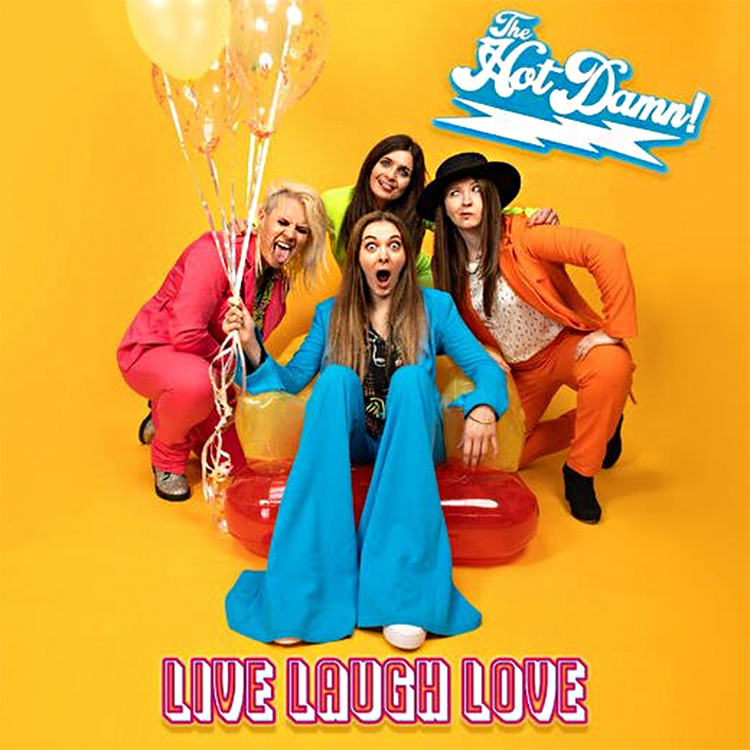 Artist: The Hot Damn!
Track: Live Love Laugh 
Genre: Rock, Pop Punk
For Fans Of: The Darkness, The Struts, Blink 182
Audio Release Date: 21 Sept (out NOW)
Pop-Rockers The Hot Damn! return with a sugar-infused power pop anthem 'Live Laugh Love', out now on all streaming platforms, as well as on physical CD via www.thehotdamn.com.
Hailed as the "colourful chaos" of rock, The Hot Damn! are a British four piece band armed with witty lyrics, punchy riffs and fierce harmonies that will have you dancing before you know it. Championed by BBC Introducing, Planet Rock, Kerrang!, and Classic Rock Magazine, the band are breathing tie dye colour back into the rock scene one song, video, and show at a time.
New single 'Live Laugh Love' is described by the band as "a giant dose of good time, cheesy rock, GUARANTEED to make to you smile… our proudest musical moment to date!". The track was recorded in Doncaster and mixed in Melbourne, Australia – and is accompanied by a sickly sweet video that was shot at a caravan park on the Costa del Morecambe (Lancashire).
WATCH THE VIDEO FOR LIVE LAUGH LOVE HERE
Speaking about the track, singer Gill Montgomery remarks:
"It's a parody of those motivational signs which were very popular in kitchens in the late naughties. There's a lot of doom and gloom in the news but we want spread a little cheer. Shake off the negative and just enjoy whatever it may be! Life! Love? New music! Positivity!"
Bursting on to the UK circuit in 2021, The Hot Damn! have since completed multiple UK tours as well making memorable appearances at Steelhouse, Firestorm and Loverocks festivals.
With their debut album set for release early 2023 and more shows announcing soon, get set for your life to become a WHOLE LOT more colourful imminently!
UPCOMING SHOWS:
27th October – Dreadnought, Bathgate
28th October – Monsterfest, Inverness
3-6th November – Hard Rock Hell, Great Yarmouth
17th December – The Alhambra, Morecambe
3rd Feb 2023 – The Brickyard, Carlisle
THE HOT DAMN! ONLINE:
Website | Instagram | Twitter | YouTube | TikTok