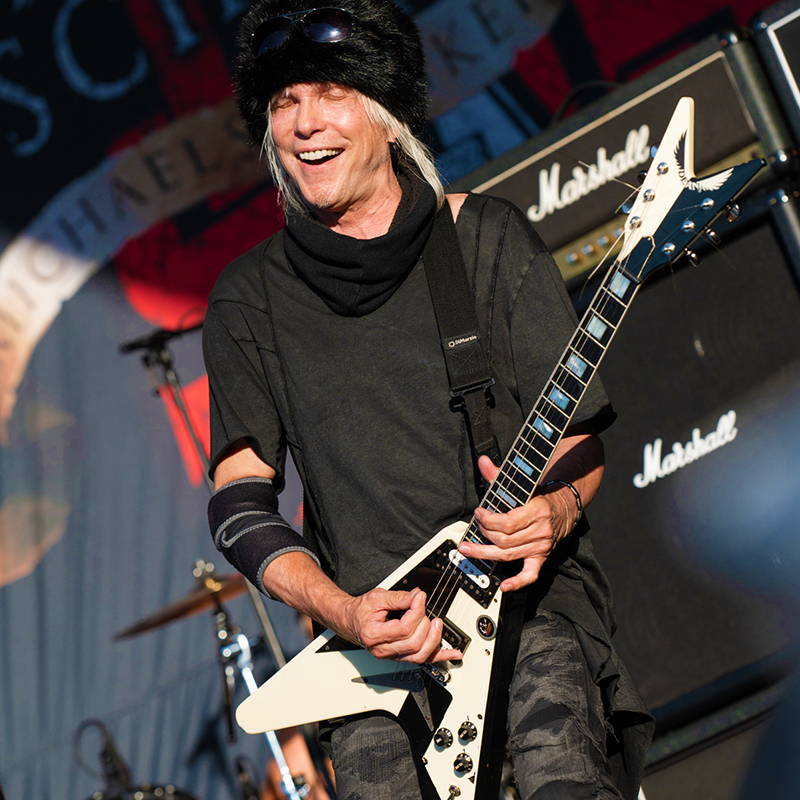 Saturday.
An intervention of fate meant we sadly had to miss the first day of Steelhouse Festival and by all accounts it was a cracking day on all fronts, so we arrive nice and early on Saturday to make sure we don't miss any of the action.
If you ever needed an example of how to open a festival and fire up the audience to get a party started then you'd have to look no further than Mother Vulture's set at Steelhouse. Right from Planet Rock's Ian Danter's introduction the Bristol based quartet proceed to whip up a frenzy as guitarist Brodie Maguire and bassist Chris Simpson franticly cover every inch of the stage; jumping, spinning and rolling it's as intense to watch as the music is punkishly heavy. New single 'Honey' gets an airing but the stage it seems is still not big enough to contain them with singer Georgi Valentine jumping into the pit and an incredible move from Maguire that sees him leap the pit into the crowd and roll around on the floor all still while playing guitar.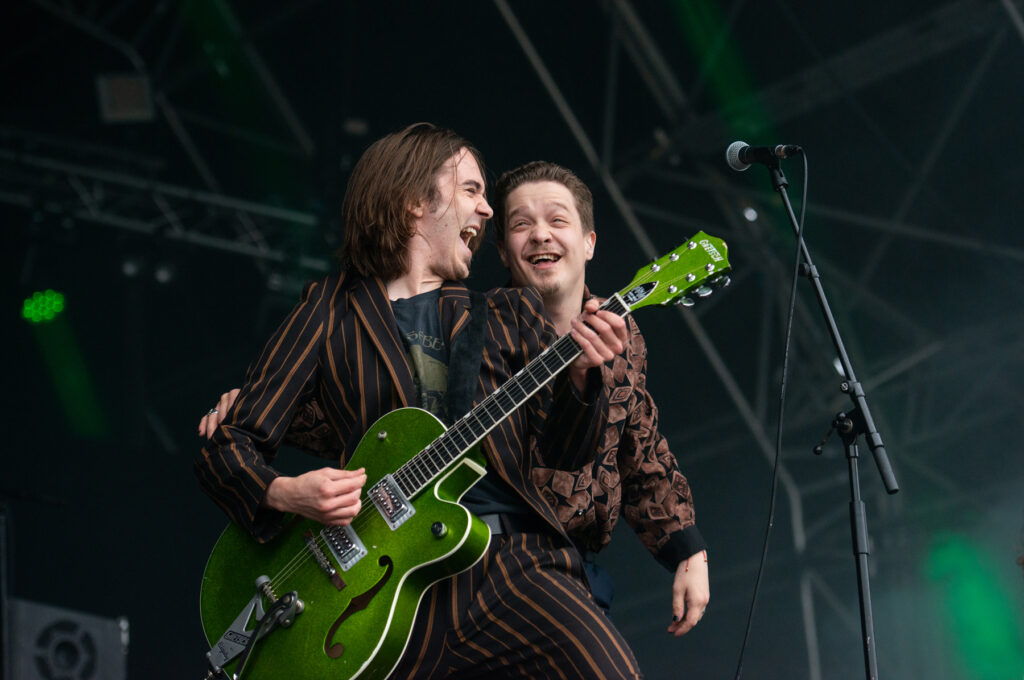 These actions have endeared themselves to Steelhouse and will be all the more memorable for it. As they conclude their half hour Valentine asks "who'd see us again?" the crowd's affirmative response confirms they've picked up a good new number of followers today.
Glasweigian trio Anchor Lane are next up and keep the pace with a more traditional hard rock slant. Frontman Conor Gaffney works the stage well in a more considered manner and switches to second guitar when needed. 'Blood And Irony' has a distinctly groovy riff courtesy of guitarist Lawrence O'Brien and their take on reality TV in 'Fame Shame' also suitably impresses. It was my first time catching the band and won't be the last. They are on tour later in the year with The Virginmarys.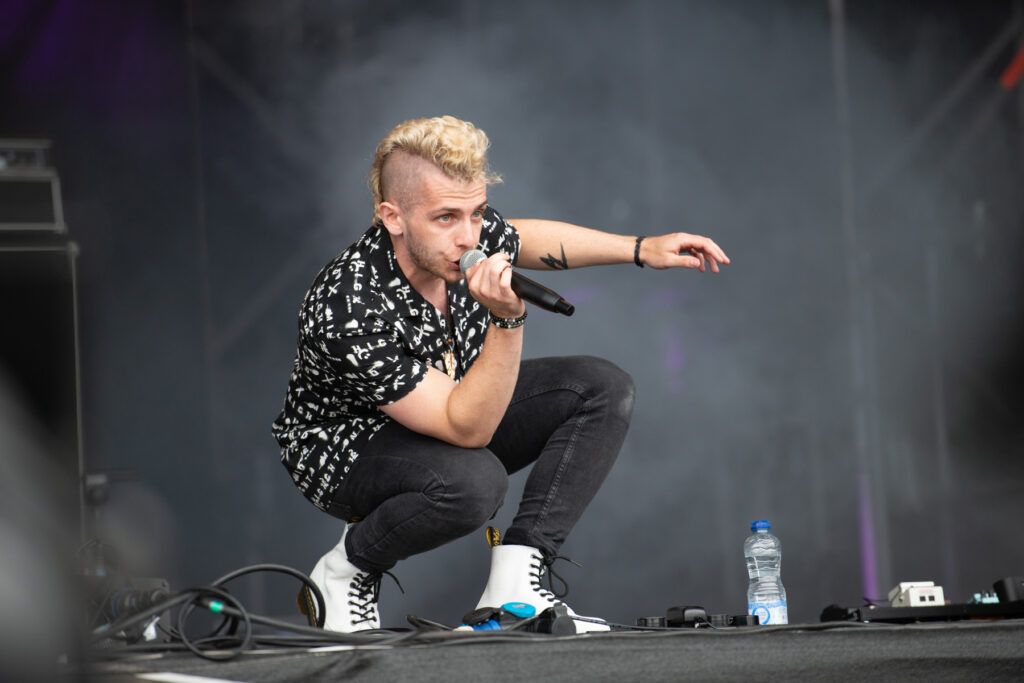 A change of pace beckons for locals Cardinal Black. Having recently caught them on their tour supporting The Struts, this was a set I was keen to catch. Frontman Tom Hollister is keen to remind us that under the guise of TH3 they played the very first Steelhouse Festival in 2011. The trio reconvened during lockdown adding Sam Williams on bass and changing the name. It's a joy to get up close and watch Chris Buck, and especially his right hand as he moves between plectrum and fingerpicking on 'Tell Me How It Feels'. Similarly impressive is Tom Hollister's soulful vocals throughout although 'Jump In' was a stand out moment.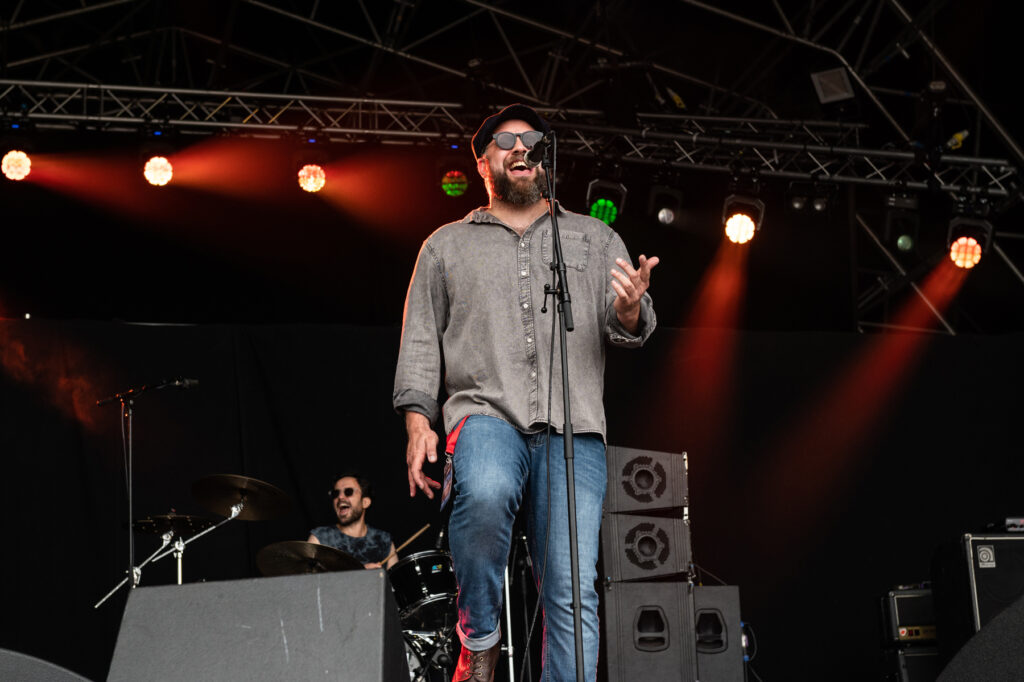 This really was a case of letting the music do the talking with no fancy lights or stage antics, and while Tom had earlier joked about leaving the ramp to the rockers, by the end of their set he couldn't resist walking out and rolling along it at the end in one of the day's funnier moments.
The Von Hertzen Brothers then put in another style into the mix with a full on prog set through one of the wetter parts of the day. Some focus is given to their new album 'Red Alert In The Blue Forest' but fan favourites such as 'Flowers And Rust' and 'New Day Rising' are well received.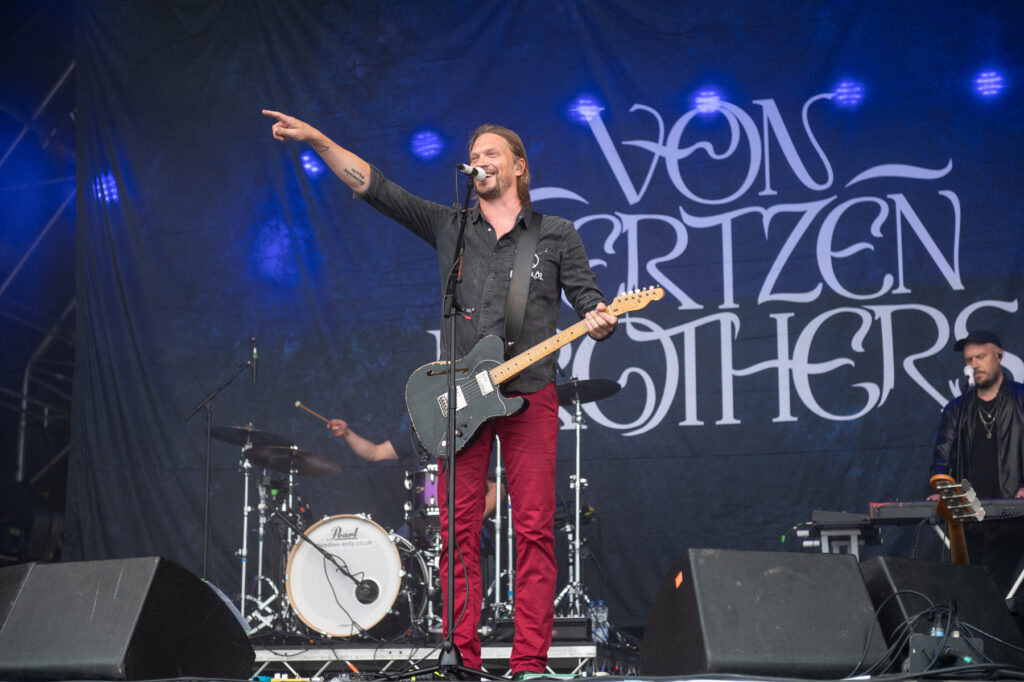 With original frontman Kenny Leckremo returning to the fold and a new album (Force Majeure) due for imminent release H.E.A.T. come across as a band rejuvenated and put in a dynamic performance. With their new singles released ahead of the album, there's already a familiarity with 'Back To The Rhythm' and 'Hollywood', and the catchy choruses has the crowd singing along just as much as older favourites like 'Rock Your Body' and 'Come Clean'. Leckremo in particular puts in an energetic performance and seems to be enjoying himself as much as anyone and their enthusiasm through the rain is infectious. He relishes his moments on the ramp being in and amongst the fans and comments "This is great. We need to have one of these at all our shows". They close out with a raucous 'A Shot At Redemption'.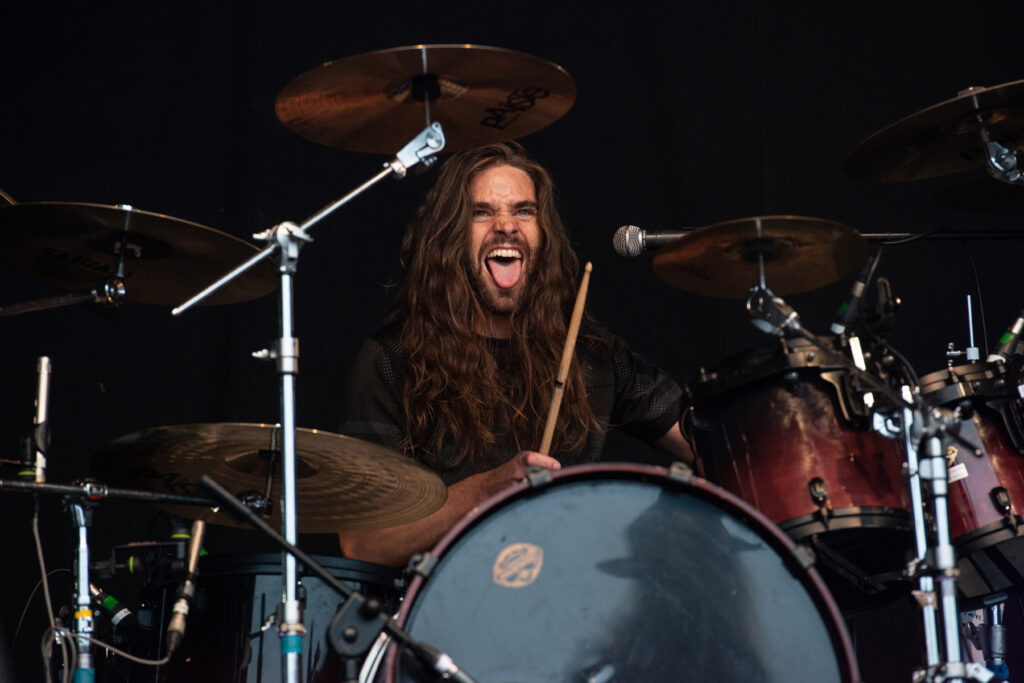 Rainbow's 'Down To Earth' album was released 43 years ago, almost to the day and Graham Bonnet's appearance at Steelhouse is part of several UK dates celebrating the album. Choosing to select the best tracks from it and mix them in amongst other career highlights and current songs is a much more preferable option than just running through the album in its entirety. 'Eyes Of The World' makes for a powerful opener with its keyboard intro and Conrado Pesinato nailing the guitar solo. 'All Night Long' and 'Since You've Been Gone' guarantee good participation from the Steelhouse choir, and Graham seems to relish singing 'Making Love'. His biggest hit, 'Night Games', sounds exceptional and Bonnet is in fine form. So good in fact that the following day there were people convinced he was miming. Clearly they hadn't picked up on his ad libs, my favourite being changing a line in the lyrics of 'Eyes Of The World' about not wanting to go out on the wet ramp. Graham and the rest of the band put in a brilliant performance and a fantastic closing 'Lost In Hollywood' was the icing on the cake.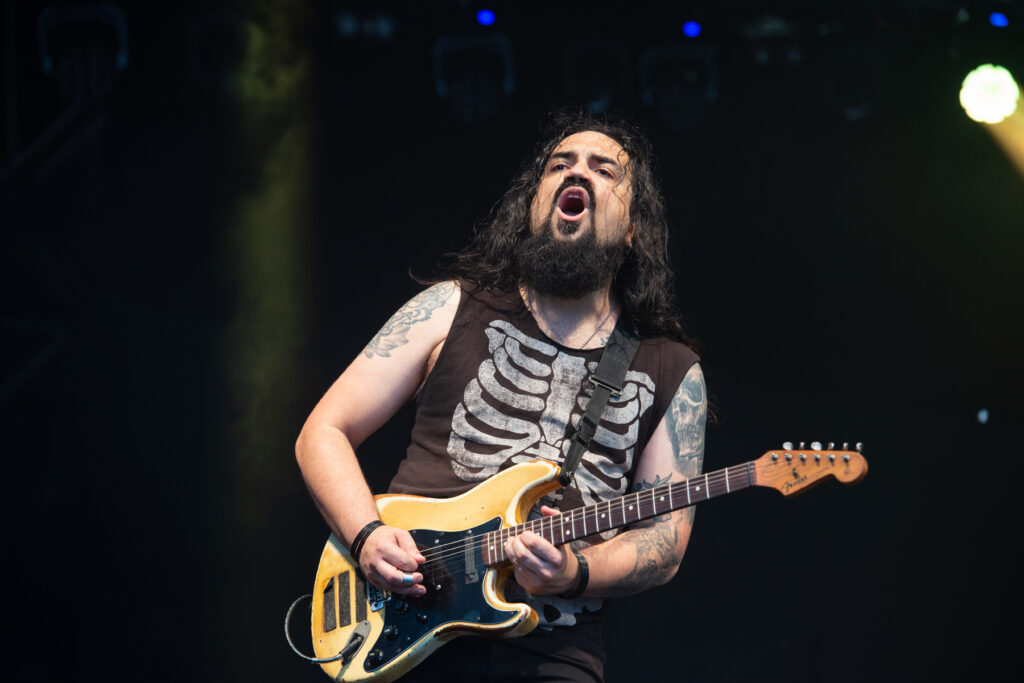 A late change to the line up saw Ace Frehley being replaced by Saxon,making it their third appearance at the festival. Although Biff's revelation later in the show that three of the band had only just recovered from Covid in time to play is a reminder how difficult it must still be in putting on shows with potential last minute cancellations. Thankfully there was none of that. Biff and the boys were in fine fettle and delivered a greatest hits set that commenced with a blistering 'Motorcycle Man' setting the pace. As is now customary at Saxon gigs is that Biff will take a fan's denim 'battlejacket' and wear it for part of the show. The irony of picking one that had a huge KISS patch across the back was not lost on him. With Nigel Glocker powering things along from the back its relentless classic after classic; 'Strong Arm Of The Law', 'Solid Ball Of Rock' and the more recent tribute to Lemmy 'They Played Rock And Roll' fill the night air. As the drizzle turns into a heavy mist it makes for an eerily atmospheric 'The Eagle Has Landed'.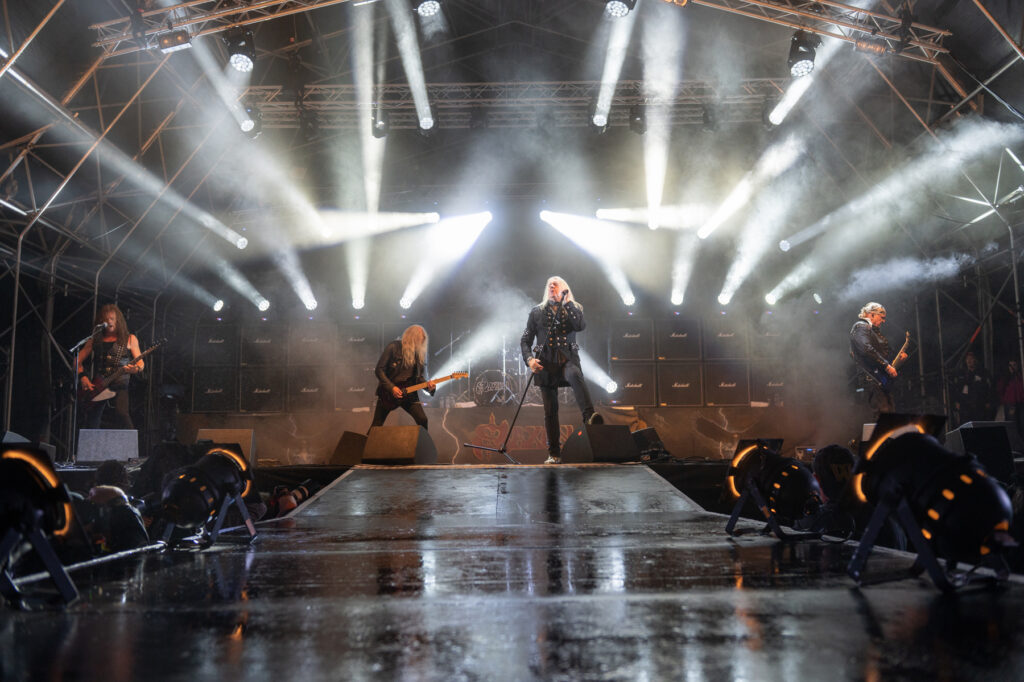 Toby Jepson, who has been involved in the production of recent Saxon albums, joined the band for 'And The Bands Played On'. The encore of 'Strangers In The Night' and 'Princess Of The Night' may be predictable, but that doesn't make these timeless classics any less enjoyable. A superb set and end to a wonderful day with an eclectic mix of music.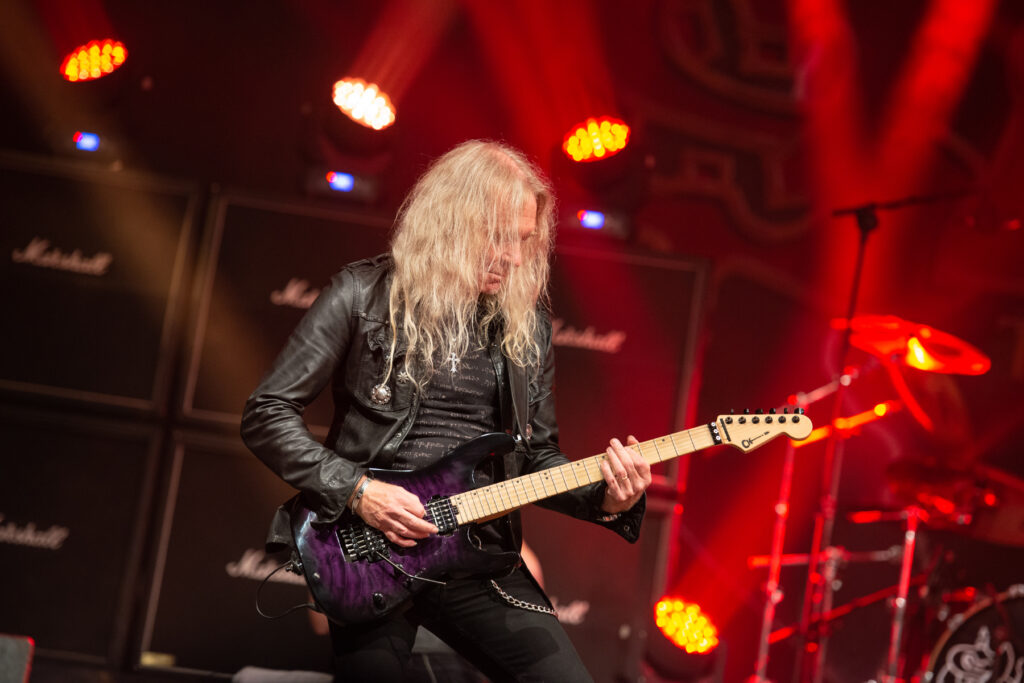 Sunday.
In contrast to the previous day, Sunday starts with a liberal application of sun tan lotion and we arrive in the arena as Darren Reddick is introducing Ashen Reach explaining that the opening set on the final day of any festival is the hardest slot to play. Well the Liverpudlians didn't seem to have any problem attracting a decent crowd to the front, or getting them involved during their energetic set. The bass high in the mix for 'Heir To The Throne' helps in encouraging those down the front to jump up and down to the riff heavy song. 'Prey' sees a more melodic side while still retaining a heaviness that plays out in somewhat of an epic with Kyle Stanley's tortured vocals matching the dark subject matter of the lyrics.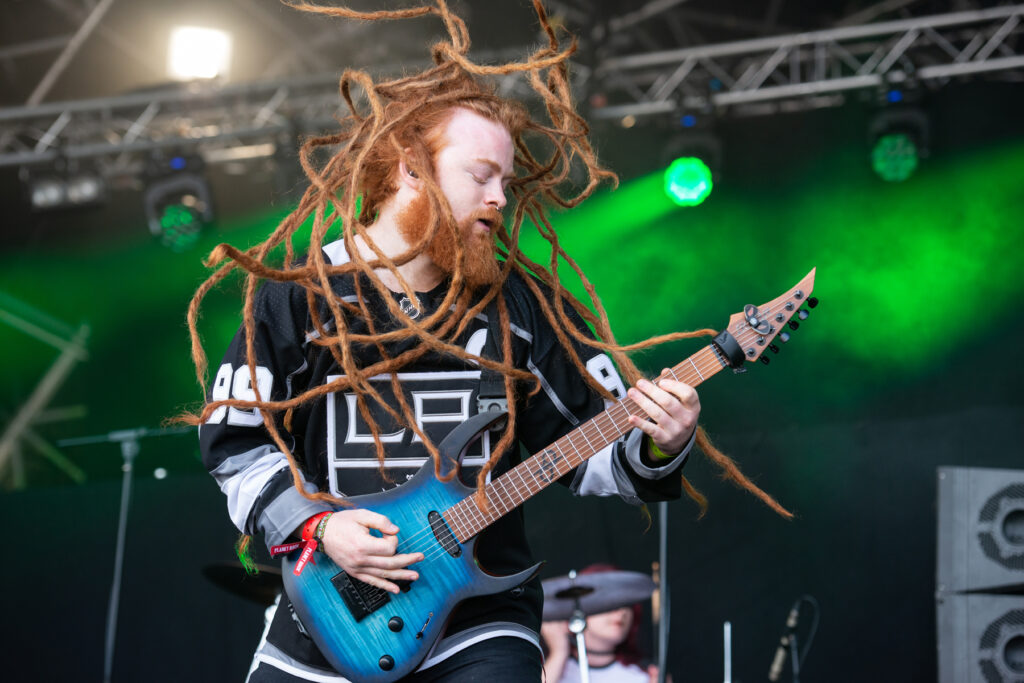 With a stage set with colourful fractal drapes over the amps and lamp shades that your gran would be proud of you'd guess that These Wicked Rivers are going to be playing something a little more laid back. Suited, booted with a penchant for hats and sporting some rather impressive facial hair the Derby based band unleash a mix of heavy blues and Southern rock with a modern edge. 'Shine On' moves along with a swagger and 'Evergreen' kicks along at a fair pace with a crunching riff. Their short set closes with 'Don't Pray For Me'; a dynamic anthem that segues into a briefly into Neil Young's 'Hey Hey My My' before reaching its conclusion. Impressive stuff all round and I regret our paths not crossing earlier.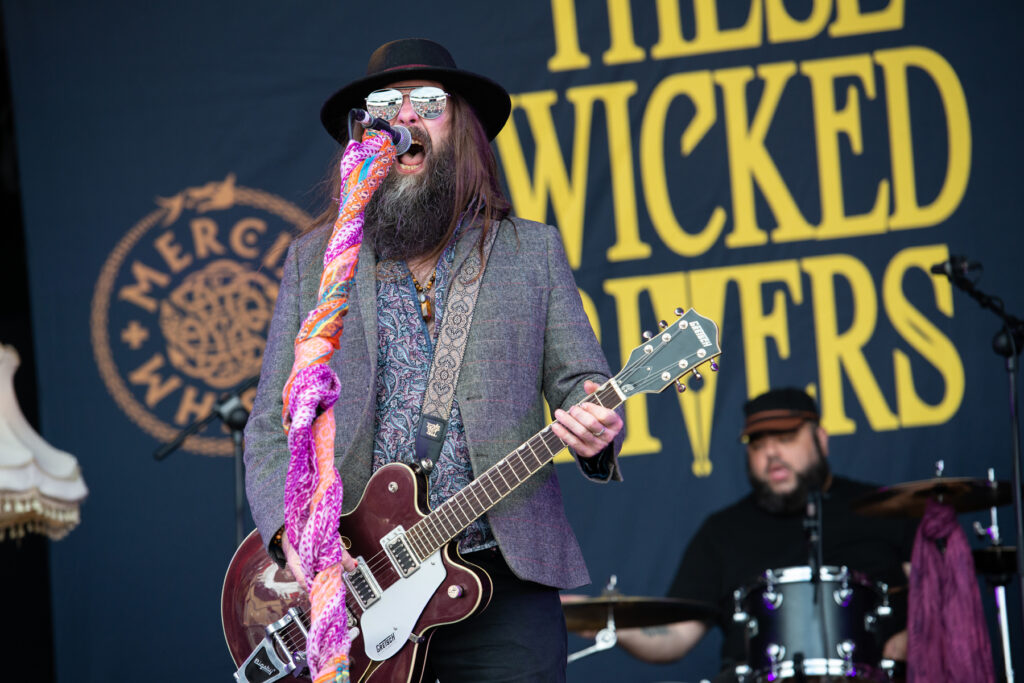 King Herd are a fine band with a solid pedigree. Dave Taylor previously came to my attention when he fronted Raven Vandelle and Karl Spain has sat on the drum stool as a session man for countless bands from Feeder, Jon Lord, Joss Stone to James Blunt and Gary Barlow. They are joined by Ray Loverock and Tom Longworth on bass and guitar respectively.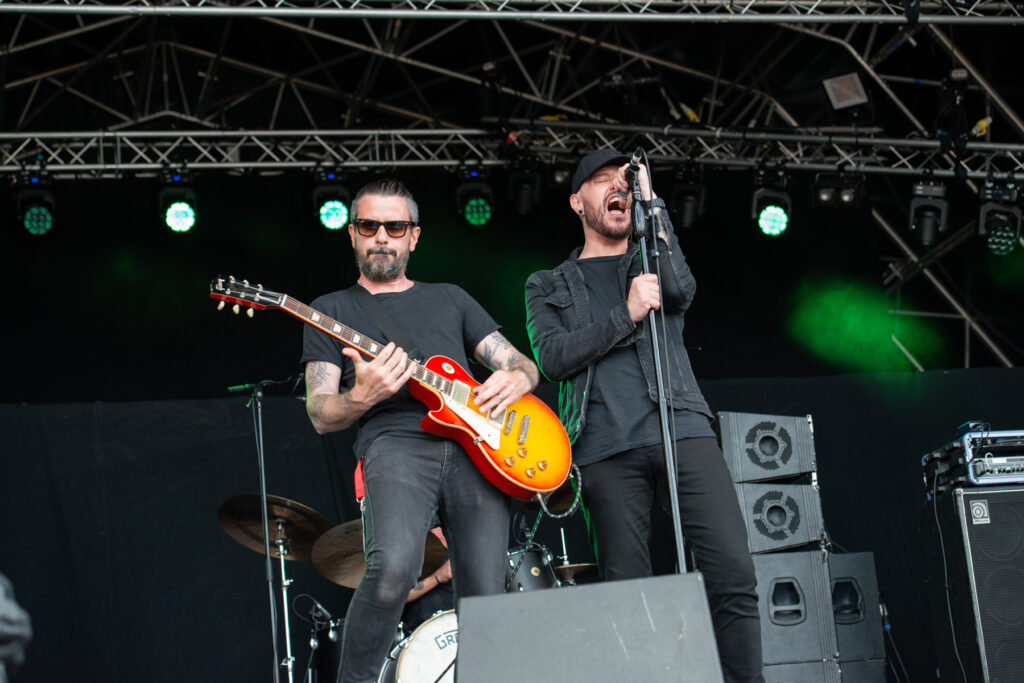 They are in the process of recording their debut album but the singles 'Medicine' and 'Remedy' have both had a fair amount of airplay on Planet Rock. Both tracks are played today and get a good reaction, as does new song 'Halo'. In fact all the songs are strong and I reckon the album is going to be pretty special. However, while the band are clearly enjoying themselves, aside from a handful of "alroight me babbies" comments from Taylor, there isn't a great deal of engagement with the crowd and none of the band move a great deal on the stage. It feels that a little more activity and engagement would have tipped the balance into making it a much more memorable set.
Green Lung are introduced as "possibly the most interesting band of the festival, with their mix of folk and metal". The introduction is a little misleading as musically there is little folk influence, and more of a stoner prog sound to their music. Their subject matter on the other hand seems steeped in folklore and the occult; 'The Ritual Tree' and 'Call Of The Coven' are suitably doomy meanderings which bring to mind Cathedral, while 'Bear The Mark' ventures into more traditional metal territory. While undoubtedly more suited to playing dark venues with billowing dry ice, their set in the sunshine translated well with a favourable response.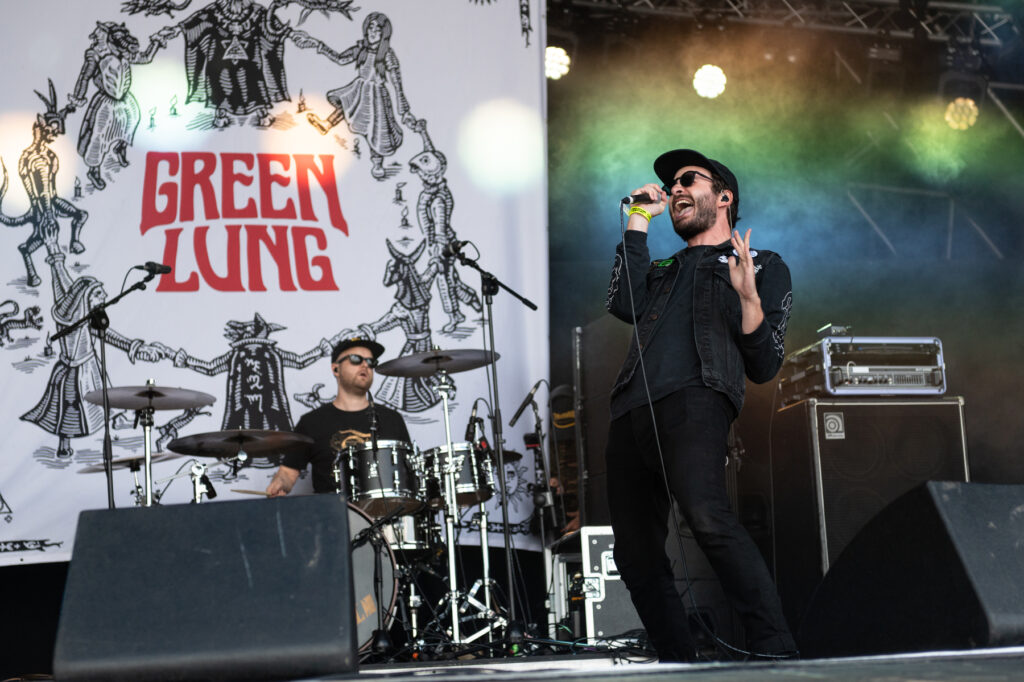 Blue skies and sunshine greet NWOBHM stalwarts Diamond Head as they take to the stage for a full on assault with 'Play It Loud' followed swiftly with 'The Messenger', one of many highlights from 2019's Coffin Train album. Newer songs 'Bones' and 'Set My Soul On Fire' sound glorious and are received as well as the classics of 'It's Electric' 'Lightning To The Nations' and 'Heat Of The Night' by an enthusiastic crowd. Earlier in the year at Hammersmith Apollo a fan handing his prosthetic leg to the band made it into national newspapers. He's here again and the leg makes another appearance. Holding it aloft Ras makes an endearing speech explaining that the leg represents the rock community where we look after one another and if one should fall we help them backup. This rightly receives a heartfelt cheer. Of course, their set could only end one way and Brian Tatler takes centre stage to crank out the riff to 'Am I Evil?' and It's nice that the Steelhouse crowd, who are usually such a friendly bunch, managed to be evil if only for seven minutes.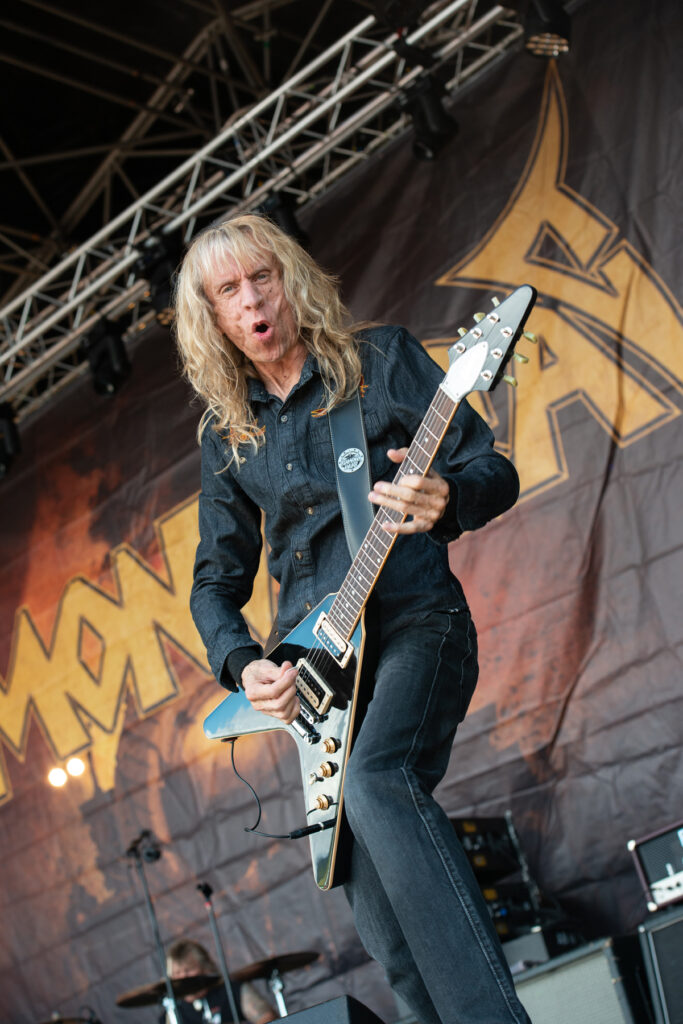 In recent years Michael Schenker seems to have enjoyed working with a huge variety of musicians both live and on record which seems to fire his creativity. His recent UK tour had Ronnie Romero fronting the band, and as fine a singer that he is, the news that Robin Macaulay would be singing the full set at Steelhouse was something I was really looking forward to. A sublime 'Into The Arena' gets things underway and Macaulay joins for 'Cry For The Nations' which sees Schenker at his mercurial best. Add in a jaw dropping 'Doctor Doctor' and there's nowhere better to be than standing on a mountain in the sunshine merely feet away from one our generations finest guitarists.
It's great to see 'Looking For Love' in the set which features one of Schenker's best melodies. It is also hugely satisfying to see how much Schenker is genuinely enjoying himself. From the new album, the Ronnie James Dio tribute 'A King Is Gone' goes down well, as does the other new one, 'Sail The Darkness'. Interestingly none of the songs Macaulay sang on either recently or from his MSG days is played. Instead, the set develops into a UFO special, with the second half of the set solely made up of songs from his early years with the band. It all makes more sense when at one point Schenker takes the mic and explains that 50 years ago he was getting on a plane to the UK to join UFO so this is kind of a celebration of that time.
'Rock Bottom' sounds glorious and his solo, which never seems to be exactly the same, genuinely sends a shiver down the spine. 'Lights Out', 'Shoot Shoot' and 'Too Hot to Handle' all hit the spot and 'Only You Can Rock Me' concludes a masterclass performance which stole the day for me.
Europe were originally billed to headline Steelhouse 2020 and we all know happened to that. With 2021's festival just scraping in after lockdown restrictions, there was no way they were going to make it, so two years later here we are. Technical issues delay the start of their set a little and Joey Tempest fills in time chatting to the crowd and asking them their favourite Europe songs. The reply is a sadly predictable "The Final Countdown".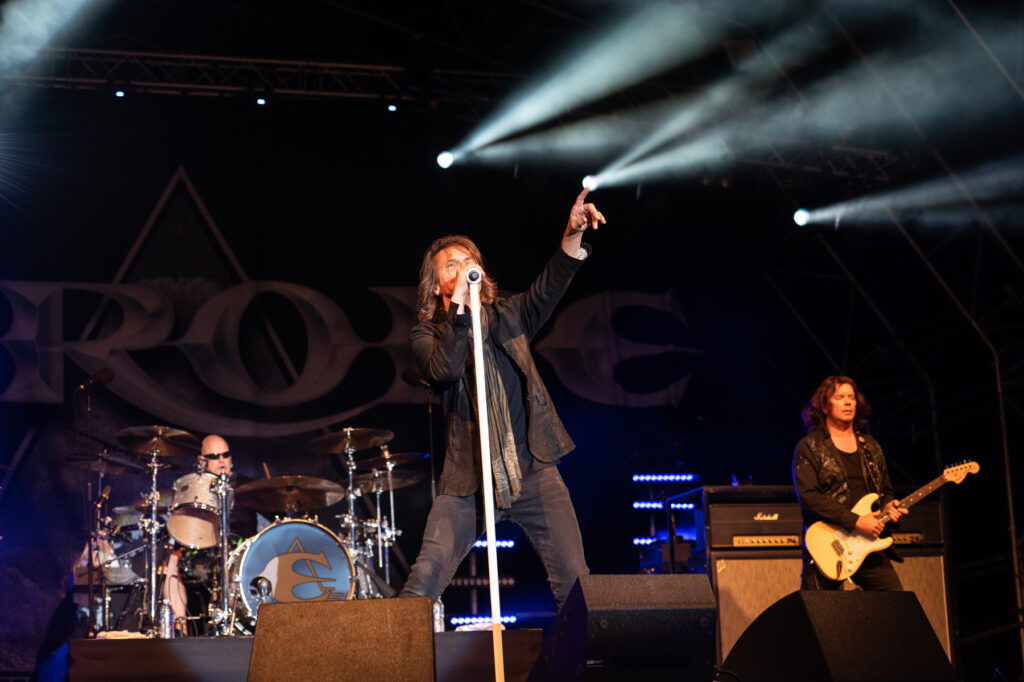 A few moments later, switches are flicked, John Norum appears and we're in business with 'Walk The Earth'. It may only be a couple of months since they were last in the UK playing with Foreigner and Whitesnake, but it's good to catch a full set taking in some of the deeper cuts. 'Scream In Anger' hails back to the Wings Of Tomorrow album when keyboards were less dominant and 'Hole In My Pocket' isn't a million miles away from that with Norum's wah-wah solo, but the big hitters aren't far away and 'Carrie' and 'Rock The Night' come thick and fast. A mid set 'Open Your Heart' takes thing down a notch or two and sees Tempest swapping his mic stand swinging for acoustic guitar.
As the set begins to draw to a close 'Superstitious' has an excerpt of Whitesnake's 'Here I Go Again' tastefully included during the middle for a huge Steelhouse sing along. But there was only ever one way this was going and Mic Michaeli's instantly recognisable keyboard intro ushers in 'The Final Countdown' and brings their set to its bombastic conclusion, and the fireworks signify the end of Steelhouse for another year.
Hats off to Mikey, Max and all those involved in putting on another splendid festival, especially in the current climate. It was a resounding success and so good to see a diverse selection of bands that offered plenty for everyone and also the opportunity to watch something you may not have come across otherwise. The dates have been set for 2023 (28th – 30th July). You'd be a fool to miss it.
Words & images: Rich Ward