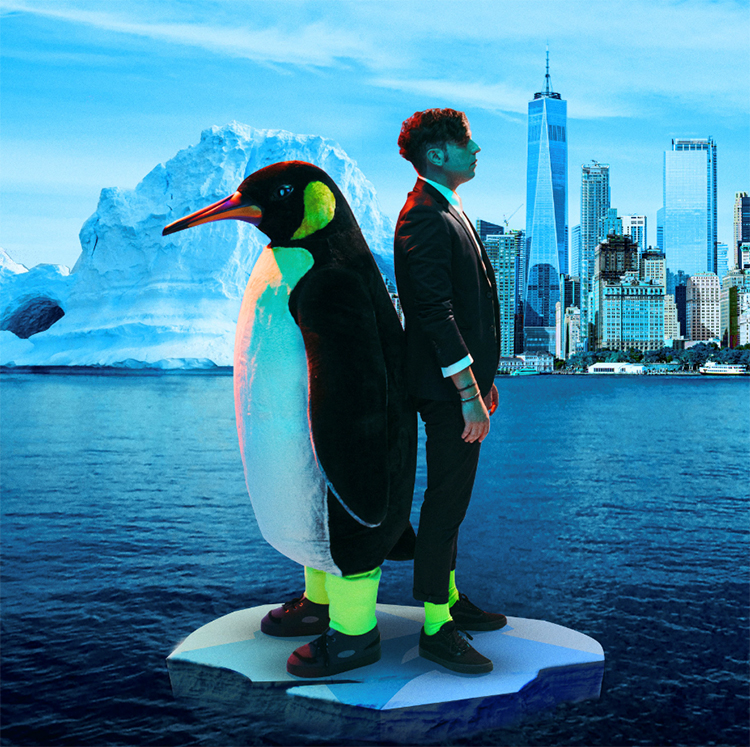 SINGLE FOR TITLE TRACK HERE
The debut Rocket Pengwin album 'Polar Opposites' from multi-hyphenate singer, songwriter, and visual artist Eddie Sears is out now. The title track, 'Polar Opposites' serves as the project's lead anthem, and anchors what's sure to become a pop-punk phenomenon.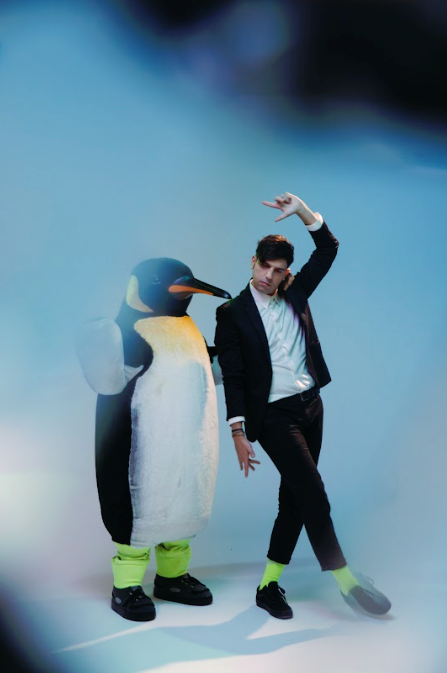 "The song, like the album, is an exploration of a series of big 'what ifs'." says Eddie Sears. "I wrote it as a representation of moments in my life where as I was wrestling with feelings for someone who I wasn't sure felt the same way back. I also wrote this song when I was fresh to NYC – I really had a rough go of it for the first few years in the city, and this struggle with figuring out whether or not I'm too different for this place led me to the creation of Rocket Pengwin.
Listen to the track HERE

Rocket Pengwin will playing an album release show next month in New York City.

Sunday 8th October – Elsewhere, NYC Tickets here

Having moved to New York in 2016 with the need to find a place where self-expression would be understood and appreciated – and where being unique is the norm, Eddie started to make roads to what would become Rocket Pengwin.  Born from being a creative in the artistic world, Eddie was able to find his team in order to rekindle his own form of expression and embrace this fully independent project.
"I don't know any other version of existing if not being an artist. Music and visual arts are my form of existence from day one. That developed with listening to The Beatles and making lots of punk music growing up, and eventually experimenting with electronic equipment and graphic design." says Sears.
He continues "I care about community, about being able to connect with like minded individuals that find comfort in my songs. Learning that sharing my experience has helped people go through a hard time, celebrate a win or going through a break up is mindblowing and a dream come true. Writing music is a vehicle to share things that I would never tell to someone's face – not even my own. Writing songs is a little like therapy on steroids: you pour your heart and soul into a sentence, and eventually, everyone gets to hear it."
As the story goes, the Penguin is from Antarctica – the place on Earth least interfered with by humans. New York City couldn't be more of a contrast. By bringing the 'Pengwin' to life in the real world, he created an outlet to express how he felt in life and love, but also in a more literal way that would challenge fans and passersby alike to think about what it means to find a sense of place. Whilst the whole concept can be existential – man vs. nature, imagination vs. reality, he wanted to ground Rocket Pengwin by exploring real topics that anyone can relate to – what does it take to stand out in a crowd? Is that even important? Do we actually all stand out in our own, unique ways? How do relationships even work – whether they are amongst each other, our significant others, with the city we live in or even with ourselves?
All of these themes are explored in the debut album 'Polar Opposites', and each of the 11 (original) songs is a chapter of the story (the project also features two high-octane covers of Taylor Swift's 'Anti-Hero' and Miley Cyrus' 'Jaded'). Each original track contains its own standalone narrative arc based on his own reality and that of Rocket Pengwin.

'Polar Opposites' is a powerful record that is infused with the biggest hooks, empowering lyrics and a huge injection of fun that could be loved by fans of Blink 182 and Reggie And The Full Effect. In a testament to the project's endorsement across the world of rock and pop-punk, two of the original tracks (What's The Point? (I Care), Promises) were co-produced with Ilan Rubin, drummer for Nine Inch Nails, and the youngest-ever inductee into the Rock and Roll Hall of Fame. Further, Jacopo Volpe, who is on tour with Post Malone currently, also delivered drumwork across the album. Daniele Autore, who has delivered production work on remixes for Lady Gaga, Selena Gomez, and Skrillex accompanies the star-studded roster of producers involved in 'Polar Opposites'.

"I'm excited for everyone to hear the project in its entirety," says Sears.  "From start to finish, it's an adventure filled with celebrations, fuck yous, quiet moments of introspection, and anthems to get you motivated even when the weight of the world is holding you down. I hope fans find the sum of its parts to be the perfect soundtrack for their lives, no matter what part of planet Earth they live on." The project brings fans into a familiar and surreal world, where they must examine their own preconceived notions of what it means to be the odd one out, all with the catchiest pop-punk songs, and sure-fire anthems in the making. 
'POLAR OPPOSITES' TRACKLISTING:
Polar Opposites
Central Park
Save Me
What It Seems
Heaven
Say It Loud
Mars
What's The Point? (I Care)
Promises
Don't Hate
Invincible
Jaded
Anti-Hero