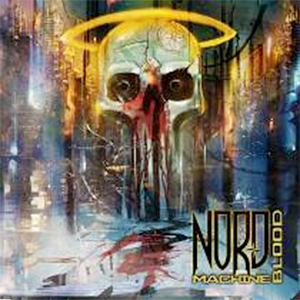 Release: NORÐ – Machine Blood
Format: Digital
Release Date: March 4th 2022
Record label: Inverse Records
Genre: Alternative metal
Country: Denmark

Danish alternative metal quintet NORÐ presents new full-length album "Machine Blood". The album is mixed and mastered by the magnificent Jacob Hansen at Hansen Studios, Denmark (Volbeat, Amaranthe, Arch Enemy, Primal Fear and much more).
NORÐ consists of a very versatile lead vocal, carefully composed melodic lead guitars intertwined with tight riffin' and a rocksolid rhythm section. The lyrics thematize the human decadence and the changes of the world caused by it. Machine Blood is released on March 4th 2022 by Finnish record label Inverse Records. 
Line-up:
Vocals: Bjarne Matthiesen
Guitar: Niels Thybæk-Hansen
Guitar: Thomas Bøgh Jensen
Bass: Peter Littau
Drums: Rune Kolsbjerg Hansen
 
Links:
Website: http://www.nordmetal.dk 
Facebook: https://www.facebook.com/nordmetal 
Instagram: https://www.instagram.com/nordmetal.dk 
Twitter: https://twitter.com/nord_metal
Bandcamp: https://nordmetal.bandcamp.com
Youtube: https://www.youtube.com/channel/UCL9SQq2cDa_RIldxwuaeIMg