s/b Hollowstar & Empyre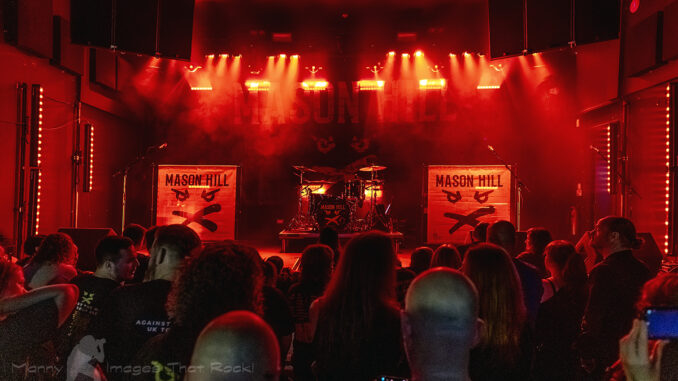 Down comes the rain in biblical proportions, as, yet again we head back to Nottingham for a night of live music, this is the 3rd time in 5 days!
Instead of Rock City  we're visiting it's smaller sibling, The Rescue Rooms, a 450 capacity venue which is right next door.
Tonight, they have a triple header of what has been classified as 'NWOCR'. Now I'll go on record by saying that I don't get with all the pigeon holing of music categories that now exist in the music, I get confused with them all. I digress. On with tonight.
Right topping the bill, we have the Scottish Rockers that are the formidable 'MASON HILL'. I first saw these a number of years ago up a welsh mountain amidst the driving rain, tents and the odd flying sheep. They impressed back then with a very decent version of Audioslave's 'Cochise' or 'Goats Cheese' as it sounded over the PA. How right we were to mark these out for future listening.
Before we get to hear them though, we have an undercard consisting of 'HOLLOWSTAR' and the dark and brooding 'EMPYRE', both of which I'd seen a couple of weeks ago at Sheffield's 'ROCKIN THE BOWL' Festival. Each put on a stunning set, in fact I gave HOLLOWSTAR my award, not that it carries any weight, of best band of the weekend, obviously after the headliners, such was their improvement and energy on the day.
Thinking back, I did see 'HOLLOWSTAR' and 'MASON HILL' together on the support card for the 'DAN REED NETWORK' in Derby Not long after the earlier Welsh Mountain experience, and to be fair all three bands left me cold, the night was flat and a huge let down after the Festival sets.
OK, 'EMPYRE', what a band. They're a four-piece banging out dark and menacing riffs. An interesting name, which, when checked out gives us the noun 'empyrean' meaning of the sky or the heavens, a region of pure light and fire, the ninth heaven according to ancient astronomy', now forgive me for this but the band are the total opposite to this. Dark, Brooding and from one girl in the crowd, downright scary.
They played a short set, sadly, as when they got going, they were unbelievably good and the crowd got the sound, a sound that's been likened to 'Soundgarden'. They are tight and on the money. Frontman, Henrik stands at the microphone with a look that could cut steel, the man shows absolutely no emotion, no smile, nothing. Terrifying, as he could be that man on the train, bus or next to you in the urinals one minute and, putting bodies under the patio the next! Ha I'm sure he'll love that analogy.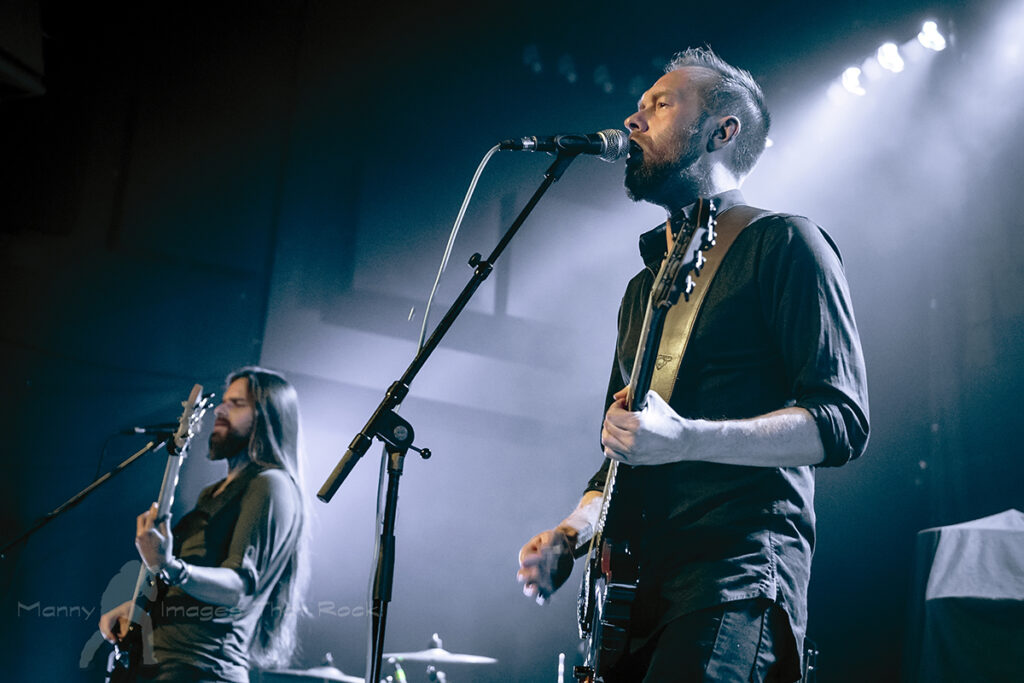 A set of only 5 songs, sad really as this dark, intimidating band are worth so much more. It takes a few songs to get in the groove and this was evident as by the time they get to 'Forget Me' and the thudding set closer, 'New Republic' by then the sweat was flowing, Henrik's voice was warmed up and deliciously dripping in highs and lows, of what I'm not sure but its goose bump territory, the band are tight and on fire.
Described as a band to listen to by one 'new' fan as she found them scary to watch, I'd say with, Frontman Henrik's cold expression, she wasn't far wrong.
'Did Coles, guitarist, said to me before the gig that as only about 30% of the crowd had even heard of them, they would play more of their new songs, a good idea as they are great tunes.
The classic 'New Republic' finishes the set off, this surprisingly gets a round of applause and cheers from the crowd, more fans are in than I thought. A great set closer has Did's, on his knees, smashes out a blues dripping rock riff the guitar up close as he precisely kneads out this dark thunderous riff. A great set if a little short!
KNOW THE RULES: No Singing:  No Clapping:  No Looking as If Your Having A Good Time.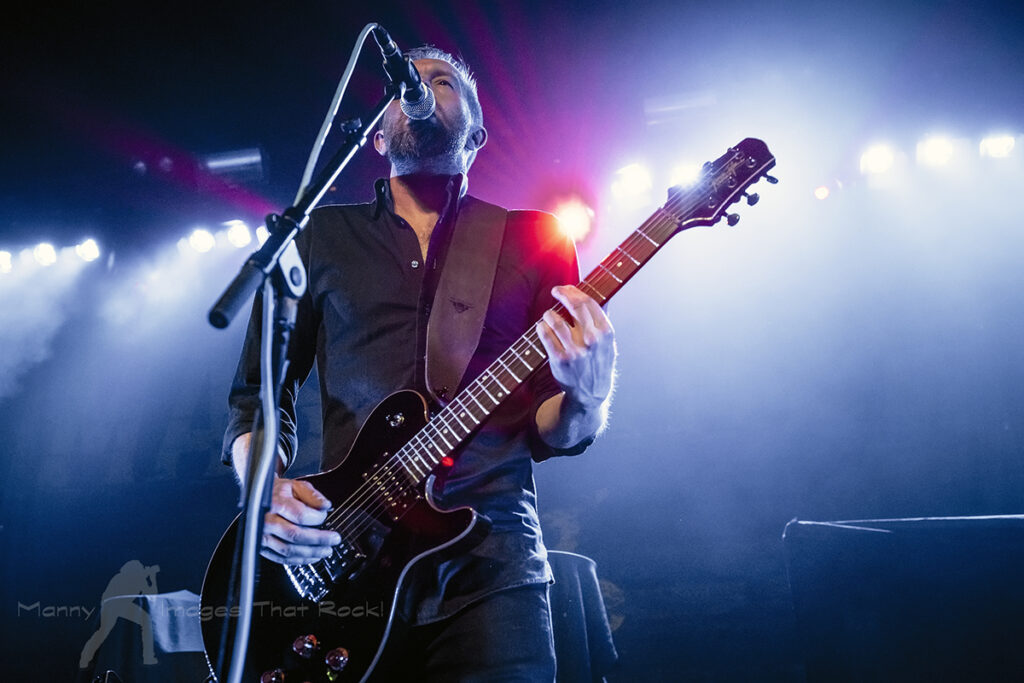 Set List: Cry Wolf: Quiet Commotion: Parasites: Forget Me: New Republic
'HOLLOWSTAR' have a warmer room to come into now, these guys are getting great reviews and rightly so, they have certainly upped their game since my earlier viewings of them.
Their sound is deliciously old school riff driven high energy rock. Throw in Phil Haines on acrobatic guitar and you have a spectacular show that's off the scales. This band is up there with the likes of 'Those Damn Crows' who seem to be everyone's 'Pet' band at the moment. Bass player Joe Bonson has a vocal to die for, whilst crashing out a thunderous bassline this frontman's voice is absolutely on point. They recently lost their guitarist Tom Collet, his slot has now been filled by Carl ledger, and it feels like he's always been there watching the onstage chemistry.
A riff driven set gives way to Haines on guitar, evidently, he was given a guitar and a copy of Joe Satriani's 'Surfin with the Alien' and told to enjoy. By Christ the guy is phenomenal, everything comes easy to his fingers as he showboats throughout the set. Never over playing, coming across as the love child of Eddie Van Halen and Paul Kossoff. Yes, he's that good! Which is just as well as 'Wishing Well' features on the set list, one of my favourite Free tracks.
The crowd have done their homework. Singing along with Joe and then bouncing along when it all gets fruity. Wandering around the small stage area, Mason Hill have their kit set up and draped so there's a big drum riser in the middle of the stage, the interplay is great to see, smiles and pulled faces all round as they deliver a knock out set of only 8 songs.
'Good Man Gone' has a meaty beat as Bonson sings about beating his demons, an issue he had but seems to have come out the other side all the stronger for it. This electrifying tune romps along in a chaotic manner that can only be explained inside your head, Haines delivers a subtle solo that's controlled and precise, each string bend is on it, the face is proper old school rock, a great tune
'All I Gotta Say' with its decidedly Southern Rock intro vibe it could be Black Stone Cherry, it's a banger, and an excellent choice for the set closer and my favourite tune of the night!
Set List: Take It All: Let You Down: Invincible: Money: Wishing Well: Overrated: Good Man Gone: All I Gotta say
Headliner 'MASON HILL' have certainly had a great 2021, and now with a headline tour and a Tee shirt with dates on, a privilege of being the headliner, they are proper made up. Hailing for north of the border, this likeable 5piece, are having great fun playing their new album 'Against the Wall'.
Straight into 'Reborn' vocalist Scott Taylor, or James McAvoy, now I've seen the likeness I can't un-see it, (lol), wanders on stage with a beaming smile, this is a great set opener as he belts out the lyric which says it all, out with the old and in with the new. This short sub 2minute romp throws us straight into 'No regret' a heavier driven number, with crashing drums and a great hook, it's got the crowd bouncing straight away. Now were talking.
'DNA' follows with is quieter passages bookended by a romping chorus. Taylor has the crowd in the palm of his hand. A great vocalist and front man, prowling the stage as he delivers, moving out the way to allow Bird and Ward to run about delivery their meaty riffs, over the top of a disgusting machine gun drum beat.
'Out of Reach' demonstrates how good McAvoy's, I mean Taylors voice is. A great delicate acoustic start that segue into a rapturous cacophony of guitars as the band join in. There's a heavy Southern Rock vibe coming through here which is great sounding, Solid and musical with a great melody and solo by Bird, lovely when he hits the fat neck pick up.
This sets the night up nicely as its obvious tonight is about the album as all bar 2 tracks on the set list come from it. First is a cover of the Foo Fighters 'Best of You', a rendition played as a 'TEAMS' video on YouTube that brings out the best of Taylors voice and 'Now You See Me' which featured on their 2015 EP alongside 'Survive', 'Your Memory' and 'Where I belong'.
Having been likened to Monster Truck by Kerrang, I find that a great comparison although they do drop in meatier hooks, dirtier riffs more akin to the likes of Alter bridge and Tremonti.
There is a familiarity to the set, probably because they have been playing a lot of these songs over the previous years. '(Backs) Against the Wall' is a rocking tune that has the crowd bouncing and singing along, I've not seen them recently and I find myself carried away with this great, catchy tune. This leads us into 'Where I Belong' a great choice of set closer with its 'whoas', start as Taylor and Bird drive this ballard, the crowd are joining in, there's just the two of them on stage and a room full of fans, 'Carry Me Home' sings the crowd as the band re-join them with Bird, centre stage, stroking out a masterful solo that's entirely in keeping with the soul of the tune, nothing flashy, just controlled and excellent. Crouching Taylor interacts with the crowd as he says his farewells between lines of the song.
Finishing off with the words: –
NOTTINGHAM: WE! ARE! MASON! F*@KING! HILL!
And
'Can We Have A Picture, Is That Alright?
Set List: Reborn: No Regret: DNA: Out of Reach: Hold On: We Pray: Who We Are: Find My Way: Broken Son: Best of You (Foo Fighters Cover): Now You See Me: Against the Wall: Where I Belong
What a night, I've been at odds with NWOCR recently and have expressed it constantly in my peer group as 'New Wave of Planet Rock', but after to-nights event, call it what you will, these three bands have smashed down walls and deserve to be heard across all mediums not just Planet Rock.
A stunning night of Rock music!
Words & images: Manny Manson