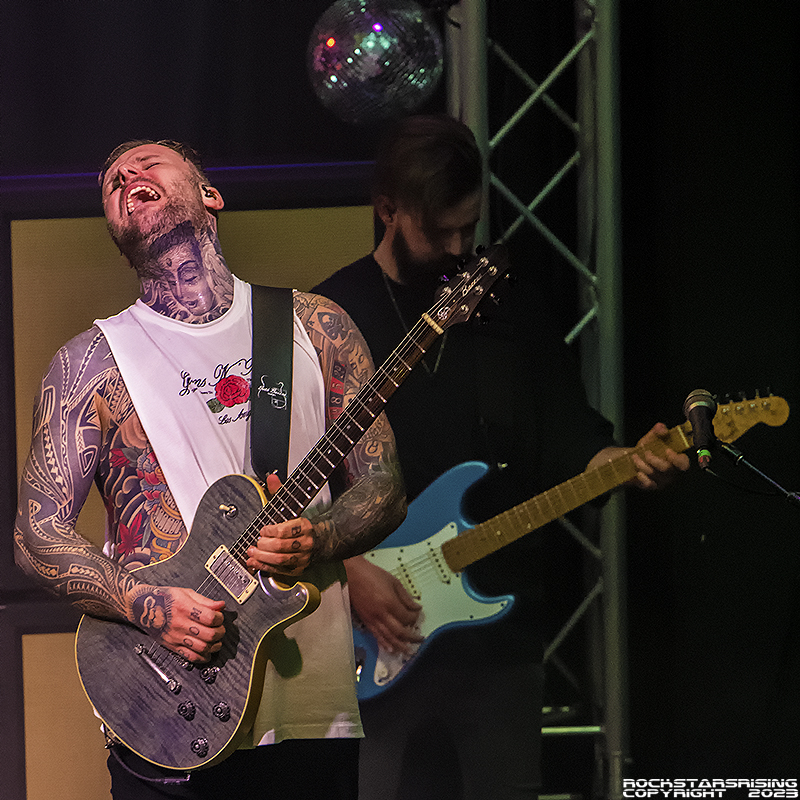 Word on the street is that Kris Barras has gone over to the dark side – gone all 'ard and 'eavy – well, let's see shall we!
However, before we hear whether Kris Barras has gone all Darth Vader on us it's Dea Matrona who hit the stage. This is an Irish trio fronted by long-time friends Mollie McGinn and Orlaith Forsythe. The nice thing about this pair is that they swap the bass and lead guitars between them for almost every song – it shows versatility, something the two girls appear to have in abundance.
The former buskers from Belfast need busk no more as they grabbed hold of the audience and gave each and every one of them a good shake!
They kick off with Stamp on it with its funky bass opening and somewhat classic rock vibe followed by Oh Well, a popular cover of the Fleetwood Mac song and both on their 2021 EP Stamp On It before they head into band introductions. Until the middle of last year Mollie's sister Mamie was the band's drummer but after leaving the band she was replaced by Jamie Hewitt who did a fine job on the skins tonight.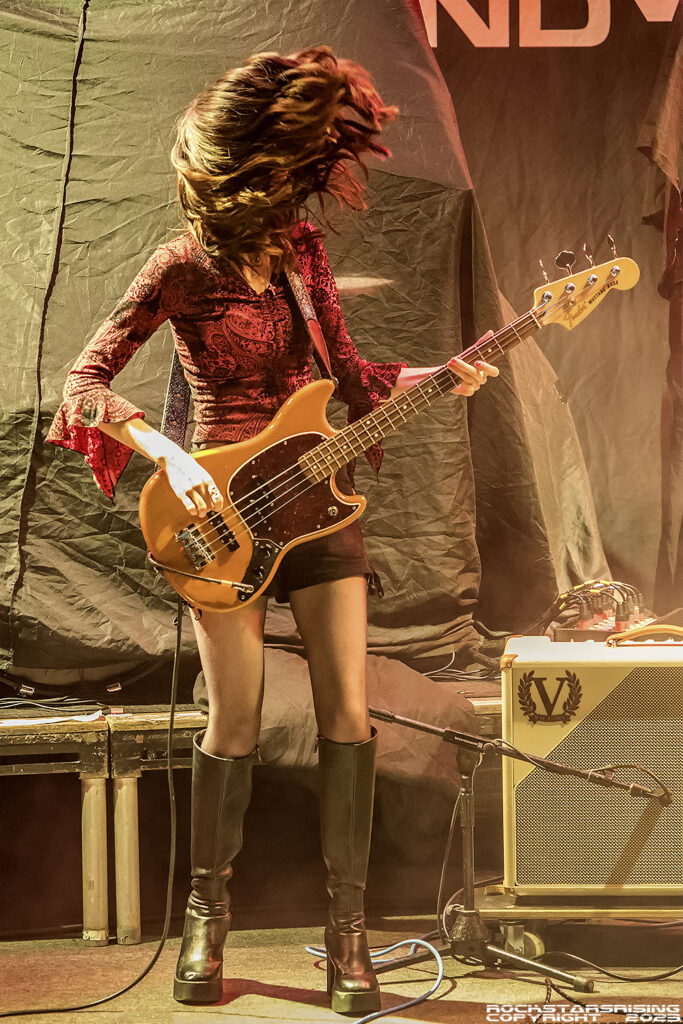 We get a bit of driving blues-rock next with It's Only Music and the girls really get moving across the stage, interacting with the audience who, let's face it, can't really help but love what they have to give. Possibly their best song of the night.
Get my Mind Off is a another funky, bass-led, blues number which slows things down just a touch. By now the girls have already swapped guitars three times and the changes are really quite seamless. Some more mainstream blues next with Nobody's Child from their first EP, Away From the Tide (2019); this had a very definite feel of Cream about it, the music specifically.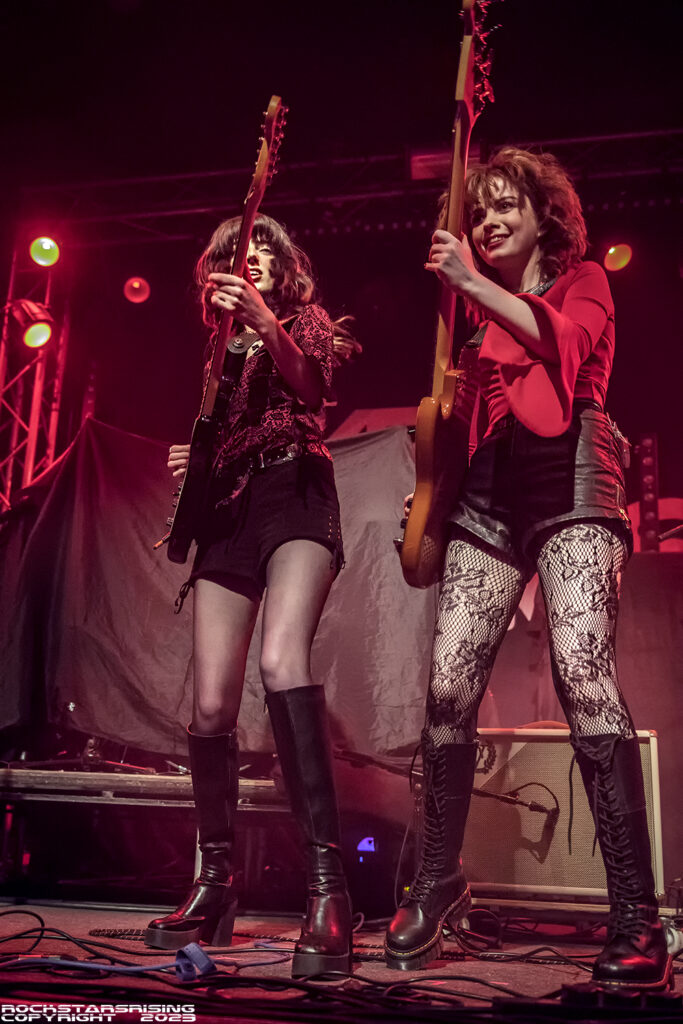 The girls continue to get their daily exercise as they repeatedly stroll across the stage, meet in the middle then go their separate ways again. Orlaith has the high kicks and air time to go with the walkabouts.
Just Wanna Rock, again from their first EP, is next and comes just before a short acoustic break. You can listen to this one here, taken from an audience recording:
The electric bass stays but the lead guitar is swapped out for an acoustic to play Glory Glory (I am Free) where the Irish twang in the vocals really comes out. This is followed by a cover of the Simon & Garfunkel hit, Homeward Bound, and the slow acoustic sound again brings out the superbly harmonised Irish accents.
Tea-break over, it's back to the rocking and rolling for Red Button from their 2022 self-titled EP before the band finish with Make You My Star. The girls get the audience hands in the air for this blues rocker during which they do a little bit of ZZ Top-style synchronisation just for fun.
The self-penned music is well above average and if these girls don't make it big I'll be both surprised and disappointed!
Time for a short break; will we hear Kris Barras say 'I am your father' as the dark side beckons or are the stories of the change in musical direction just that?
We're part of the 'This is my Parade' Tour and the line-up has changed a little since I last saw the band. Tonight we have Kris Barras, of course, on guitar, Josiah J Manning on guitar, Billy Hammett on drums and Kelpie McKenzie (the new kid on the block – allegedly this was only his third live gig) on bass.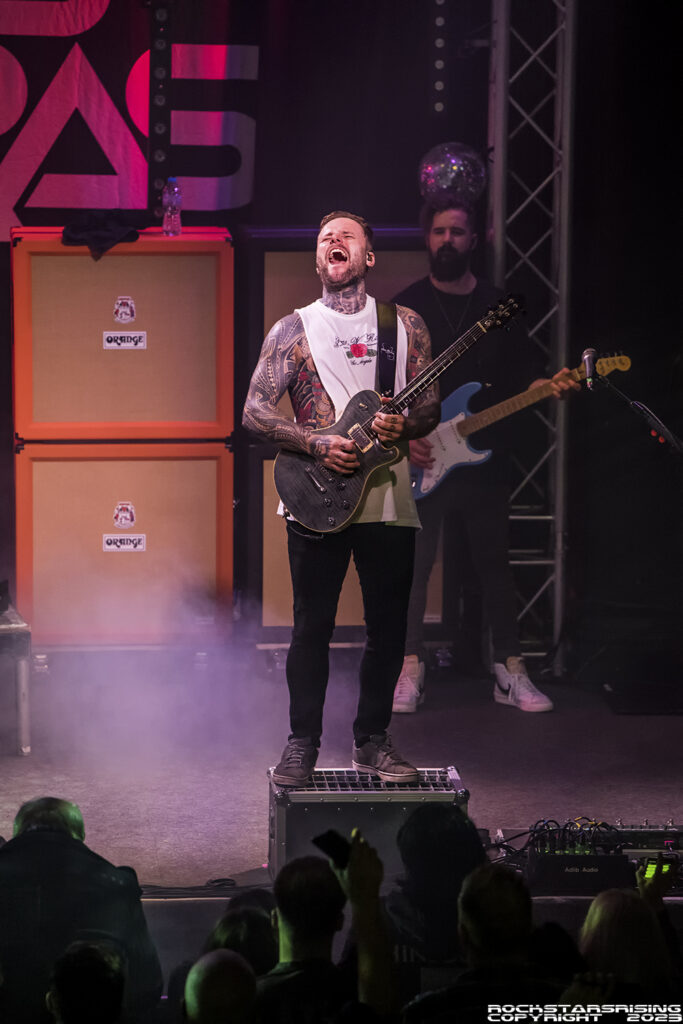 The lights dim; the band, minus Kris, comes on stage and we're immediately into an intro sequence which is Kris's cue to get on stage too. He does so to a volley of noise and cheers and the band immediately gets under way with everyone's favourite, Hail Mary. This was a beefy blues-rock song to start with but tonight it somehow seems to have more body to it, certainly more bass!
Tonight's setlist calls heavily on the band's latest album release, Death Valley Paradise, let loose on the public last year, along with calls to Kris's previous albums spread through the evening.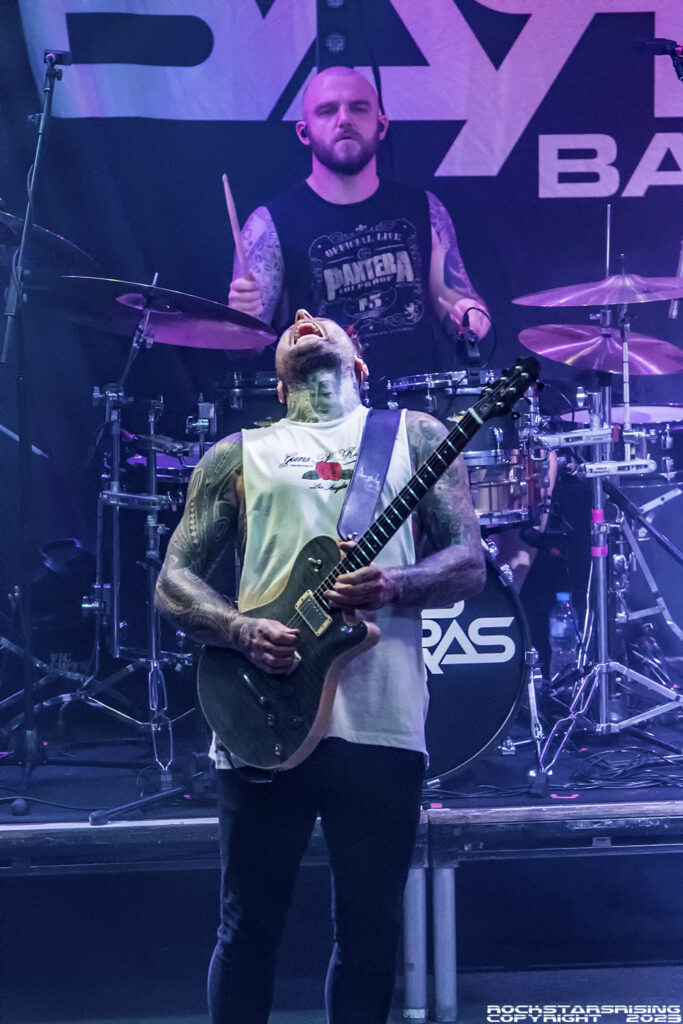 After a very brief chat the band were back on the case with Dead Horses from the new album. This is instantly recognisable as Kris's trademark blues rock. The one thing noticeable about the band on stage tonight was the energy put out by all of them, Kelpie McKenzie in particular. It would be easy to think that he'd been taking dancing lessons the way he flits around the stage.
These Voices starts off as a bit of a stomper before calming down to something more 'mainstream. The song, about those inner voices we all have that cast doubt on out actions is, apparently one of the band's favourite songs from the album. The version played tonight is tight, quite heavy and bass-laden, topped off with Kris's crystal clear vocals.
Time for an 'oldie'; a reworked version of Heart on Your Sleeve from the 2016, Lucky 13 album. This one has the audience's hands in the air and plenty of movement both on, and off, stage. Now it's back to Death Valley Paradise for Wake me When it's Over, a song supposedly about the Covid pandemic but while that might be all but done it's place has been taken by other crises at home and abroad. The song itself is relatively laid back but intercedes the flow with a stark guitar solo coupled to his angst-ridden contortions. Super clear, super sharp.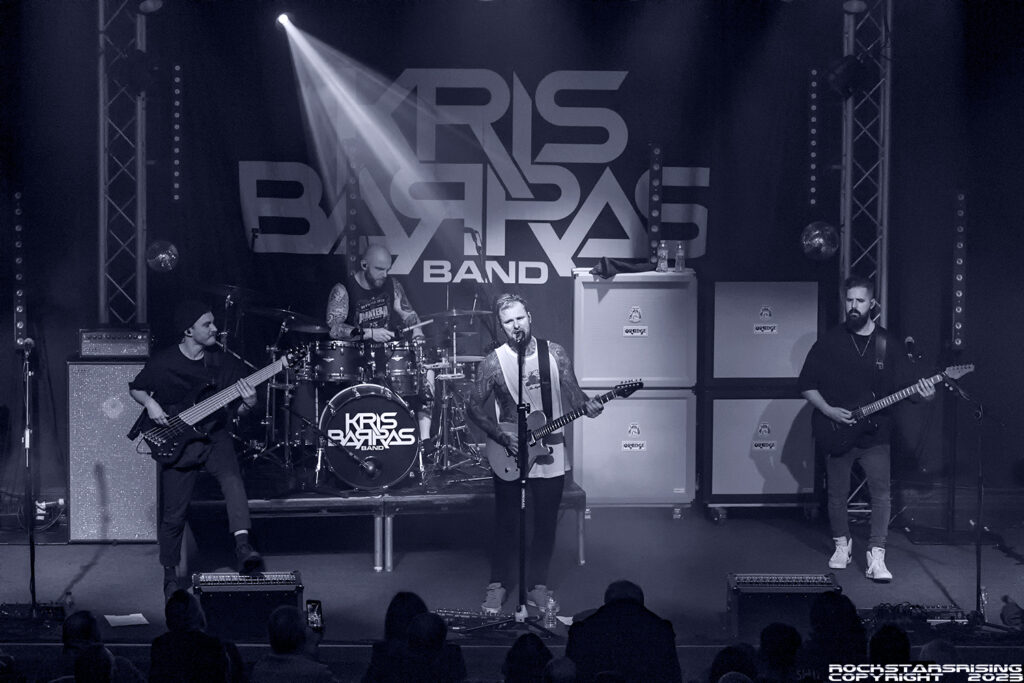 We move on, with Hostage from the new album, followed by Chaos, also on the new album. Kris chats about the Vada recording sessions of 2021 and for those who don't know the studios are just down the road from here, in Stratford-upon-Avon. Chaos, as Kris was quite proud to announce, was the most played song on Planet Rock during June 2021. The song is another of those that are easily associated with Kris's writing. Kelpie's 6-string bass is often heard at the fore of things here.
Kris dumps his guitar for Devil you Know, which usually only means one thing – he's going walkabout. Sure enough he's off into the crowd but not before he's taught the audience some of the lyrics to the song and which they have to sing back at him. It was at this point that the world found out that Kris isn't keen on cider. Wandering through the crowd he hit on a lady with a glass in her hand and, thinking it might be beer or lager, he asked if he could have a drink – the lady duly obliged. As soon as Kris had taken a swig he realised that it was cider and, being the gentleman that he is, he swallowed rather than spit (fnarr, fnarr) but made it known that he hates cider and this little drama went on even after he'd climbed back on stage.
We go right back now to the time Kris started the band and to the song Watching Over me. He relates stories of his dad and that this was the first song Kris wrote in memory of him. A fine tribute to a man who Kris respected and clearly misses very much. It's time now for a quick cover song. Tonight it's Led Zeppelin's Rock'n'Roll and the band give it the works, Kelpie does 10 laps of the stage, Kris gives us a corking guitar solo and while he might not have the distinctive voice of Robert Plant he does give it a good go! It was, if I recall correctly, that Kris decided to introduce the band – and probably wishes he hadn't bothered! So he starts with Josiah on guitar who give s quick and dirty solo, this is followed by Billy Hammett but before Billy could get a drum beat in Josiah was back on it interrupting the proceedings. No matter how many cues Kris gave Billy they couldn't, between them, get things synced. Next was the new kid on the block, Kelpie McKenzie with his 6-string bass, and when he was done the band wrapped up the cover.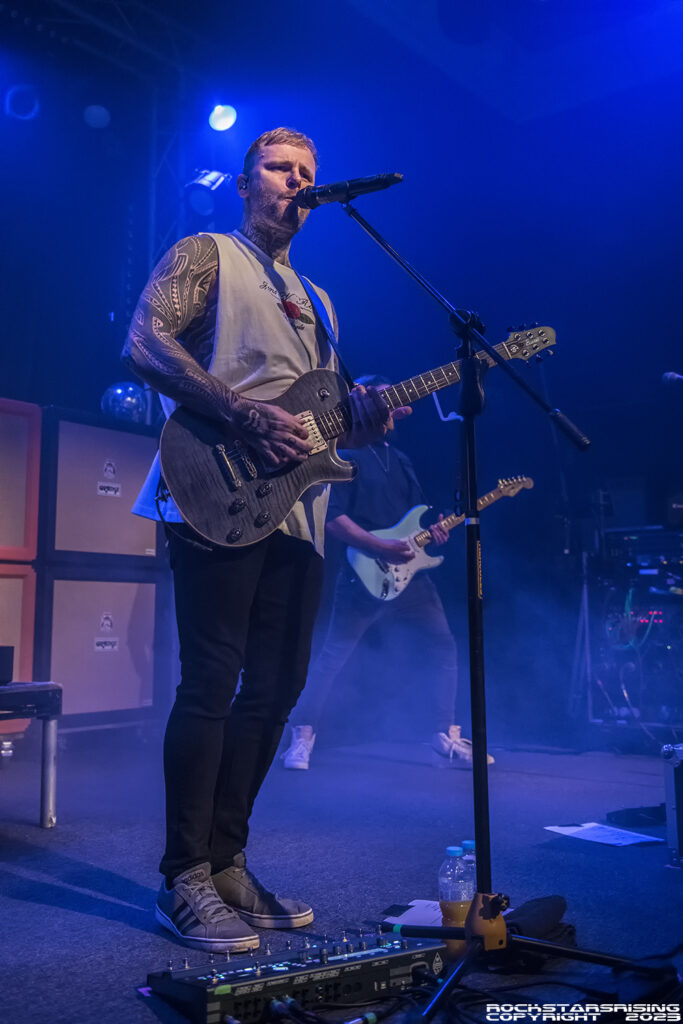 We're running out of time so it's back to the new album for the hard-hitting Who Needs Enemies and, finally, My Parade; the first of these two in particular showing what Kris is capable of with some fine guitar riffs.
After a short recess during which the band leave the stage they return for one more song; Light it up. Now this does seem to have had some heaviness added to it and was a cracking song to end the night.
Has Kris Barras gone all Darth Vader on us? Well, no he hasn't he's more like an embryonic Darth Sidious. Heavier, darker, certainly and the songs tonight all benefit from that change but he has a little way to go yet before he's truly in the realms of heavy metal blues. If he wants to go that way then all credit to him, he'll still have me as a fan.
Thanks to Lee Puddefoot of the Mascot Label Group for having me along.
Words and images: Reg Richardson