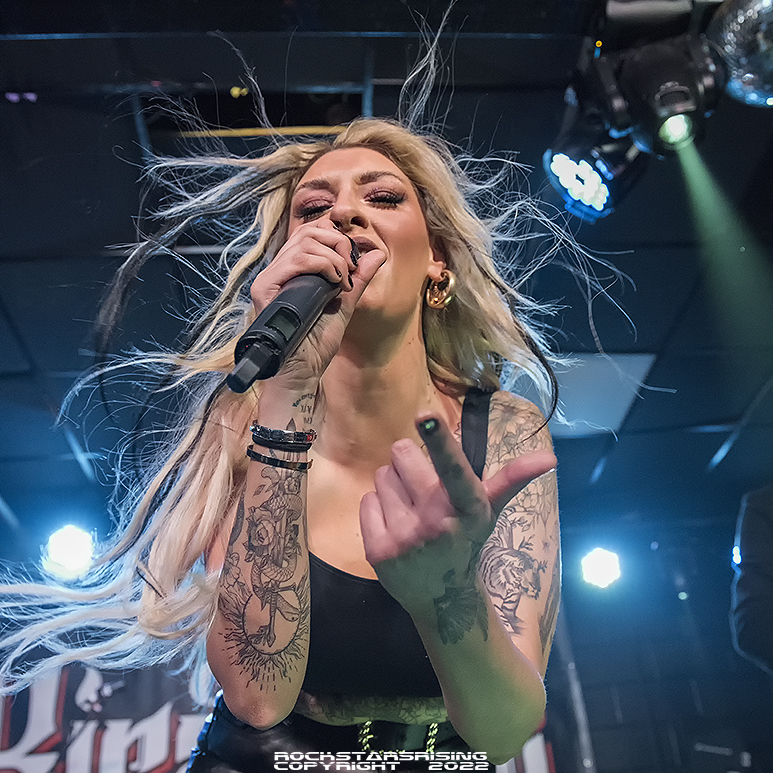 I'd forgotten just how cosy the Bullingdon can be, it's been a few years since I was here last. I was looking forward to seeing (and hearing) two of the better up & coming bands out there at the moment but there were things to do. First item on the agenda, before the doors even opened to the wider public, was securing a press pit as there were barriers in place but jammed right up against the stage. That done, and having inherited 2 feet of space in which to move freely, I waited for the crowd to assemble before Circus 66 hit the stage. I'd heard great things about this band but never had the chance to see them . . . until tonight (I can say that about Kira Mac too – so I'll say it here and that'll save me having to say it again later).
Circus 66 is a 4-piece rock band based somewhere in the nether regions of South-East England, fronted by 'Her Ladyship' Annabelle Zaychenko who, I have to admit, is really full of beans, doesn't stand still for a moment, has plenty of chatter and twists and turns on stage while belting out the songs via a superb set of tonsils!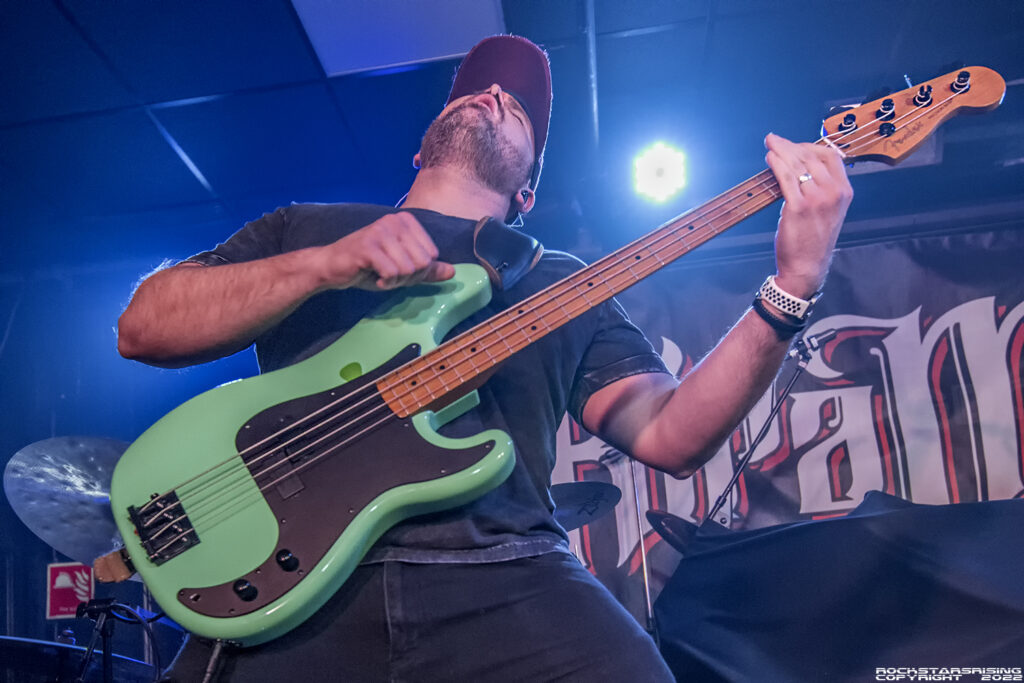 Tonight's setlist centres around the band's 2021, self-released, album Follow the Black Crow and allows Ms. Zaychenko to demonstrate both her raw, rock vocals and some more Southern, bluesy vocals to the continuously growing audience. The album is a mash up of several genres so what you get from one song is not what you get from all of them – apart from quality and high energy output.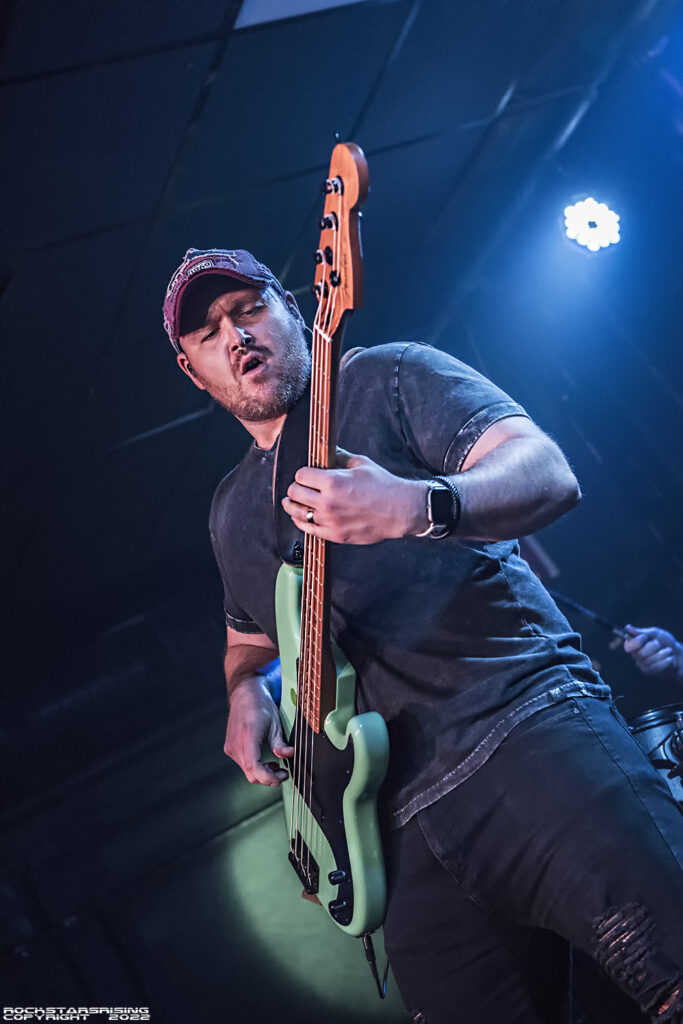 After the opener, Live for the Day, the band launch into Take a Shot, one of the songs from the album. Powerful, no, aggressive(!) vocals that get right in your face alongside some quality guitar from Matt Pearce start the crowd moving. This is a contender for my 'song of the night'. A Thousand Miles From Home, initially released as a single in 2019, follows and this is full of classy guitar riffs but with the vocals metered down, just a little, this one has more of a Southern feel to it. You can check out the official video for this one:
Before the 2021 album there was an EP, Showtime, released in 2018 and the next song, Little Texas Princess, was taken from that.
Time for a guitar change and an opportunity for some chit-chat to fill in the time.
Monster, from the 2021 album and also released as a single in 2020 comes next. This one starts off in a lower gear but that doesn't last as the band ramps up the sound and Annabelle growls out the lyrics, another cracker of a song.
Time for more chatter and change of guitar.
Some true blues next with Prince of California which opens with some fine slide guitar and continues with gritty vocals, plenty of bass, and frisky guitar riffs – a good song. Up next is When the Black Crow Flies before the band take one last rest for another guitar change and we get towards the business end of things. The band's most recent single, released earlier in 2022 and destined to be on the next album, was A Little Piece of Magic. Change of style here with a choppy guitar opening and a heavier rock vibe throughout, the vocals cutting through the music cleanly.
The band finish with Jekyll or Hyde, and the band return to the screaming guitar riffs, growled vocals and a move back up a gear or two. Another one of my favourites from the set and a great way to finish.
Definitely a band to watch out for particularly if the promises made by Ms. Zaychenko to keep crowds entertained is anything to go by.
Kira Mac went on a rampage during 2022 and have set things in motion that should make 2023 pretty memorable for the band and this likely even without the publicity that frontwoman Rhiannon attracted following her appearance on The Voice which grabbed Will.I.Am's attention within seconds of hearing her voice.
The band start things off with the heavy, Southern blues kicker, Deadman Walking which is immediately followed by the total stomper, Downfall, with riffs aplenty and these two songs get the audience back on course following the Circus 66 set. First guitar change break comes up and this gives Ms. Hill the chance for a natter to the crowd. She does love a good chat!
We're now in Black Stone Cherry mode with the slower Back for More, Hit Me Again, Imagine What We Could Have Been and Hellfire & Holy Water coming in quick succession. The guitars of Joe Worrall and Alex Novakovic often scream out the music despite the pair's relatively calm exteriors. On the other hand, the bass of Bret Barnes is frequently thunderous – just like his on stage antics, he's a bit mad to say the least. Max Rhead on the drums holds these three together and the combination supplies some tasty Southern rock which is extended further by the vocals of Rhiannon Kira Hill.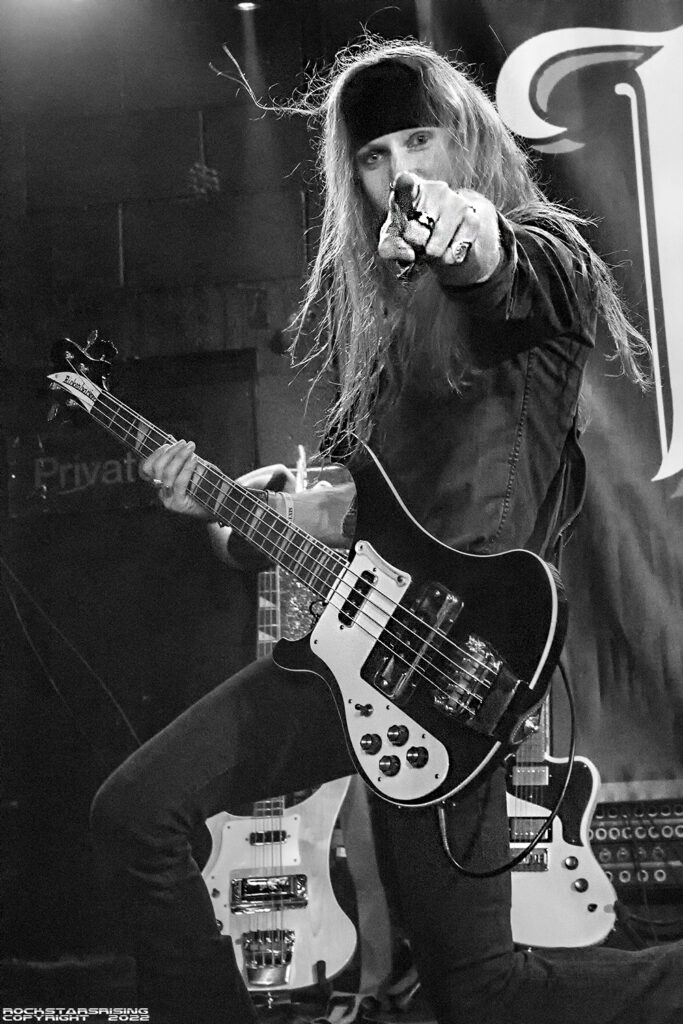 After a cover version of Animals by Nickelback the original material returns with a bang; Chaos is Calling calls for some audience participation and is a perfect song for a road trip. We're back to some chit-chat, which Ms. Hill seems to be enjoying as she tells tales of her current home town of Manchester.
A rather more soulful song comes next with Never Going to Stay but that soulfulness lasts just a few minutes before the harder-hitting Mississippi Swinging hits folks over the head like a sledgehammer. The set finishes with one more cover; this time it's ZZ Top's Tush.
The band take a breath and leave the stage to plenty of applause, cheering, yelling – just noise in general as the audience do their best to get them back quickly.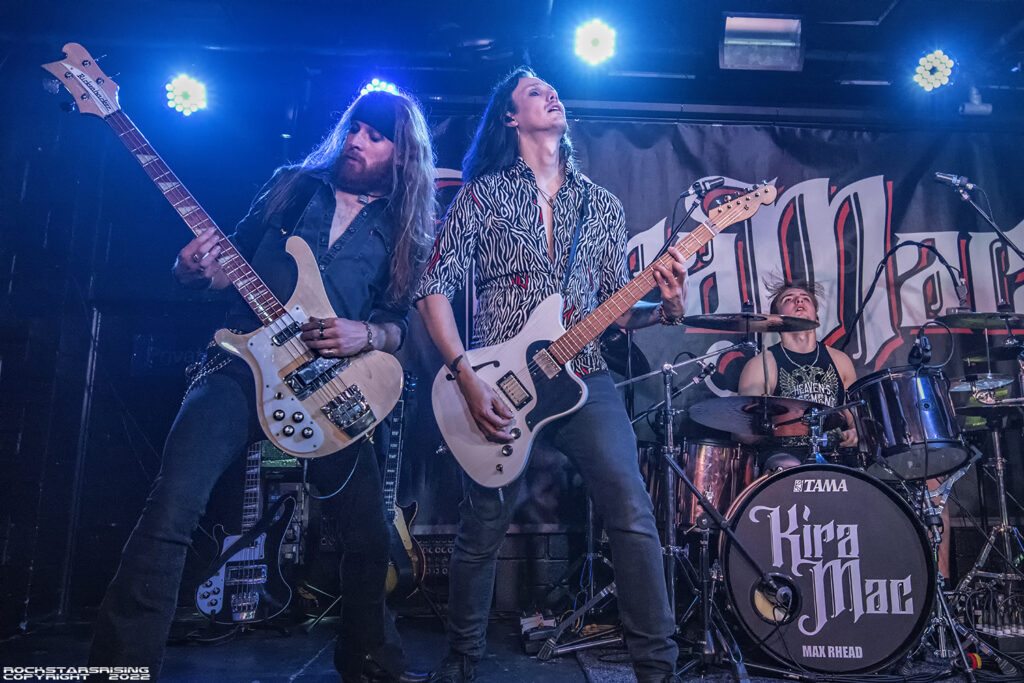 The band return to present Metallica's Nothing Else Matters which, to me was a bit tame given what had gone before but that went by-the-by as One Way Ticket with it's heavy rock opening finishes the night. A cracker of a song to end the performance.
Big things are on the cards for Kira Mac and all will unfold in 2023 when the band tour again in the summer. My thanks to Mark Owen for having me along and to Matt Culpepper for his help in securing the press pit space. Hopefully I'll see them both next time around – you never know, the venues may get bigger as they both support, and headline, their way through the next 12 months.
Words & images: Reg Richardson