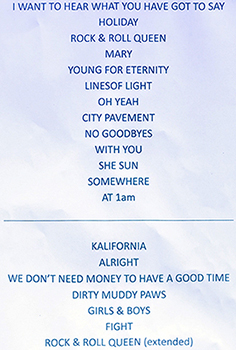 When the group got asked by the editor if anyone fancied covering the Subways up and coming tour was met with silence, I decided to take one for the team without researching it first. Covid and the lockdowns had meant that getting any live music coverage was non-existent. My last official gig prior to the re-opening of live venues was the great Phil X back on March 3rd 2020. So, I was keen to shoot anything, even monkeys in a barrel.
Now a couple of months after lockdown I've a couple of festivals and 3 or 4 live gigs under my belt. The Subways night is here and I'm now rethinking my earlier decision.
Anyway, I've done some research and have realised that it's not my cup of tea, but I'll honour it and wont fake illness. You never know, live music has a way of massaging your senses leaving you coming away with a different viewpoint, I'm always up for finding hidden delights.
First up we have Anglo/German ART BRUT, a five-piece offering their take on Indie Garage Art Punk Rock. They have been tagged as part of the 'Art Wave' scene by NME, which include the likes of Franz Ferdinand and Bloc Party.
Statuesque front man, Eddie Argos, bears a striking resemblance to The Human Leagues Phil Oakey, and his command of the stage is strangely, very Bryan Ferry! It must be the paisley shirt!
The sound is typical of that genre, in that it's a distorted guitar over a subtle melodic bass backline, interspersed with feedback and guitar riffs that seem at odds with the melody but interestingly work in portraying a dystopian audial environment much to the delight of the small early crowd. Argos's vocal delivery, based on humorous events about himself, relationships and family, has been expressed as both lyrical and spoken word. Their set list of 12 songs which for a support seems long, is a greatest hits compilation from their back catalogue, and features 4 tracks from the most recent album, 'Wham! Bang! Pow Let's Rock Out! Released in 2018. The crowd love the set which has slowly grown. A fan in particular enjoyed shouting out that he loved Eddie, strangely he looked a lot like Sleaford Mods frontmanJason Williamson.
THE SUBWAYS are getting towards the end of the 15th Anniversary tour of their highly acclaimed first album, "Young for Eternity', released in July 2005. This was marked with the re-release of a 15th Anniversary edition of the album in December 2019. With covid getting in the way in 2020, and the closure of live venues the Album tour had to have an unscheduled break. 2021 sees the return to the tour, tonight'­s Rock City gig sees the tour coming to it eventual end with only a couple of nights to go.
To say they are in good form when they hit the stage is an understatement, as they are greeted with a roar from the crowd, smiles are everywhere. Rock City has now filled up to a comfortable level. Sadly, not a sell-out show but a sufficient number of fans have turned out to make it worth-while, and with all the hullabaloo, you wouldn't know differently.
Wasting very little time, as Rock City has set a 10pm curfew, mainly because the University 'Fresher' students will be queuing up for the club night that follows after, until the small hours. Billy Lunn takes time to introduce the new drummer, Camille Phillips; some will no doubt know her as the drummer with the all-girl band the Romonas. The previous drummer and founding member, Josh Morgan has decided to quit the band. Billy makes it clear that there is no remorse and wishes him, publicly, all the best for his future endeavours.
Playing the album as per its track listing, we have a few bangers, in fact such is the nature of this genre, we have an album's worth. 'I Want to Hear What You Have Got To say', 'Holiday' and that crowd favourite, and song that featured on the tv show 'OC', 'Rock & Roll Queen', quickly get things going.
Hitting the set list with hi energy from the start, Bassist, Charlotte Cooper is dancing around the stage as is her norm. Her hair flailing around as she head bangs and pogo's with a bass guitar that dwarfs her elfin size, but make no mistakes, the driving melody is there and its smashing into your chest as she and drummer Camille bash out a serious backline as Billy takes stage left with familiar SG slung to hand. Smiling into the crowd as he delivers striking blows to his 6 string, favoured by Angus Young of AC/DC fame.
The crowd are instantly onside singing loudly, a mosh pit has already started to swirl.
Lunns voice is driving as he smashes out the dirty riffs one after the other, briefly visiting the drums but not throwing himself through the air quite like I was hoping he would. Coopers backing vocals perfectly matches that of Lunn as her almost childlike delivery gives a naivety to the proceedings which belies the nature of the music type.
'Young for Eternity' and 'Oh Yeah' go down particularly well with the crowd, in truth, I found myself singing the hook along with them. Obviously, my homework had paid off, more to the point, I realised that while watching the rest of the gig I was singing along to several more from the set list.
'Somewhere' struck me as a stand out song. Lunn's delivery is a very 60's style drug infused lyric, not out of place with the Doors, very dreamy and almost ethereal. With a delicate use of repetitive hook's, the tune grows and swells as it meanders along. The bass and drums, tight as they mould the song as Lunn, acrobatically, adds dirty distorted riffs over the top, a great tune that is different in style as well as length, a great job that constantly builds to a clattering climax.
The album finishes with a hearty fast 'At 1 AM' with its almost precise mechanical guitar sound, Cooper gives a supporting lyric as she and Lunn twist this short song and deliver a finish to the album part of the set.
To complete the night, we have a few from their newer albums, all show a development in song writing ability, thankfully it appears to be an organic growth so the honesty of the original album sound carries through. The crowd enjoy the choice as they are bouncing and singing along still. Hands high as the punch the air it time with Lunns guitar strokes.
We get a special treat in that they play their latest single, 'Fight', from the soon to be released 5th album, the song has already gathered attention with its pollical message of 'Black Lives Matter'. Haven't we been there before with Jackson's and McCartney's 'Ebony and Ivory' from 1982, yes, the one written about the keys on a piano, but deals with segregation and racial disharmony. So, nothing new but delivered with the angst and torment more relevant to today's society.
The night finishes with a cataclysmic revisit to 'Rock & Roll Queen' and in such the crowd try to knock the roof of Rock City. Everything seems to have been turned up to 11, as the song smashes you squarely in the face, you can't help but get carried away with the energy in the room. Singing along, I quickly put my hand down and look around to see if anyone noticed.
Having gone to the event filled with misgivings and a feeling of 'this is going to be a long night', I can't believe it's gone so quickly. Ok the songs can hardly be called anthemic, they are mostly about 3 minutes in length, but the energy of each and every one was captivating. Listening to the setlist while trying to write this review, I fully 'got' what they are all about. I only wish I'd now bought the available album on Red vinyl, along with the Tour Tee shirt I did buy, to add to my collection.
Another great night of live music, with that old adage, 'Don't Judge A Book by Its Cover' thrown in for good measure. Live music does it again, a new fan is born and I can confess that I'm looking forward to the new albums release.
Words & photographs: Manny Manson