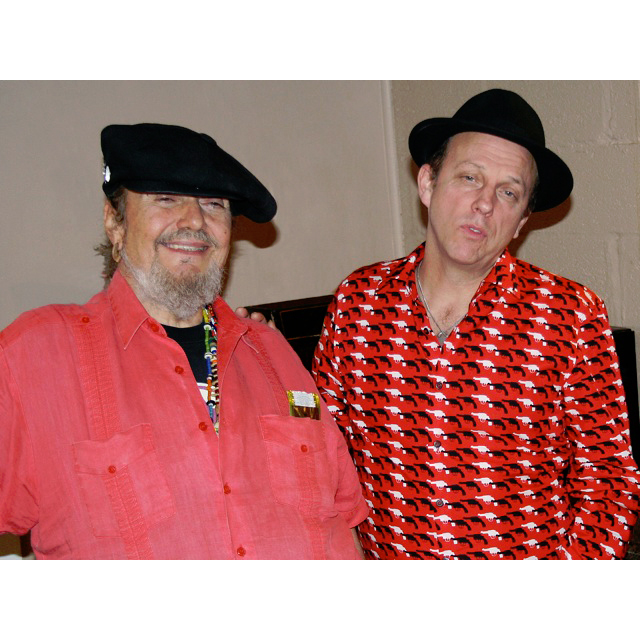 Stephen Dale Petit, the New Blues Revolutionary teams up with Dr. John, The Night Tripper and Dick Carruthers, the Zeppelin/Stones Video Maestro to Get You Off with incendiary short film.

Watch Dr. John and SDP in Dick Carruthers' latest exquisite music film creation.

"Get You Off has clammy palms with Dr. John's clanging piano and a tempo-shifting Size 10 riff" – Classic Rock   Sometimes the expression 'a musician's musician' can sound a little serious and weighty but in Stephen Dale Petit's case, it's a description amplified by the line of A List musos queuing round the block to collaborate with him, a list which has become ridiculously impressive – and it just got longer…   Landing on these shores from his native US West Coat in the 90s, the young Gibson-toting blues man had left behind a promising American career which had included playing with his teen heroes Albert King and BB King; but Petit quickly impressed British rock icons and made muso friends who invited him to play on London stages: a chance meeting with Pretty Thing Phil May(who was to become a lifelong pal) led to him regularly playing alongside David Gilmour, Rolling Stone Ian Stewart and Eric Clapton – who was to become a huge early supporter. 

As time passed and several self-funded, hugely critically acclaimed albums received increasing plaudits, the Who's Who of huge rock and iconic style friends and collaborators grew and grew; Sir Ringo Starr; Rolling Stones Mick Taylor and Ronnie Wood; Howlin' Wolf guitarist Hubert Sumlin; vintage blues entrepreneur Chris Barber; blues guitarist Walter Trout; Black Keys' Patrick Carney; art maestros Sir Peter Blake and Klaus Voormann; photographer and muse Pattie Boyd and, most recently, The Kills Alison Mosshart and, of course, Dr. John – The Night Tripper who came into the studio to sprinkle some New Orleans magic dust from his Gris Gris onto this track, which has been caught on video and edited into the brilliant short film (links below) by music video and film director Dick Carruthers (Led Zeppelin Celebration Day; Rolling Stones Bridges To Babylon; Oasis Definitely Maybe)…   Dr. John (Mac Rebennack) left the world a far lesser place in 2019, however his spirit lives on here and with the highly anticipated posthumous release of the album he had just about completed at the time of his death. Things Happen That Way comes out in September this year.

Stephen Dale Petit misses his friend a lot but remains tight-lipped about the story concerning a woman, a meat cleaver and Mac's cojones; Petit's recording career goes from strength to strength, despite his most recent album 2020 Visions' release, tour and marketing plan being royally f**ked by the C thing but it finally came out last year to rave reviews.