A first post-lockdown trip back to the hallowed turf of the Robin 2, Bilston sees the self-styled 'R n B Club' getting back to its roots with a smorgasbord from the Deep South oeuvre in the shape of the Blues Caravan.
A resident fixture of the British Blues scene since 2005, tonight's nod to the package revue gigs of the fifties and sixties features Jeremiah Johnson, Whitney Shay and Ryan Perry.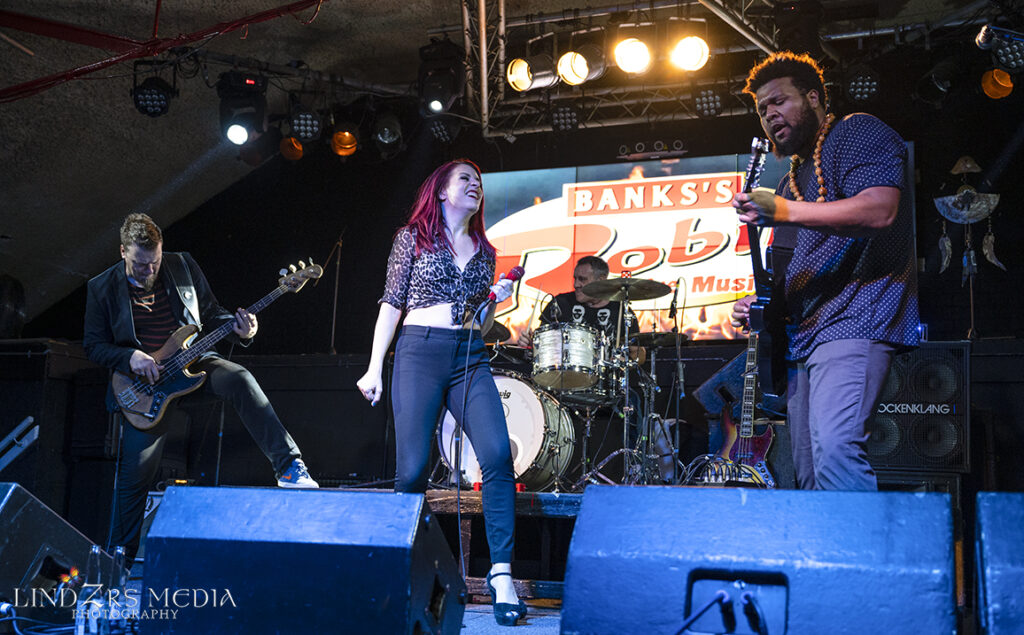 The trio kick things off with a sassy version of the apposite John Lee Hooker classic, Let's Work Together, to showcase their combined talents before Mississippi's Perry takes centre stage for a solo set where tracks like Homesick and Ain't Afraid to Eat Alone are the perfect vehicle for his rasping vocals and accomplished axe work while Oh No! takes proceedings round a down and dirty corner of sleazy, slow and sultry blues. An excursion into Howlin' Wolf's psychedelic period provides an exhilarating version of the staccato Evil's Goin' On which is followed by album title track, High Risk, Low Reward; a sojourn into the bluesman's staple of failed relationships to be mined for lyrical gold.
Swapping sunny San Diego for the glamour of a Monday night in Bilston, Shay joins the incumbent trio for an upbeat set of everything from the Gospel-blues rock continuum – the latter end epitomised by the lead track from her latest album, Stand Up! and PS, It's Not About You. Love's Creepin Up on You hints at the country influence on her blues persona and Getting In My Way is the perfect vehicle for the sassier side of Shay's repertoire. Far Apart But Still Close sees Shay and Perry dovetailing perfectly in a lovelorn duet and this is followed by Boy Sit Down, a catchy trad blues number, and A Woman Rules the World, a mistressclass in sultry vocals.
Daddy's Going Out Tonight is St Louis's Jeremiah Johnson's opening number and places us firmly in the realm of the southern rock for which he's known in the States. Sun Shine Through and Muddy Black Water continue in a similar vein and are the kinds of songs that would fit just as well in an arena as an intimate blues club. Blues In Her Eyes could be straight out of Gary Moore's songbook and Johnson's accomplished licks would sit comfortably alongside the Northern Irish blues behemoth's trademark six string virtuosity. Next comes Long Way Home, a poignant eulogy to his grandmother which doesn't veer into mawkish sentimentality and then Showdown providing country rock of the highest calibre. As this part of the show comes to a close American Steel pays homage to the hot rod scene of his native USA.
An all too brief closing set of the headliners' combined talents, the highlight of which is a triumphant Caravanised version of Bob Dylan's Gotta Serve Somebody, leaves the Robin crowd sated on this late-summer's evening and epitomises how this unheralded corner of Wolverhampton continues to offer entertainment of the highest quality in the face of the continued struggle to bring live music to the masses.
Photographs: Lindsay Smith
Words: Jay Burns