Day 3 – September 12th.
Take day 2 and repeat, up, shower, dress and it's off to the golden arches. Breakfast and a yarn about Clarkson's Farm on Amazon Prime is the topic of conversation. If you've not seen it, it's well worth a watch. Clarkson is Clarkson, and it wouldn't be the same without his twisted sense of reality, however the point is made that farming isn't like planting seed boxes. watch it!
Early arrival yet again sees us inside the venue before the masses. A great time to catch up with Paul, he's been shooting the entire event on video from the soundboard so it's nice to have a spot of cheeky banter with him before it all kicks off.
A slight delay to opening the gates, unforeseen circumstances, in that the toilets have not been emptied, for whatever reason the team contracted to do the job have failed to show and remain uncontactable. No toilets no show! Council Health and Safety rules. Within minutes the RTB team have negotiated the use of the neighbouring Ice Stadiums loo's while the dilemma is fixed. The team have done an amazing job this weekend, this is just another example of their hard work. So, a slight delay in opening the gates, but nobody is any the wiser.
Today we only have three events in the 'Steel City' stage tent. One of which is being occupied by the same act twice. Yes, we have another LFT positive which means the ever popular Baranovich have had to pull out of the show. Booooo! These are a band I'd heard a lot about but had so far failed to catch. One day!
Up first on Mikey, we have Andy Barrett and the Dukes of Bordello. They appeared in the 'tent' at RTB-1 and have made that easy jump to the main stage. With their brand of Rockabilly meets 21st century, distorted guitar, gruff vocals and a double bass, hailed as being an Ikea special, you get the idea. This is more grunge and grime that, bebop and jive. But whatever, Andy and the boys put on a great opening set.
Next on the Mikey stage we have Black Whiskey who have shown up despite losing their guitarist Kev Ingles who has passed away due to cancer back in 2020. In his place, respectfully not wearing his cowboy hat, is Fred from Sons of Liberty. You can see from the outset that Fred has done his homework, and in true Fred style he gives it plenty. This blues-infused rock band certainly put on a worthwhile set, but they must still feel a bit at odds with the passing of their friend, the main songwriter in the band. RIP Kev, sleep well my friend.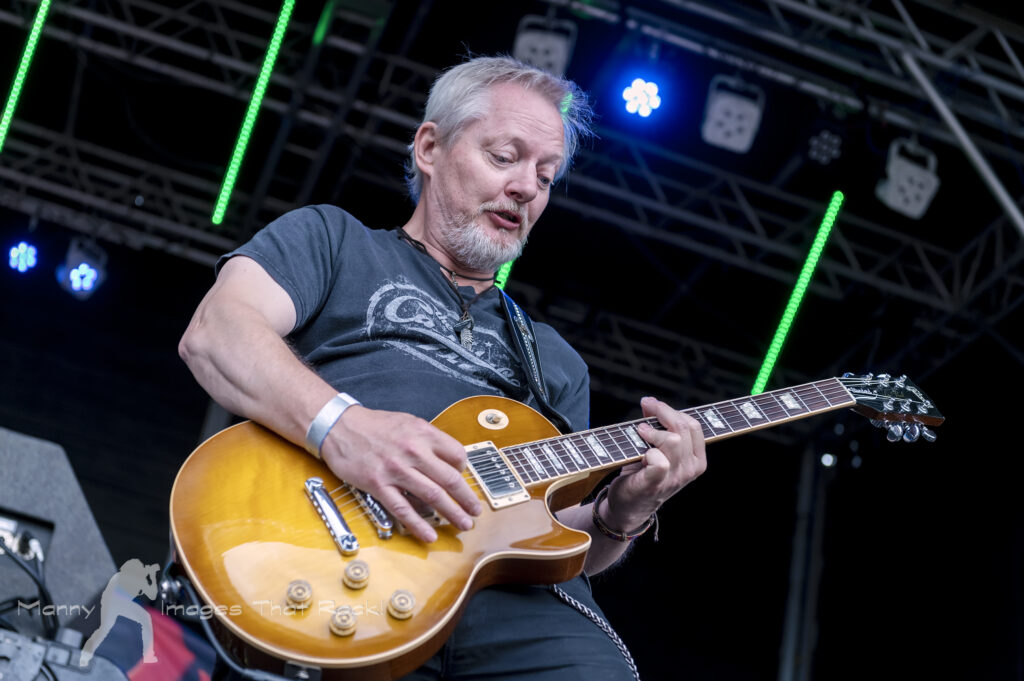 Ha, ha, ha, Sons of Liberty what can I say about these good time boys. I covered them recently for a friend at short notice. I'm a Southern Rock kinda guy so I'm always nervous when a UK band tries to take on the style made famous by Molly Hatchet, Blackfoot and the ubiquitous Lynyrd Skynyrd. Fear not, within a couple of songs you forget all that and just plain enjoy these Bristol based boys enjoying themselves. Cowboys they may not be but true Southern Rockers? You betcha!
These Southern Rockers are followed on to Mikey by the effervescent Bootyard Bandits, a catchy name for a band filled with catchy tunes and yet another banjo. They site themselves as a mash up between Black Stone Cherry and Steel Panther, thankfully without the worn-out scripted banter that SP seem to continue to use. Entertaining and fun with hobby horses and inflatable cactus they smash an incredible set. Speaking of which, the animated drummer of the weekend award has to go Bamm Bamm with a clattering demonstration of how to make drumming look easy whilst appearing like Animal off the muppets without his costume. Stunning job.
Angelo Tristan and Collateral are up next. This great band have a good following, mainly down to the hard work they have all put into it, and the fact their front man is, well, a Rock 'n' Roll prostitute, to quote Freddie Mercury. Loved by many, Angelo with his long hair and good looks certainly plays the part of a bastardised mash up of a younger Steven Tyler, a part he played in a recent documentary, and comedian Russell Brand. Now a 6 piece where it used to be 4 sees keyboards and an extra guitar fill the holes that weren't apparent but bring a much richer, fuller sound to their mix. Now that Todd has someone to share the guitar duties with, you can see the chemistry. This 80's hair rock inspired band, Aerosmith meets Bon Jovi have the crowd bouncing, men in cut-offs smiling. It's got a little bit of everything along with a big dollop of Angelo. A great fun band delivering 80's hair metal back to the masses.
First band in the 'tent' now and it's the turn of the Eddie Huntley Band, a Sheffield based guitar driven band, I'm to say he played a 335, a great axe and ideal for his blues soul fusion style of playing. A great player that I wish I had more time to enjoy. With a style reminiscent of Robben Ford, Dan Patlansky and a heavier Ben Poole, Eddie is certainly no slouch in the singer songwriter department, he's bound to gather momentum; with great lyrics and greater playing he should have, hopefully, a great future. Now, where can I get some of his music to listen too.
We now rush back to the Mikey stage, up next should have been Leicestershire's finest, SKAM, but sadly, yet another victim to a positive COVID test, they have to withdraw from the show. Steve Hill was heart-broken when he delivered the news to his fans via social media. He has since shared that he is now Wasabi immune! What a result. Pete K Mally tried to call him up live so the crowd could shout a get well soon but he was obviously off out with his other band MASK, he joked, when his call failed repeatedly.
Wicked Jackals stood in admirably, and respectfully toasted the SKAM boys and their future good health, as they tore the stage up in their unique way. With gruff vocals giving way to a demure talking voice, front man Ollie Tindall, guided the Jackals through a great set of driving rock. Marty Venus put on a show that any guitarist would be proud of, with his hair and sunglasses he rocked out like Slash's younger brother, but there's only one Slash to be fair. With an impromptu walk through the crowd, letting the fans take selfies with him as he screamed out a scorching solo worthy of the big man himself; great fun and a band to remember for future appearances.
Back to the 'tent' and we have Eddie Huntley playing an acoustic set to fill the space made by Baranovich having to pull out due to the dreaded lurgy that is COVID. It's a shame as they were one band folk had told me I had to catch. Never mind there's always next time. Eddie put out a great set from what I could see of it. With the use of Collateral front man's acoustic with which he struggled to play he entertained a good-sized crowd. In fact, I sought inspiration for writing these reviews by playing his YouTube channel and found his style of playing to be right up there as previously mentioned. I shall be definitely looking out for this chap down my neck of the woods in the future.
The biggest surprise of the weekend appeared on the Mikey stage next. It's a band I've seen several time's now and have waked away indifferent. In fact, I covered them at Rock City and struggled to find a copy of the set list. I approached them directly to not get a reply. So, when I saw Hollowstar on the line up I thought, hmm, they're punching higher up the playing order than I thought their ability deserved. First song over and done with and my jaw is still on the floor! What-ever these boys have done since I last saw them, I take my hat off to. What a difference. Their musicality was next level, tight, precise but easy looking. Obviously enjoying their set, they easily showed that they've stepped it up to the next level. Phil Haines is a delight to behold. His enjoyment of what he was doing was written all over his face as he stood atop the speaker stack, centre stage and belted out a smouldering solo. This energy was transferred to the crowd in spades. Joe Bonson and co have grown into a band that lets you know that the future of rock is safe and well; and for that reason I have to award them my stand out of the show award, aside from the headline acts obviously, they were that unbelievable, outstanding set, well done Hollowstar!
The final band in the 'tent' has struck up and it's caught me out whilst waiting for the boys room, I've gotta go. Heading back into the tent I struggle getting a decent vantage point. I manage to get a couple of pictures, and in the effort to protect my gear, I go and stand at the tent entrance to enjoy what's left of the set. Yesterday's Gone are an authentic sounding Southern Blues orientated rock band. Rob Walker cuts a dashing scene as frontman, clad in hat and long beard he keeps the crowd entertained as the tent swells to the meaty riffs being laid down. If you like menacing riffage and great musicality go and check these boys out, they won't disappoint.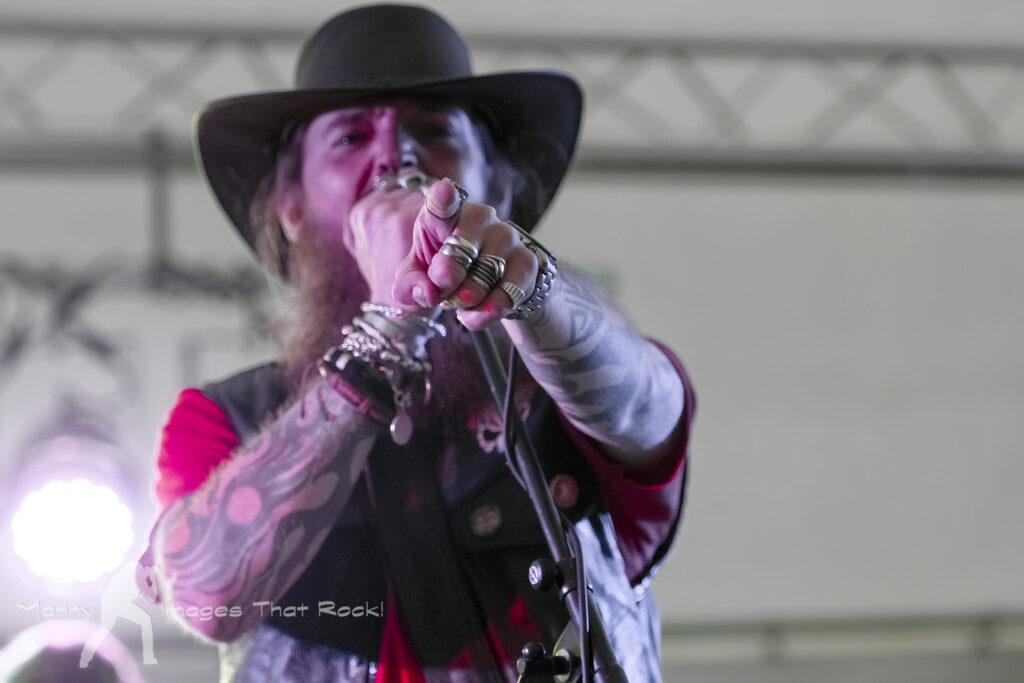 Right we have all had a briefing as to what's happening next with regards to pyro etc. In fact Gino has laid down the law and we, as an enclave of eager togs are all dripping with excitement at what's been promised (Ed: ewww). We have to be at point A by a certain time, any later than that and it's 'sorry, no go'! From this point we'll be taken in small controlled groups for our one song in the pit, then out and group B go forward. Great organisational skills being deployed here.
In fact, the control of the photographers has to be commended. Although COVID restrictions have been relaxed it was encouraging to see that Steve, Zhany and Gino have given it a lot of thought. With the allocated size of the pit, it meant that there could be 8 togs shooting at anyone time, this would give the 2m separation deemed appropriate. The Pit Boss did a great job in enforcing this, and those of us who shoot regularly know that what the Pit Boss says is said for a good reason so is non-debatable, regardless of who you think you are.
Well done team, a commendable performance from all involved. Right, back to the headline act on the final day of what can only be described as­­ a great festival.
A large banner hides the stage as Massive Wagons prepare to rock Sheffield's world, there is no doubt that it will be registering high on the seismic monitoring centres around the world.
The crowd are suitably hyped and ready for this fun crazy band. As it grows ever darker, the band are due on at 8pm, we get fidgety as we need to be somewhere else or we will miss out. The first song is a total pit ban so we are all crowd bound waiting for it. With a crash bang whollop the banner drops and we're hit firmly in the face with enough light to melt the polar ice cap. Baz in trademark flame trimmed suit and bowler hat is careering around the stage in his usual manner. We have now all made a hasty retreat and are happily grabbing our allotted times in the pit, on exit we're asked if we got what we needed and if we are ok with the organisation. Togs are always going to grumble about lighting and time in the pit so that aside we were all happy for the most part.
Baz now has stripped down to his 'Where's Wally' top as he relentlessly runs around the stage. The guys have their allocated 'stations' and are making the most of the 'Big Set' that they're now playing. Having seen the band a couple of weeks ago at Stonedead, tonight is chalk and cheese different to how the set dynamic is playing out. Tonight, Baz and the boys are treating us to a phenomenal power house of a show that is worthy of any arena, and the energy and showman ship from them all has delivered a truly outstanding 90 minutes of pure musical delight. There can't be any non-belie­­vers left in the crowd, it beggars belief at just how amazingly good this band from Lancaster are.
And so 'Rockin The Bowl 2021′ has passed, the organisers should be well proud of what they've achieved under the conditions and restrictions they have had to operate.
Next year is already showing to be a great line up and the early bird tickets are selling fast.
I hope to see you all next year, keep safe, keep sound, but most of all Keep on Rockin!
Hold On!
We've missed something, the compére, the very talented, stupidly funny Mr Pete K Mally. I can't finish without a few words about this nut job. What a genius choice, funny but so totally inoffensive in every way. He somehow managed link together all the bands over the course of the weekend, using his own inimitable style of humour. He entertained and made friends and had time for everyone. He poked fun at himself, at the bands and even me! It's understandable why Pete's so busy in the live music scene, he and Krusher Joule have carved out a unique 'niche' for themselves that leaves them the masters at what they do and wanted by everyone; understandably the two best compéres on the circuit. I only hope someone bought one of Pete's shamelessly plugged books.
Words & photographs: Manny Manson