Day 2 – September 11th
This was an earlier start so it was a case of up early shower, dressed and off to the infamous double gold arches for a spot of breakfast. Knowing it was going to be a long day and that the on-site vendors like to make money we over ate, hoping to last well into the night.
We again get on site early as we seem to have access to everywhere within reason, handy having my volunteering buddy along as he seems to know everyone.
Today is going to be slightly busier as we have the 'STEEL CITY STAGE' running. The idea is that this stage showcasing local bands, will run betwixt bands on the 'MIKEY LAWLESS' main stage.
The main stage is named, as a fitting tribute to a young man, a rock bassist in Falling Red who sadly passed away after being struck down with cancer. He played a rousing set at RTB-1 despite being only months away from passing. A glass or two were raised to this inspirational young man.
Mikey You Rocked Dude, Sleep Well My friend.
And so, day 2 kicks off. We start with Lowdrive a heavy riff driven rock band from Sheffield. They appeared at RTB 1 in the Steel City Stage, obviously making the right kind of noises as they now open the main stage on the second day.
And now the chaos ensues because as we have the Mikey Lawless stage being changed, we have the first of 8 bands in the Steel City Stage tent, this is kicked off by Zero Point Zero a 5-piece delivering a Derby based blend of brutal crushing Metal Core. Needless to say, the tent is rammed, as I fight for my life to get out. Metalcore certainly isn't my go-to genre I've now discovered.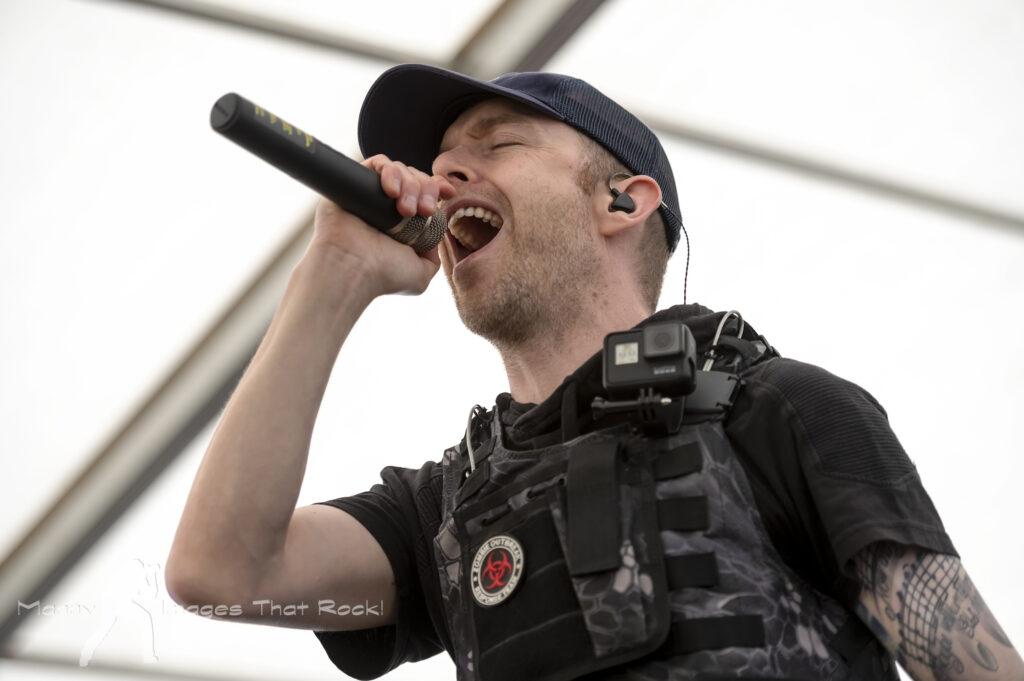 Back on the main stage we have the very colourful all girl band JOANovARC with new voice of the band Hazel Jade Rogers, resplendent in white foundation, green hair tips and red tinted glasses, she certainly motivates and commands the stage. Her Irish lilt is soothing but powerful in song as the all-girl band delivers a great set, the songs touching on all manner of things including relationships, community issues and even drugs giving them a great foil to lay their blues driven riffs, underpinned with strong, aggressive bass lines and over-laid with Hazel's ethereal vocals. Keeping the honesty of the original songs.
Prog n Roll now fills the Steel City Stage as Firegarden take to the stage. This 3 piece see long haired Jake, Ashley and Chris add a little bit of taste back to Bowl. Citing Deep Purple as a big influence. The distorted guitar and tasteful solos squeezed into a melodic tune show that they understand they're audience. Their 70's biker rock sound has great appeal and judging by how full the tent is many would agree that this band have more than one or two fans.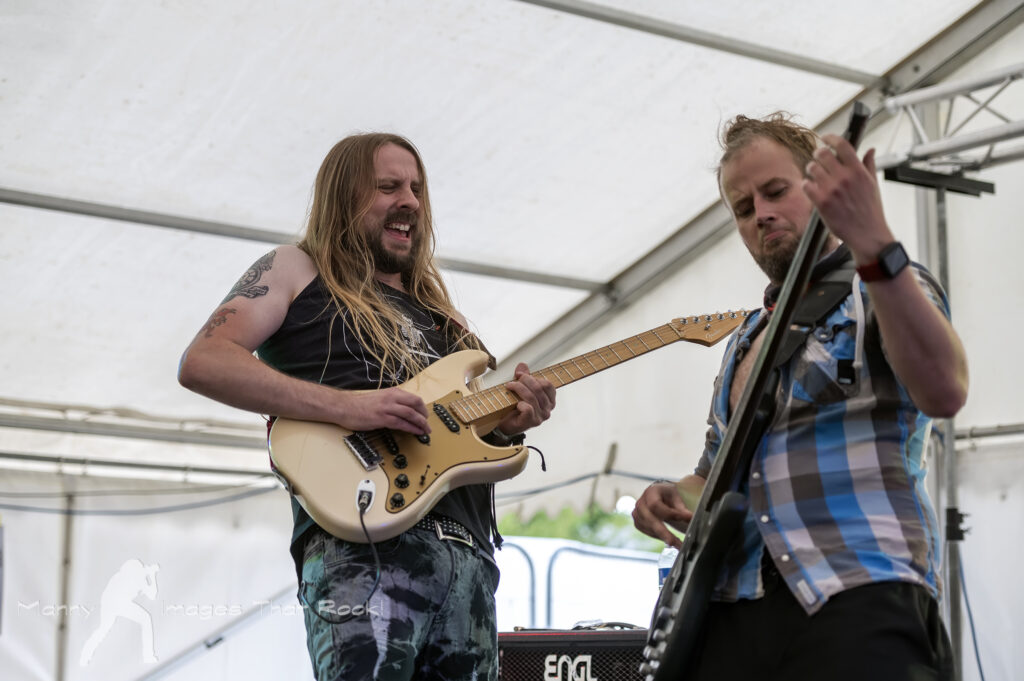 Its only Florence Black on the Mikey stage next! Riding high on their new single Sun and Moon which has garnered great reviews after being added to Planet Rocks playlist, it has helped catapult this welsh band into the limelight for all the right reasons. With a driving sound reminiscent of early Tank and Budgie, of which they do a great cover of Breadfan as a set closer. This 3-piece seem to have found their footing and again cater to the die-hard heavy fans by playing a right meaty riff driven sonically overloaded set of classic rock. Terrific, that blew the cobwebs away.
Back in the tent we have Blame the Sacred a Doncaster based 5-piece; they state that Donny' is a poor second to Sheffield despite a healthy rock scene. With a classic rock vibe of scorching guitar work and catchy melodies their fused style of rock is both refreshing and familiar.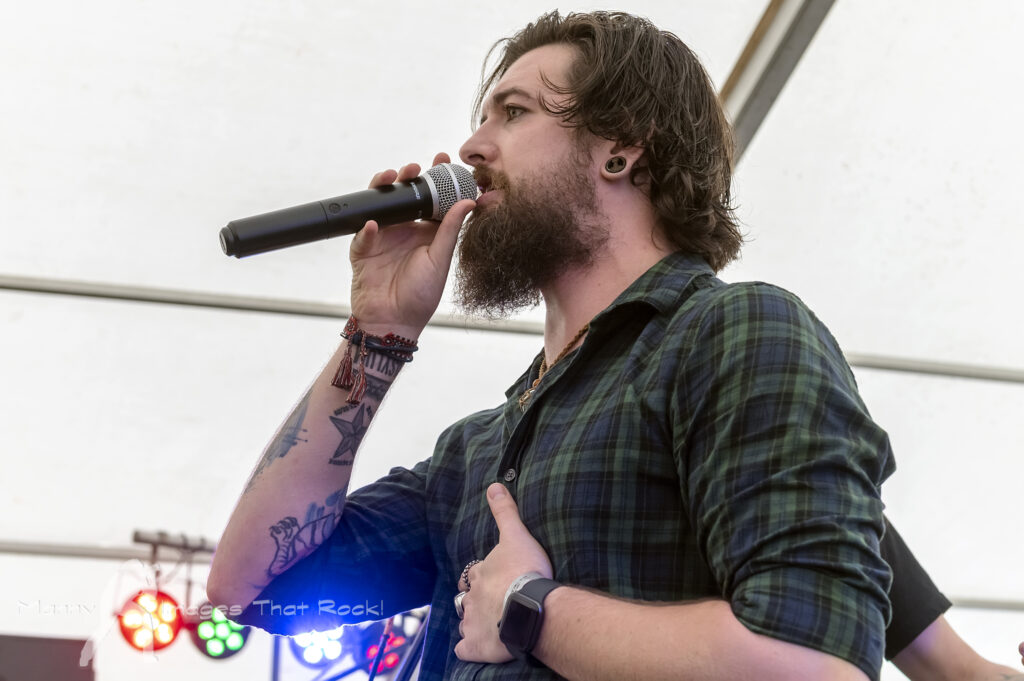 The cool, dark and brooding Empyre take to the Mikey stage next. This band are unbelievable cool, guitarist, Dids with his hipster beard, and singer/guitarist Henrik Steenhodlt with a cold expressionless exterior that carries across in his voice. A great combination of driving anthems and soul searching subtly to leave you wanting more from this UK based rock band.
A Joker Among Thieves hit the Steel City tent with their tuneful heavy riff driven style of rock. This enjoyable 3-piece from South Yorkshire lay out a heavier set influenced by the likes of Black Label Society, Tool, and Clutch the grit certainly comes across.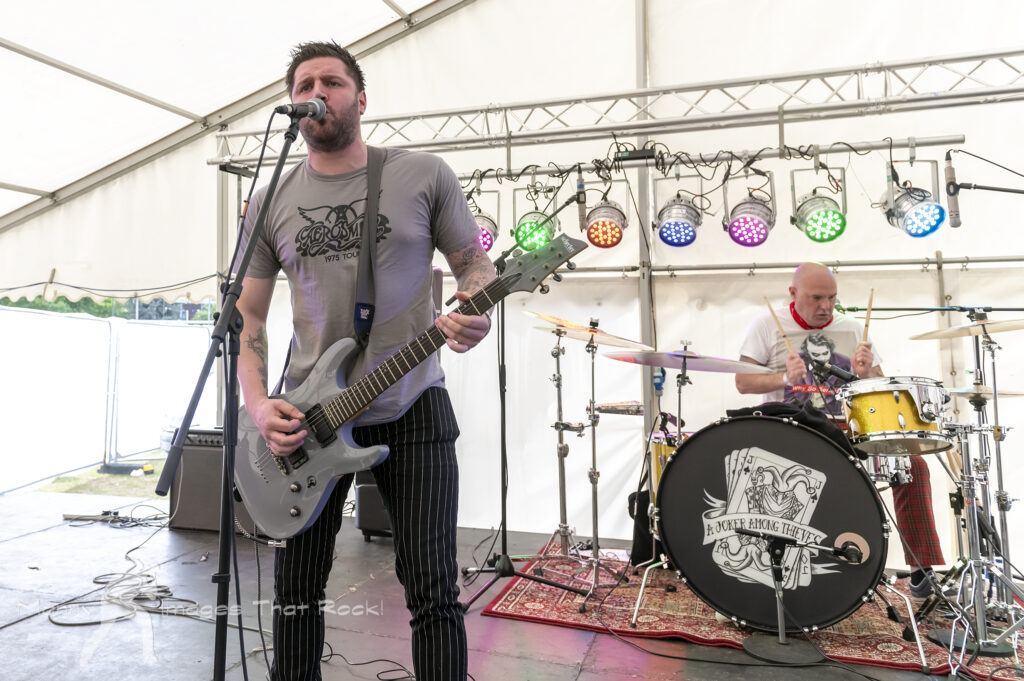 It's now time for the East Midlands based Hells Addiction to have a go on the Mikey stage. After a lengthy but hilarious intro from compare Pete K Mally, they finally get going, and with a barrage of screaming guitars we are away, the dual guitars combine giving an 80's hair rock sound but with grit. Dan on stage left at easy with the dive bombs and pinched harmonics, long blond hair giving him an ethereal prog look, were as Liam, looking like a hippied Gerard Butler keeps order with a snarling Les Paul. For this outing we have the mighty Neil 'Hammer' Hill from SKAM beating the skins. The dynamic he brings to the band instantly recognisable. Pure SKAM theatrics, Awesome! With a sound reminiscent of Ratt and Skid Row, this melodic band brought this sound up to date and in doing so, certainly raised the bar higher.
Coyote Mad Seeds are next in the Steel City Tent, they follow on were Joker left off. This head down, hard driving rock see's the tent full again as they play loud, hard and deadly (their words) there is a mix of Sabbath, Metallica in their sound, it's certainly an energetic set from this Sheffield 4 piece.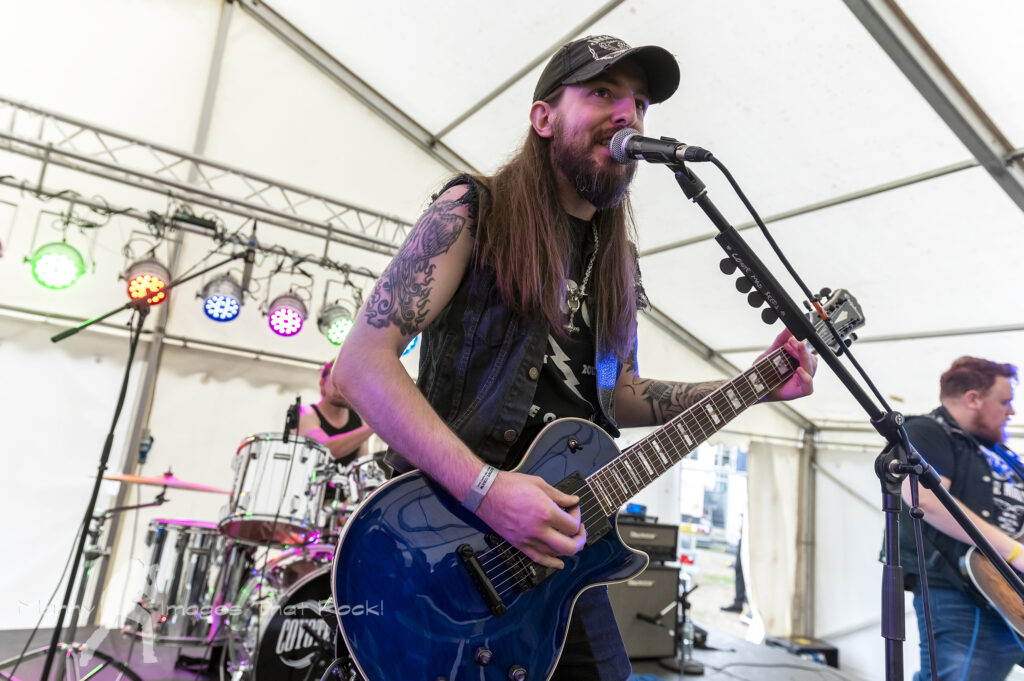 Norfolk's finest now grace the Mikey stage. Bad Touch are gathering momentum as something Bootifull to behold. With a frontman carved in the likes of Tyler and Bach, Stevie Westwood is super cool as he stalks the stage. Here he is in his element, there is no persona change as he delivers a masterclass in being a front man. Backed by the howling twin guitars of Rob Glendinning and 'Seeks' who looks for all the world like Paul Kossoff's younger brother, George Drewry, sat at the back, providing backing vocals as he bashes out a sloid back beat with Michael Bailey on 'metal' bass and hair, albeit slightly shorter than I remember. they deliver tune after tune of bluesy rock to a receptive crowd. The set wouldn't be complete without that fan favourite 99%. a stunning set and not a Turkey in sight.
Solid Celtic sounding punk rockers, Shanghai Treason, take their turn in the Steel City tent. They're brand of upbeat rock with a punk twist has the tent bouncing along to tracks like Emerald Causeway, throw a banjo into any mix and you have instant smiles everywhere. Add a catchy backbeat and you're hooked. A great set by these Yorkshire Banjo Punks.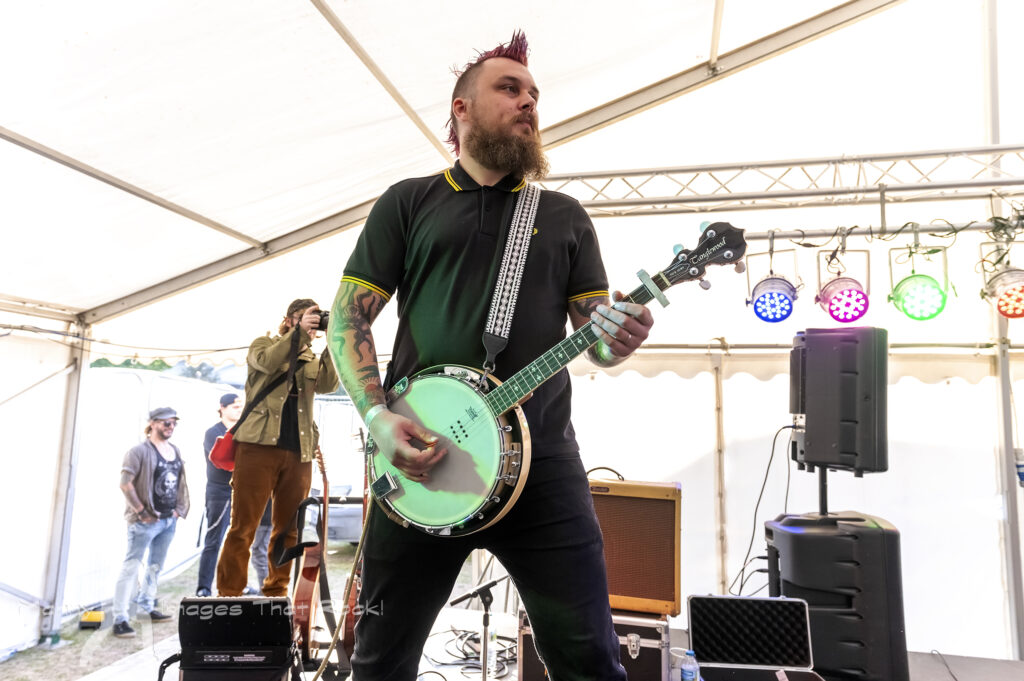 After a grabbing a quick bite to eat which was an episode in itself, cramp, Chicken Tikka all over me as I 'dying fly' trying to get to my feet. Must have looked hilarious. What chicken I ate was delicious.
So, Gin Annie, that 5-piece, melodic hard band from the West Midlands strike up on the Mikey Stage. This band is no stranger as I've seen them a few times now. Their guitar driven sound is the perfect foil for singer Dave Fosters melodic vocal. With great interplay they strut around the stage confidently as they belt out a great set. Brian Green on guitar superbly dive bombing on his Jackson, as Byron drives out a solid steady riff, this 'cat in a hat' certainly has the chops to entertain. A great set and it certainly warms the crowd up ready for to-nights headline act.
The Steel City tent now has their final act of the day. The formidable Silverjet a cracking old school melodic rock band now with added sleaze. Smashing their way through a gritty set. Complete with a Phil Campbell look a-like now on guitar, this band has grown over the years into a formidable line up. Vox and guitar frontman control's the crowd with his antics backed up by superb guitar work, Andy 'Phil C' Mewse is there with his guitar dripping in La Guns/Faster Pussycat sleaze; this band are worthy of the main stage next year.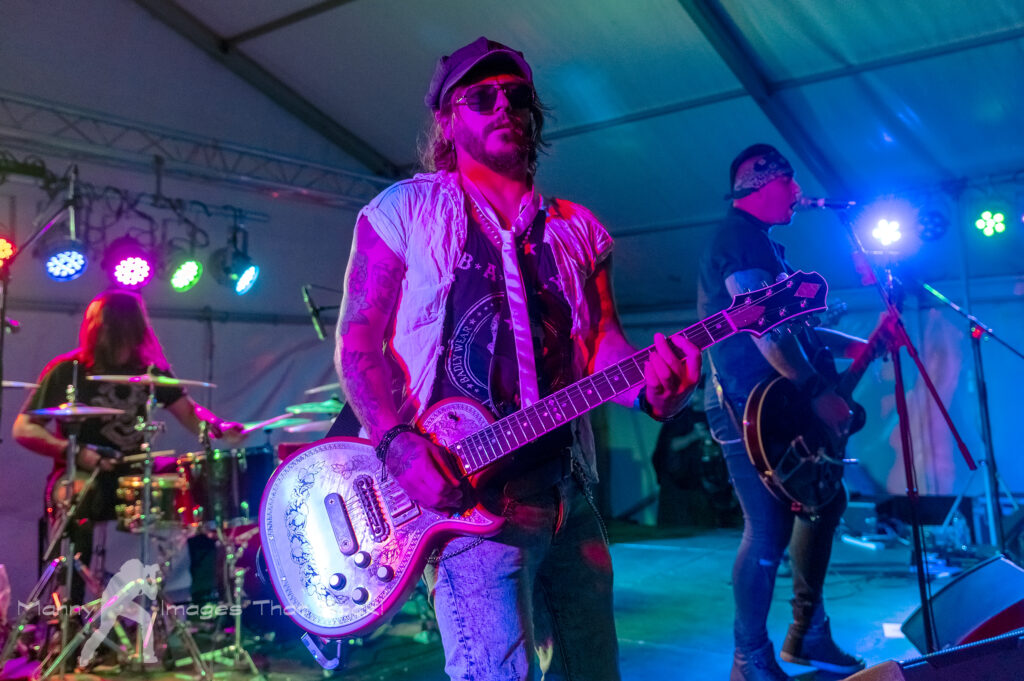 Saturday's headliner on the Mikey stage is the formidable DORO, a legend in rock circles and someone who I followed in her earlier Warlock days. I had doubted her ability as a headline act as I've ever only seen her in a support role. How wrong was I. from the first riff she was in control. This legendary rock Queen had the Bowl all paying attention as she delivered a master class in old school rock. With set opener, the fast Earthshaker Rock to the ballad Für Immer to the anthemic All We Are from the 'Triumph and Agony' album, she destroyed all misconceptions of her ability to smash the headline slot. Pacing about in iconic leather, studs and chains, she rocked out belying her 57yrs. Her choice of war paint eye make-up that hasn't changed from the early days, and with it she looks like she drinks from the same well as Peter Pan, as youthful as ever. Rock 'n' Roll keeps you young and she's living proof.
To make the set even more memorable DORO brings Paul Quinn on stage for a rousing version of Judas Priest's Breaking the Law. Looking around, the crowd are all head down rocking out to this Priest anthem. What a treat.
DORO has smashed it, a simply stunning set and a worthy headliner. She delivered a set full of classic rockiness including the obligatory drum solo, crowd participation and stunning guitar work. Is DORO for everyone in 2021, it sure as hell looked like it!
And so, with DORO eventually leaving the stage after she seemingly thanked everyone personally for being there, I head somewhat wearily back to my room to download and sort through todays images. Yet again my body is in tatters. 18 months on the sofa has ruined me as I limp steadily back from the Bowl. I know tonight is going to another sleepless night of pain but with a smile that all is good in Sheffield tonight!
Words & photographs: Manny Manson