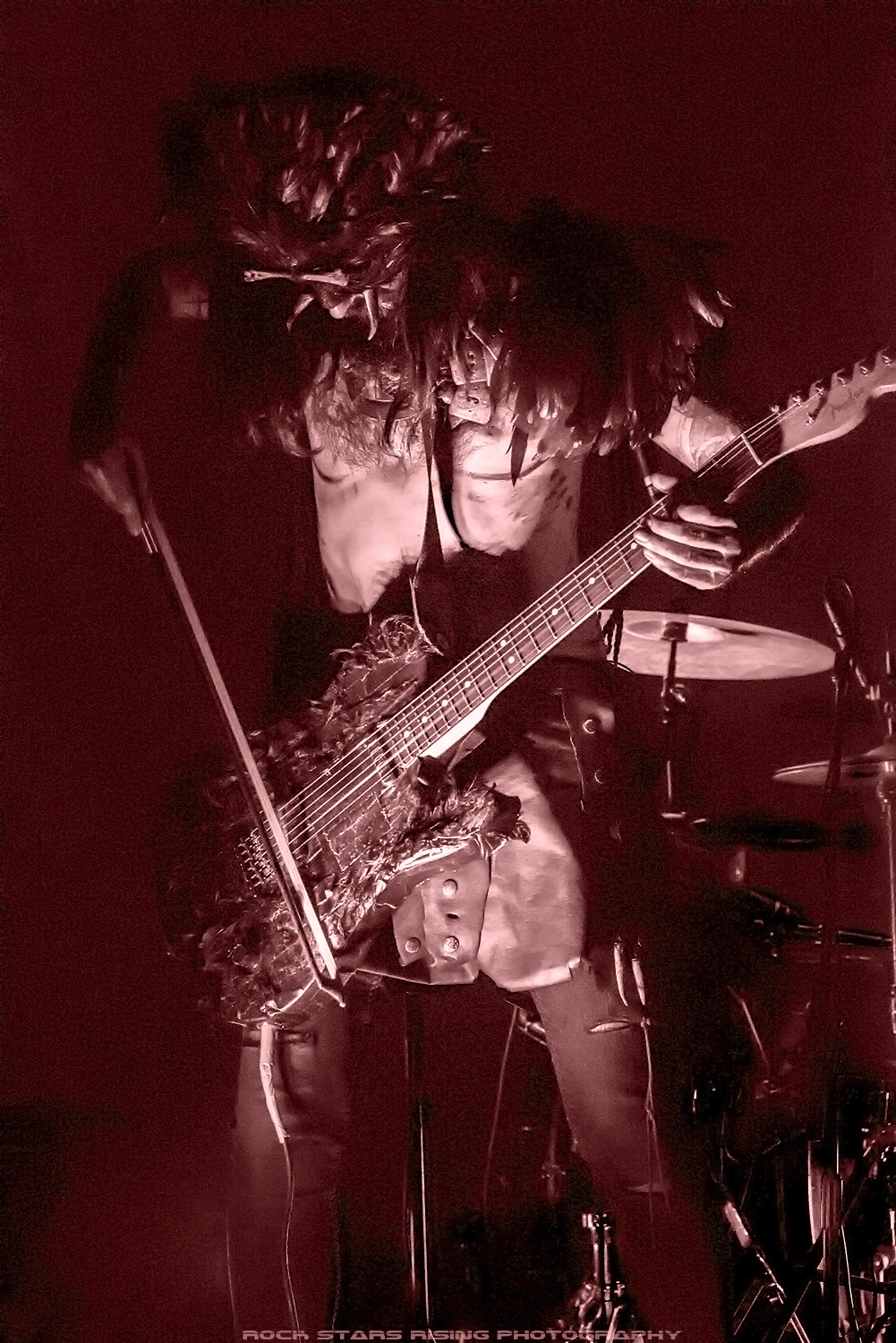 As a fan of principally instrumental post-rock music I was looking forward to seeing Nordic Giants live having just reviewed their latest album, Symbiosis, released earlier this year. Before getting around to seeing (actually more in hope than anticipation knowing that the stage lighting would most likely be black cat in a coal cellar dark).
I managed to get into the venue in time to hear the Norwegian support band, Årabrot, sound check; certainly rocky, with lyrics! Årabrot had also released a new album recently, Norwegian Gothic, to mixed reviews from the fans so I was interested to see, and hear, what it was all about. Årabrot are husband & wife team  Kjetil Nernes and Karin Park, who tour with their children in tow. The band have been around, in various formats, for more than 20 years and are described as Noise Metal, Sludge Rock or Post Punk depending where you read about them. The current pairing have been together since 2013 and had a guest drummer with them. Karin Park, also known as the Dark Diva, is on keyboards while Kjetil Nernes (KN) plays guitar and is the main vocalist. One thing is for sure, the band have a 'look' about them, maybe best described as 'NorwegiAmish', with Karin dressed in a full length white cotton dress and Kjetil in white shirt/trousers with an oversized white stetson. Not quite the heavy rock visuals I'd expected.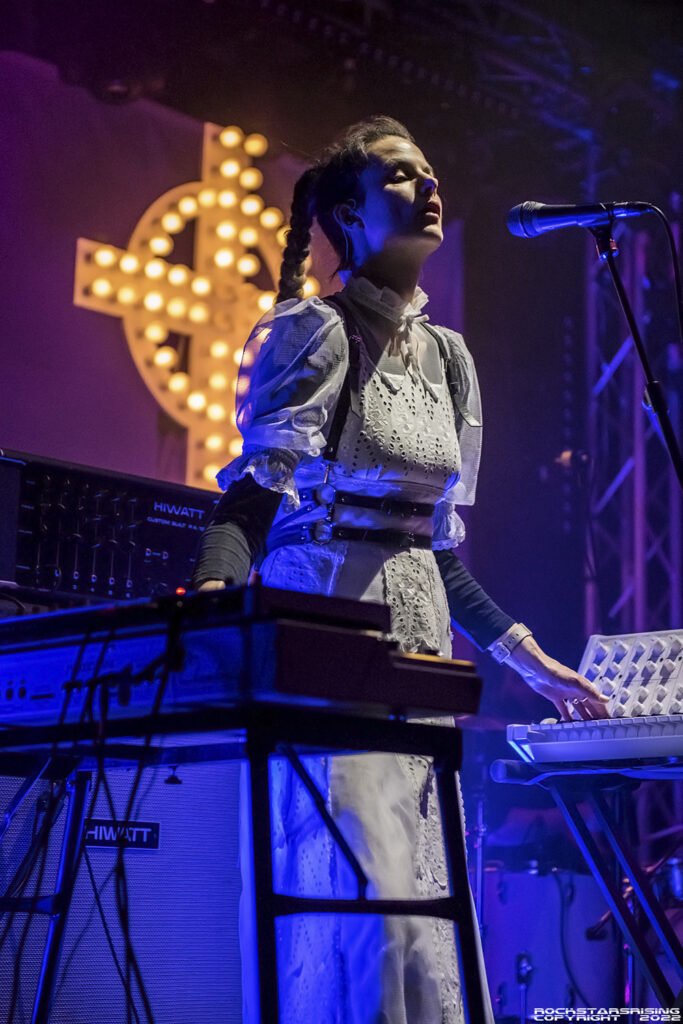 Songs were taken from Norwegian Gothic along with 2018's Who Do You Love and 2016's The Gospel.
In general the songs were certainly rocky, the vocals occasionally a little less so, sometimes not really fitting the soundtrack. Kjetil Nernes does have a somewhat distinctive voice though. The set kicked off with the title track from The Gospel. A slightly dark, bassy riff with spoken-word vocals that were a cross between Bob Mothersbaugh (Devo), early Gary Numan and David Byrne – see, I said the vocals were distinctive!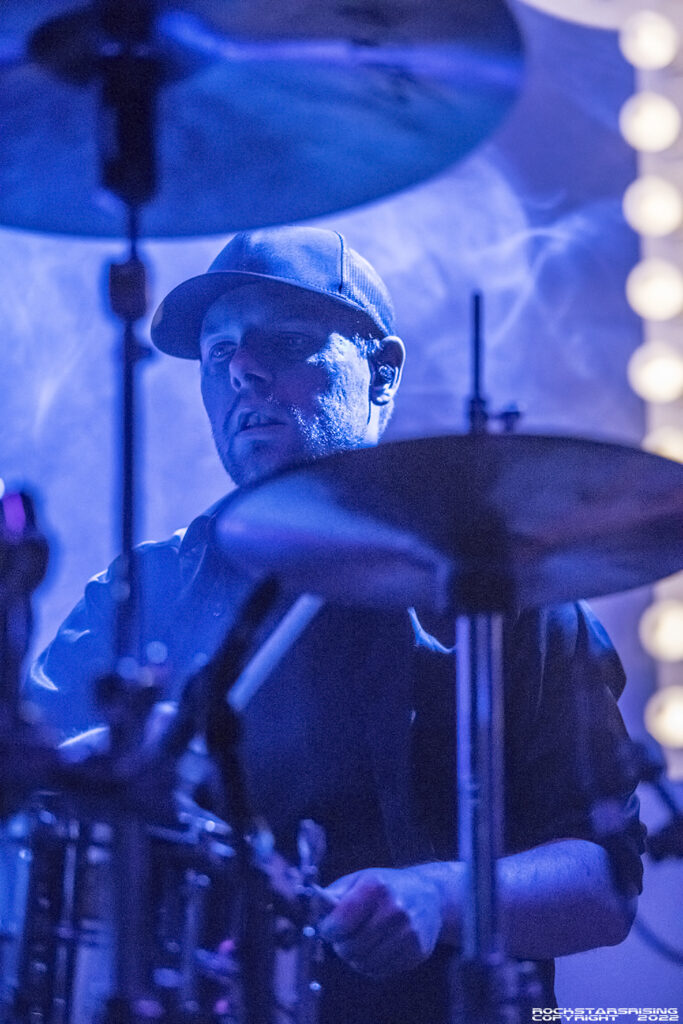 The next three songs, The Lie, Carnival of Love & Feel It On, all came from Norwegian Gothic and were much more musical with the keyboards sitting alongside the guitar very nicely. The David Byrne-esque vocals held on throughout!
The much more post-punk Maldoror's Love was next from Who Do You Love and this was followed by one of my favourites from the night, Kinks of the Heart from Norwegian Gothic. The official video for this is quite strange, surreal almost, have a look…and a listen, it's interesting.
Tall Man is followed by Sinnerman before the band return to the present and finish the set with Rule of Silence and Hailstones for Rain from Norwegian Gothic.
The band have elements of many of the punk bands such as Generation X and others and generally carry it off pretty well. I'd like to see a dedicated bass player in the band to give the sound a bit more 'body' but overall not a bad performance by any standard. Would definitely see them again.
Nordic Giants are not known for their visibility and tonight is no exception, with hardly any lights at all the pairing of Loki and Rôka took to the stage in near total darkness. If you tried really hard you could just see a black feather fluttering past as they took to their positions on the drum kit and keyboard. Some new [mostly] instrumental post-rock was to follow.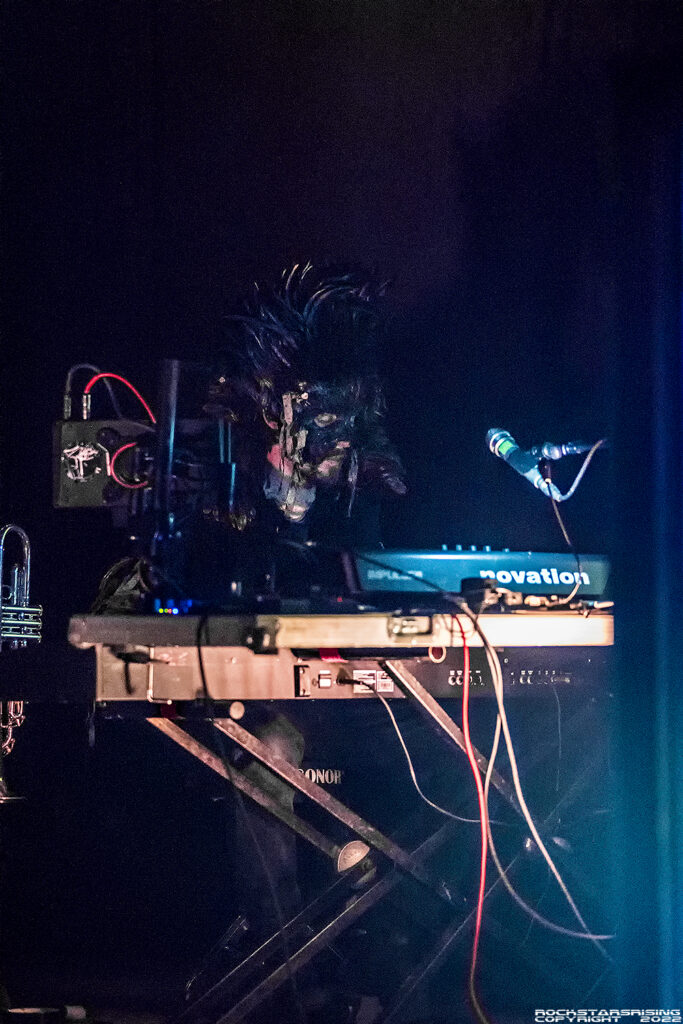 The band have just released a new album, Symbiosis, and tonight every other track played came from that new album. The band get underway with Philosophy of Mind. Following an intro which combined the sound of someone crushing a horn with some spoken word – very reminiscent of some of the Winchester Club tracks – the meat of this track comes from the piano which dips between ambient and quite fast paced post-rock. It's very listenable. While the music is being fed to the audience keeping their ears occupied, the eyes need something too, and this is provided by a constant stream of video shorts. Those shorts were a combination of surreal, violent, amusing, deeply dark and, occasionally, utterly concerning animation or real life video!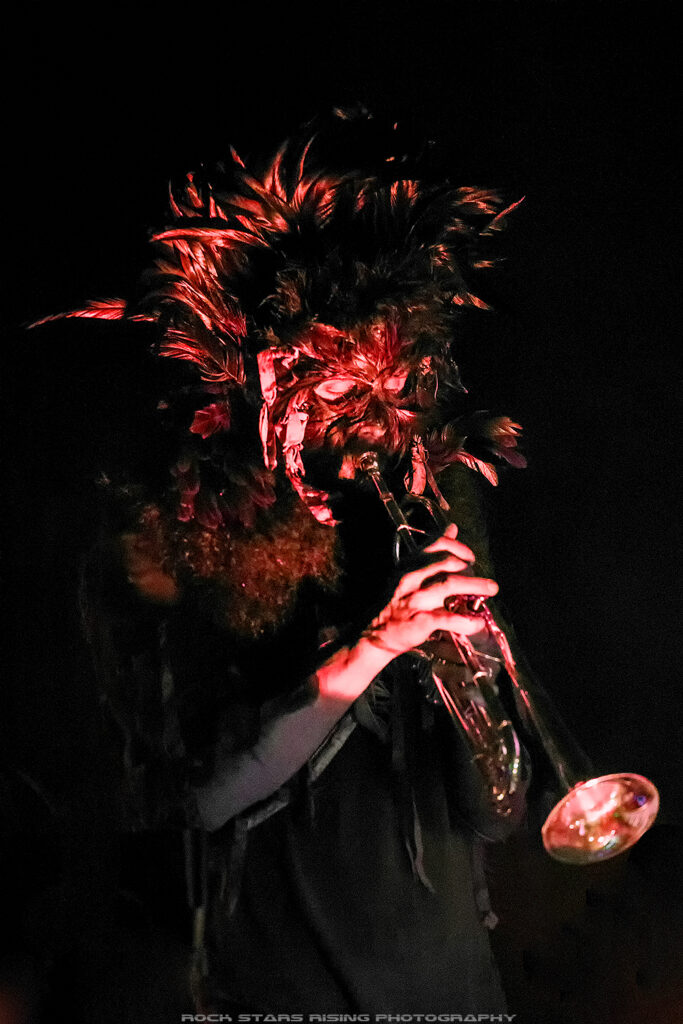 The duo took us back to the early days of the band with Through a Lens Darkly, a 2010 track from A Tree as Old as Me and we get introduced to Loki's trumpet skills. The track is worthy of a TV screenplay and for those of you who know of the Walter Presents series you'll know what I mean. At intervals throughout the set Rôka will rise from his drum kit like a dark phoenix to play guitar . . . with a bow!
Anamorphia from Symbiosis was almost a continuation of the previous track with its striking piano chords and almost jazz drum interludes. Illuminate from A Séance of Dark Delusions (the bands 2015 album) was next and here the music was accompanied by an animation of two undertakers having a few problems with a coffin. At times the animation was very Wile E. Coyote and Roadrunner but in the main was darkly disturbing. Great fun!
Time for the first track with [recorded] vocals; Faceless from Symbiosis featuring vocals by Alex Hedley. I have to admit, I'm not a big fan of vocals with this style of post-rock. This case is no different, the vocals, although very accomplished, dwarfed what came beneath and I'd have preferred a little more depth from the music. The best bits were those without words [for me anyway].
Evolve or Perish from A Séance of Dark Delusions gets us to half way with a video of a dystopian world ruled by robots and spaceships. More spoken word  and if strobe lighting is not to your taste now is the time to close your eyes.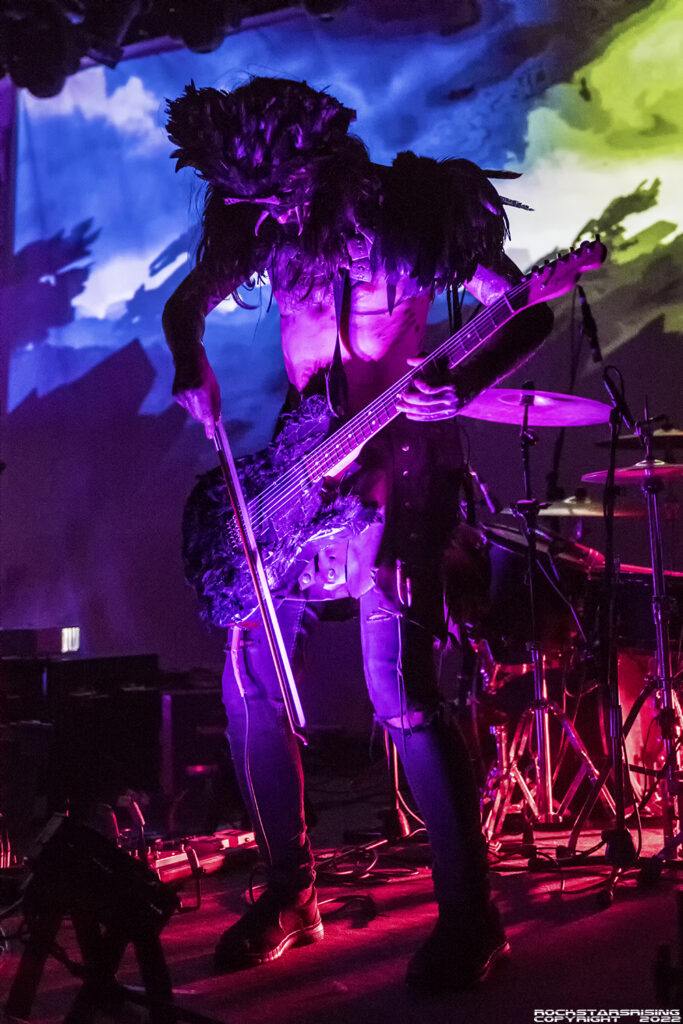 No half time tea and sandwiches so it's straight on with Convergence, another track from Symbiosis. This is a track that you can lie back to and let the music just wash over you, it's cinematic, it's immersive, it's super. Some very quiet passages during which the crowd were completely silent – brilliant and respectful in equal amounts. Possibly my favourite piece of music tonight.
Two songs with [recorded] vocals come next. The first is The Seed from A Tree as Old as Me, featuring Jake Reid followed by Spheres from Symbiosis featuring vocals by a band regular guest, Freyja. My comments earlier regarding Faceless stand their ground for both of these despite the skills of the vocalists although the superbly ethereal sound of Freyja's voice almost turned me!
The strobes returned with a vengeance for Together, the only non-album track, from 2012. An interesting track in that the music, which is tremendous, is played over a backdrop of a Martin Luther King speech. Infinity took us to the end of the set and played to a totally surreal video worthy of a place in a Dune movie.
The band leave the stage to catch their breath during which time a short video taken from Alex Parkinson's deeply disturbing film Last Breath is shown. This concerns a deep-sea diver trapped on the seabed with only 5 minutes of air left and no chance of rescue. Dark in the extreme.
The band return to play Dark Clouds Mean War from the Dismantle Suns EP of 2013 – a rather prophetic choice of encore. Eight minutes or so later and the show was over. A very good show I have to say despite my dislike of vocals in post-rock. I thoroughly enjoyed it despite hardly getting a clear view of either of the band. The music is cinematic, immersive, full of emotion and for a duo is incredibly rounded. The only track I wished they'd added was Hjem from Symbiosis, my outstanding favourite from the album. More please sir.
Words & images: Reg Richardson