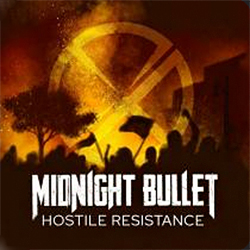 Release: Midnight Bullet – Hostile Resistance
Format: Digital
Release Date: March 4th 2022
Record label: Inverse Records
Genre: Heavy/Thrash Metal
Country: Finland
Midnight Bullet will release their fourth studio album on March 4th 2022 via Inverse Records. They have released three albums already and the fourth is ready to be unleashed upon all rock and metal loving listeners out there.
Fourth studio album is titled 'Hostile Resistance'. Hostile Resistance is a strong and aggressive sounding record full of punishing riffs and choruses that will be stuck in your head for some time. The band sounds musically more focused than before, but still ain't afraid of experimenting with different styles of rock and metal.Band wanted to put out the new album on Fall 2021 but release was delayed due to production schedules.Unlike the name of the fourth album 'Hostile Resistance' could refer to the conditions prevailing in the wake of natural disasters as well as pandemics, this is not the case. The main themes of the album are rebellion, revolution, and ruthlessness in the use of power.
Tuomas Lahti, vocals & rhythm guitar:
"The band's way of working has changed a bit since the time of the previous records, but the word easy is the best to describes the creation of the record. The process of creating the album has been relatively long, but the songs have written themselves very well. Basically, the album has been created with joy, and there was no need to force the songs in any direction. The genres of the songs have varied a bit on previous records, but this time we wanted to keep the unforgivable energy and brutality from the early days of the band throughout the album."

Pre-save Hostile Resistance album on Spotify
Track List:
1. Rain on Me
2. Hostile Resistance
3. Paranoia Obsession
4. Wait and See
5. Rise and Fall
6. Dead Redemption
7. Take Me Away
8. Enemy Number One
9. Last Escape
10. Angel of Babylon
Album cover by Karoliina Muukka 
Line-up:
Tuomas Lahti – vocals, guitar
Mikko Nokelainen – drums
Lauri Ikonen – lead guitar
Mirko Miettinen – bass
Links:
https://www.facebook.com/MidnightBullet
https://www.instagram.com/midnightbulletband
https://midnightbullet.bandcamp.com
https://spoti.fi/2GfYFCW