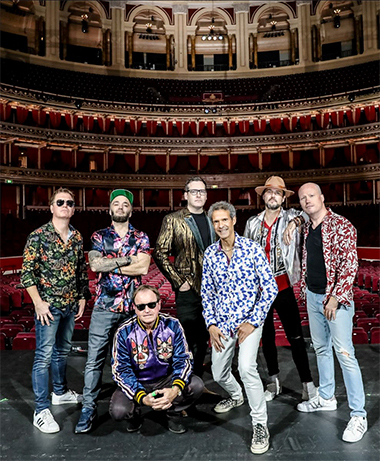 The band return to the road with the 'Lessons In Live' 2022 Tour with Mari Wilson announced as support on all dates.
AEG Presents is delighted to announce that Level 42 will hit the road once more for the seven date 'Lessons In Live' UK tour in November 2022.  Tickets are on sale now from aegpresents.co.uk. Tour support on all dates will come from the fabulous Mari Wilson.

Mari Wilson arrived on the scene in the early 80's with her skyscraper beehive hairdo and backing band The Wilsations. A mainstay of Top of the Pops, she released six hit singles, the biggest being the top ten 'Just What I've Always Wanted' and 'Cry Me A River', taken from her classic album 'Showpeople'. In 2000, Mari was the obvious choice to play Dusty Springfield in 'Dusty the Musical', receiving rave reviews.
 
After appearing with Boy George in the West End musical, 'Taboo', Mari wrote her own one-woman musical – 'The Love Thing' – inspired by her 2005 album 'Dolled Up', selling out five nights at the Leicester Square Theatre.
This was followed in 2008 by Mari's next album of original songs, 'Emotional Glamour'. In 2012, Mari released her highly acclaimed covers album, 'Cover Stories'. In 2017, Mari wrote the Emmy-nominated song, 'Moon and Back' for the iconic US TV series, 'The Young and the Restless' and in 2016, 'Pop Deluxe' was released, an album of songs by her major influences, such as Burt Bacharach, Jackie Trent, Tony Hatch and others.
For headliners Level 42 themselves,  'Lessons In Live' Tour follows the hugely successful, albeit delayed by Covid, 'From Eternity To Here' Tour which celebrated the band's fifth decade.  Bassist and frontman Mark King said; "Despite all the obvious problems with Covid the last set of dates were so much fun that we just couldn't wait to get some new shows scheduled. We're very much looking forward to seeing the fans again". Mark King is a musician who has truly created a sound and style all of his own and is in constant demand, both from the fans and from his peers. Mark was a special guest on the Foo Fighters' Taylor Hawkins' record.
 
Level 42 is a band with nothing to prove, but all the desire to continue their run at the top.  To date the band and Mark have released 14 studio albums, 7 live albums, the Sirens' EP, and 6 compilation albums. They've had 18 top 40 singles, including the era-defining 'Lessons in Love', 'Something About You', 'Leaving Me Now', 'Running in the Family', and 'Hot Water', sold out Wembley Arena for a total of 21 nights and sold in excess of 30 million albums worldwide. In short, they have proven to be one of the most successful British bands ever and continue to set the benchmark for British Jazz Funk. 
 
The 'Lessons In Live' UK tour in 2022 is a chance for the band's fans to check in once again with a truly class act: Don't miss them.