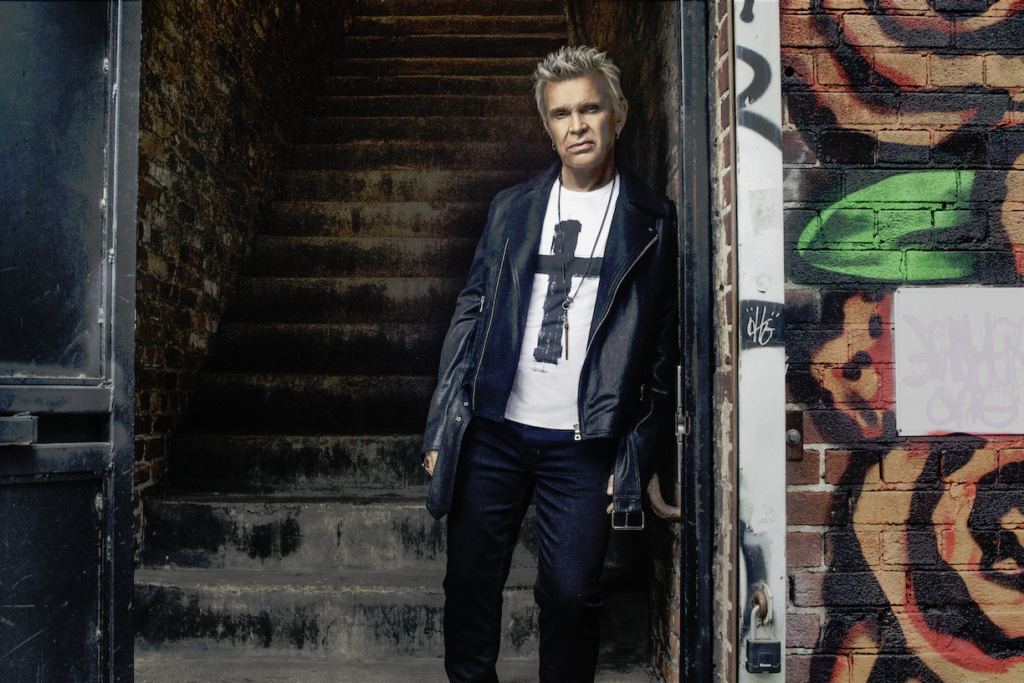 The last couple of years have been a strange time for everyone. How has it been for you?
It`s been difficult for a lot of people. I wasn`t able to go to my mother`s funeral because of the Coronavirus. That was really, really hard for me. We also were unable to come over and play in the UK but we were able to release 'The Roadside EP', my first new music in almost 8-years so something positive came out of those times. We now have 'The Cage EP' coming out very soon, so we have a load of new music to play now so that`s really exciting. Now, we really need to play.
Have you been able to play any live shows since the lockdown was lifted?
Back in late August to November last year we did a few American dates, with the band but also a acoustic with just me and Steve Stevens, so it was good to get out and play again. We just felt as we had new music that it`d be great to be out there playing it.
On 13th October you start your latest UK Tour. Are you looking forward to playing here again?
I`m so excited. The band is all played in now so all we have to do is learn some of the new stuff and we`re off. It`s been a while since I was last here so I`m really looking forward to it. I have a big connection with the UK and have missed playing there.
You are playing 6 arena shows on this tour which is probably your most extensive tour for a fair few years. Is it important to you to get out and play to as many people in as many places as possible?
Definitely, especially after this break and with new music to play. The fact that we can play more shows than just Brixton is really exciting for me and to visit further up North is great. We have a really strong bill too with Television and Toyah joining me on the tour. It`s going to be a lot of fun.
Have you had any thoughts as to the setlist yet?
I should think that we`ll be doing several of the new songs. They`ll be mixed with the Idol classics so you should get it all. It`ll be a great mixture.
Will there be a Generation X song or two as well?
We usually play a different Generation X song on each tour. We did "Your Generation" recently so might do that but we are pretty well played in on most Generation X songs so could throw anything in. A lot of people know the 'Valley Of The Dolls' album so could do anything from that like "King Rocker".
You have a catalogue packed with classic crowd pleasers such as "Rebel Yell" and "White Wedding". Do you still get a buzz out of playing those after so many years?
Yeah, I do. I have a killer band who have been together now for over seven years with Erik Eldenius on drums, Billy Morrison on rhythm and lead, Steve McGrath on bass, Paul Trudeau on keyboards and of course Steve Stevens on lead guitar. We are like a real band, not just a collection of musicians. We are all really played in together and sound really tight. We`re all ready to go and we love to see the reaction of the crowd when we play those songs.
You have just added Toyah to the bill
Yes, she`s going to be joining me on the tour. I love Toyah, we`ve known each other for years. She`s great!
Your latest release 'The Roadside' came out last year. Were you pleased with the reaction it received?
It`s been really fantastic and now with our upcoming 'The Cage EP' we`ve taken the songwriting team who did "Bitter Taste", Tommy English and Joe Janiak, along with me and Steve and have done three more songs with them for the new EP.
In September you`ll release 'The Cage EP.' How do you feel ahead of its release?
Very excited and this is part of the impetus behind us coming to the UK. Finally, we get to show people what we`ve been doing. We`ve got some new Idol classics to play for everyone. We`re looking forward to share the excitement. "Cage" is something of a pandemic anthem. We`d all lived through the pandemic and had experiences through it and felt that now we could write about that." I`ve been locked up with my demons for so long that they`ve become my friends. "It` a song that can also be about any time that you feel that society is holding you in and not letting you be who you want to be. We`ve done a great video with Steven Sebring for it too.
That`s two EP`s in the space of a few months. Did you feel that you wanted to put something out at these points in time rather than wait longer to do a whole album?
With the EP`s we`ve been able to be more timely with the releases. It`s also a case of being focussed on just doing four songs instead of trying to do 12 or more. I think when you listen to it, it just makes you want more. The song "The Cage" is 2:50 and there`s something about that, that makes you want to play it again. It`s very contained so I think these small increments aren`t such a bad idea.
Will these be release on vinyl?
Definitely!
Soundwise, it`s unmistakably Billy Idol with "Cage" and "Rebel Like You" being classic head-down Rockers? When you started writing the songs was it the plan to capture that essence of what everyone thinks a Billy Idol song is like or does it just come out like that when you all get together?
We always did a Doors song like "L.A Woman" where me and Steve traded off each other but we never had our own song like that so "Rebel Like You" is one where I sing then Steve plays this Blues lick so now, we have that song where Steve answers me. It`s actually a song about my granddaughter Poppy Rebel. She came to my show in Vegas and was dressed up like me in my "Dancing With Myself" video with pleather trousers, Dr. Martens and spiky hair. She looked just like me so funnily enough "Rebel Like You" is actually about my little granddaughter. She came to the show to see what her grandad did for a living and she loved it. We gave her a little microphone so now she`s always picking it up and singing into it. That`s a nice song for me as it has a personal meaning but it could be for any fan in the that comes to a gig.
Looking ahead, what do you have planned when you finish your UK shows and what have you lined up for next year?
Once we finish the UK tour, I have some shows booked in Vegas in November. We`ll also start work on the next EP so there`s plenty going on. I hope to have an announcement to make very soon about a really exciting project for next year, which I think my fans will love, so watch out for that.
The 'Roadside EP' is out now. 'The Cage EP' is due out on 23rd September.
Billy Idol`s UK Tour with Television and Toyah in support starts in Manchester on 3rd October.
Billy Idol The Roadside Tour 2022 Dates:
Thursday 13 October Manchester AO Arena
Monday 17 October Cardiff Motorpoint Arena
Wednesday 19 October London The SSE Arena, Wembley
Friday 21 October Glasgow The SSE Hydro
Sunday 23 October Birmingham Resorts World Arena
Tuesday 25 October Leeds First Direct Arena