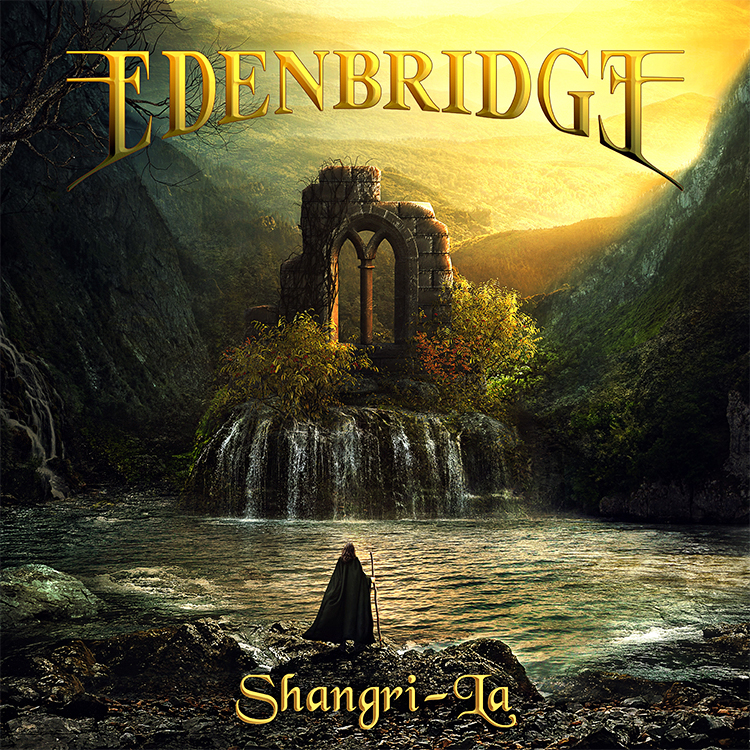 In these times, who doesn't dream about being a little closer to paradise on earth? The Austrian Symphonic Metal Formation EDENBRIDGE is considered one of the most style-defining bands of their genre who have illuminated this domain from all angles imaginable since their debut album "Sunrise in Eden" (2000). 

After 10 successful studio albums, EDENBRIDGE are once again strongly living up to their band name with their latest artistry "Shangri-La". They take their dedicated listeners along with them on their musical bridge that clearly leads to real worlds where goose bumps are guaranteed. Real because, instead of a kitschy sound cliché, they continue to offer a sophisticated range of compositions along with an intoxicating and bombastic sound atmosphere. Despite consistently high quality standards, the band continually expands their musical expression from album to album without abandoning their trademarks. 
Lanvall: "Instead of going on a European tour in spring 2020, it was a matter of flipping on our creative switch and channelling those intense energies into a transformative song writing process for the new album." 
Nine strong and emotional songs were brought to creation during this time. The core of the new album is moulded by the multi-layered opener within "At First Light" that is sustained by opulent orchestral and choral elements and followed midway by its "Floydian" (Pink Floyd) section and then completed with a monumental gospel-like finale. Then the 16-minute, five-part, epic track "The Bonding (Part 2)" in which Erik Martensson (Eclipse, W.E.T.) can be heard as Sabine's duet partner completes the core. Sabine: "Erik was already a part of the first "The Bonding" (2013). But what he has done vocally this time around is unbelievable to me. Lyrically, Erik plays the role of the continually questioning and struggling intellect within and I embody the voice of the bigger picture. Our dialogue culminates in a breathtaking finale that even exceeded all of our expectations. I get goosebumps when I hear the song now and that doesn't happen so easily." 

The album is accompanied by 3 singles and their accompanying videos. "Somewhere Else But Here" will be released as a lyric video on March 14, 2022. The quasi-title song "The Road To Shangri-La" follows on May 20th as a combined lyric/performance video and the main single "The Call Of Eden" will follow as an official video clip at the end of July. Alongside the two heaviest tracks on the album, "Hall Of Shame" and "Freedom Is A Roof Made Of Stars," both of which are dominated by fast-paced riffs, the tribal-influenced, semi-ballad "Savage Land," in which EDENBRIDGE break new ground, should absolutely be mentioned. 
Lanvall: "Daniel Tomann-Eickhoff, the NDR Radio Orchestra flutist, delivered an insane Jethro Tull-like flute solo for "Savage Land" that gives the song a very special mystical atmosphere." 
The band has been complemented by Thomas Strübler yet again for the chorus backing vocals on the new album. Thomas has vocally harmonized with Sabine's lead vocals in a unique way since "The Great Momentum" and has thus become a vital sound element with his power and expressive voice. Threshold mastermind Karl Groom is once again responsible for the final mix of the album, creating a transparent, equally powerful and crystal-clear sound for EDENBRIDGE. Lanvall: "Karl is always a true pleasure to collaborate with and has been for more than 15 years. Since I couldn't be on location in England due to the ongoing situation, we worked with Audiomovers technology this time around, which made it possible for me to receive the stereo signal of the mix in real time directly in my studio and we also communicated via WhatsApp. That worked surprisingly well." 

The cover art was created by United Arab Emirates artist, Muhammad K. Nazia, and features a pictorial representation of "Shangri-La" embodied as a synonym for paradise. The term was first mentioned in the novel "Lost Horizon" by James Hilton. It is described there as a mystical place where people live in peace and harmony. However, the story itself is based on the ancient Far Eastern legend of "Shambala" depicted in long-preserved Buddhist scriptures. The legend depicts a paradise that is to become accessible again only when humankind is ready for it and only when a few have the spiritual maturity to understand and preserve the teachings. 
Sabine: "For me, 'Shangri-La' is a wellspring of wisdom, a deeply secluded spiritual centre and a realm of retreat that casts a magical allure over we humans. And there is a reason why it is so meaningfully said: 'You do not enter paradise with your feet, but with your heart'." 

Shangri-La is the band's most diverse album to date and thereby the quintessence of EDENBRIDGE.
Order here: https://shop.afm-records.de/search?sSearch=Edenbridge

TRACKS 
AT FIRST LIGHT 
THE CALL OF EDEN 
HALL OF SHAME 
SAVAGE LAND 
SOMEWHERE ELSE BUT HERE 
FREEDOM IS A ROOF MADE OF STARS
ARCADIA (THE GREAT ESCAPE) 
THE ROAD TO SHANGRI-LA 
THE BONDING (PART 2) – I.Overture II.Alpha And Omega III.The Eleventh Hour IV.Round And Round V.The Timeless Now-Finale 
BAND
Sabine Edelsbacher: Lead Vocals
Lanvall: Lead & Rhythm Guitars, 6 & 12 String Acoustic Guitars, Nylon String Guitar, Piano, Keyboards, Orchestration, Electric Sitar, Bouzouki, Swarmandal, Ukulele
Johannes Jungreithmeier: Drums
Steve Hall: Bass
Dominik Sebastian: Lead Guitar

https://www.facebook.com/EdenbridgeOfficial
https://www.instagram.com/edenbridgeofficial/
https://www.youtube.com/user/edenbridgeofficial
https://www.edenbridge.org/de/