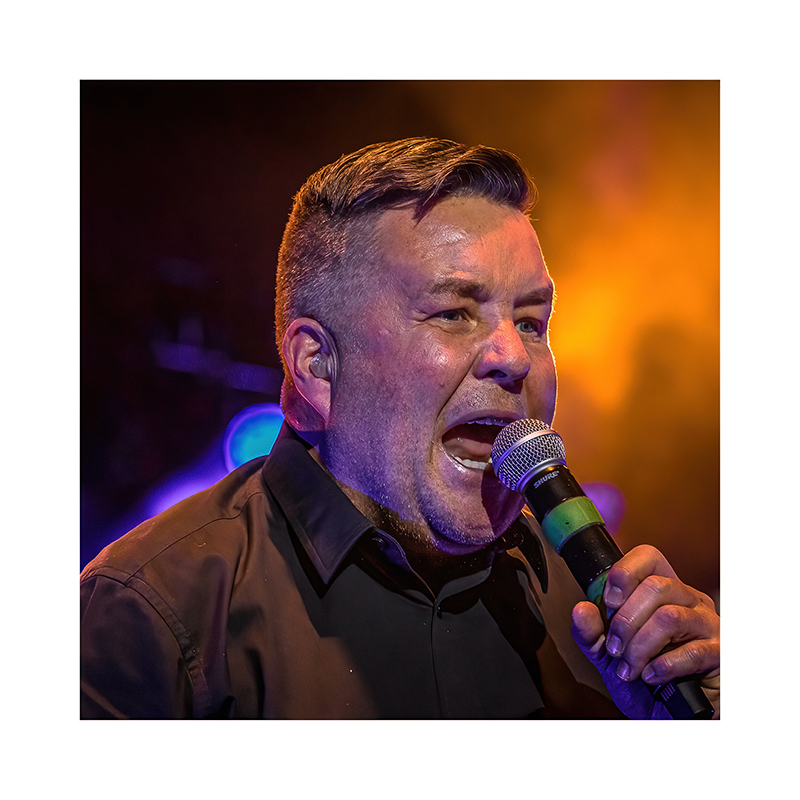 Punk? Mmmmm, perhaps to be more precise Celtic Punk. Whichever punk you choose then the Dropkick Murphys epitomise the word, they are very different from the rest, they are full on, they are unique, and they are fabulous. Formed in 1996 in Quincy Massachusetts USA, the Dropkick Murphys are not your stereotypical Mohican sporting type of punks. They blend (visually) into everyday life, but their music is far from everyday, it is infectious, there are some very catchy lyrics in their honest, down to earth songs, and if you let them in, they will hook you instantly!
Personally this was the first time I've seen them live, let alone photograph them. You occasionally glimpse their musical influences, and that's perhaps not the right choice of words for, as I said earlier, they are most certainly themselves, they have their own style, and once seen ne'er forgotten. They are unique, but you hear and you occasionally see, The Dubliners, the Greenland Whalefishers, (if you're not familiar look them up), and of course, The Pogues in the mix, all of the styles of the above are expertly wrapped up with the wisdom of experience, and then presented with the energy and exuberance of a creche full of toddlers in the throes of a sugar hit!
Lend me your eyes, I will share with you the remainder of the evening.
The arena was all but empty as I entered. I was stood by the Box Office after collecting the required ticket and photo pass as the doors were opened so I was almost first through. My initial impression was that The International Arena is an impressive venue, (capable of holding some 5000). I made my way down to the pit and asked about the formalities, which were 'standard'. A chat with one of the barrier security indicates that they are expecting some 3003 to be in the venue, precise figures, but I'm convinced there were more than that inside, it was bursting!!!
The gig was rescheduled from 23rd February 2022, given that one assumed that the crowd will be well up for it, and I am not wrong!! The flood gates open and very soon the hall is brimming with people. There are a few spaces here and there but the barrier is full, across the whole width, 10 deep within minutes.
First on stage is Jesse Ahern, a solo act based in Quincy / Boston, Massachusetts, he comes with 2 guitars and a harmonica. I wasn't familiar with him, but by the end of Jesse's set I certainly wasn't disappointed, it was absolutely crackin'. Jesse is a 'working man's musician', he's not scared to get down and dirty, he knows his people, and he knows his trade, both exceptionally well. He has a gravelly voice, (along the lines of Springsteen) and the other thing you notice about him immediately is the small tattoo of an anchor just at the edge of his right eye. He is one of those people whom you feel you can connect with straight away; there's an invisible bond, he's likeable, and he's (most probably) as honest as the day is long.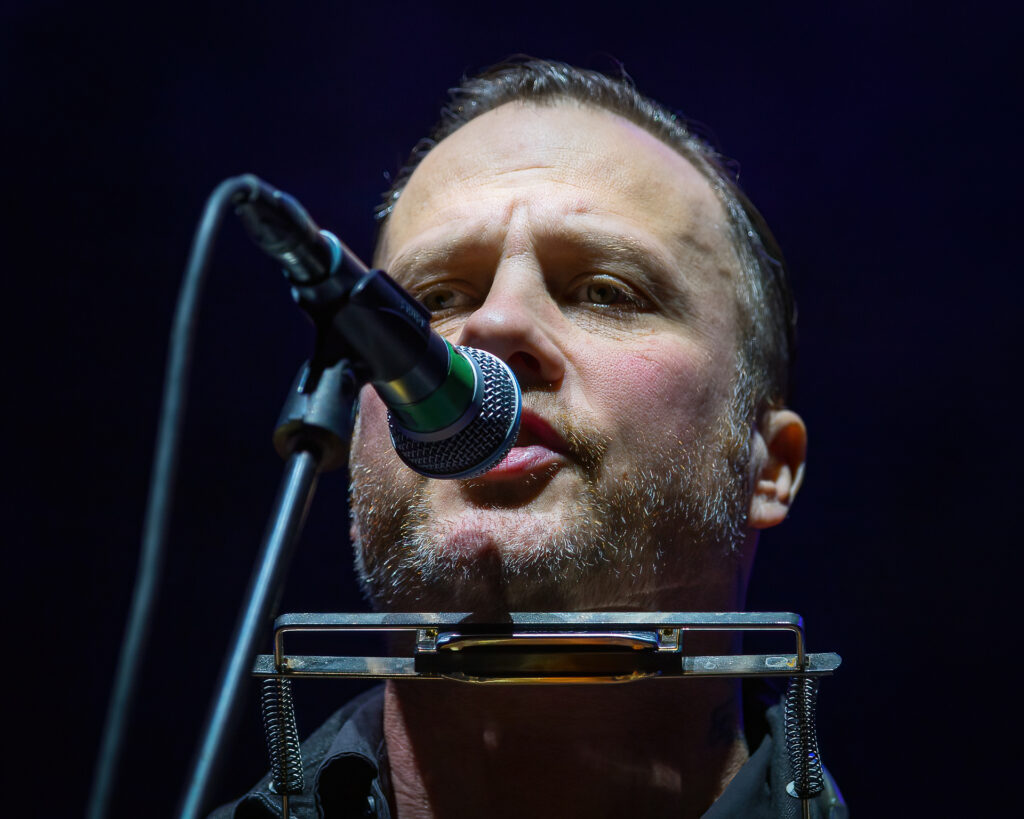 I missed hearing the names of the first two tracks Jesse played, I was too busy in the pit, and sadly there was no set list stuck to the floor, within shooting distance! I did however hear the third track, and it was fantastic. It was Jesse's version of The Clash's 'Bank Robber', I have no words to explain, but put simply you'll need to go and just see why for yourselves. Next came 'With Your Back Against The Wall', and then some audience participation was the order of the night with fabulous 'The 'Older I Get', for some reason unbeknownst to me I can somehow relate to the lyrics of it, as it appears so could the audience, for (at the right points) they sang their hearts out for him. Jesse who had engaged the audience with chatter throughout his set, stressed the importance of not being alone, and that there is always someone to talk to, Jesse cares about people, that is plain to see! He eluded briefly to his forthcoming album, which I shall be in the queue for, and with his time nearly up Jesse ended his set with 'Highway of Life' and 'Pray You Bum Pray'.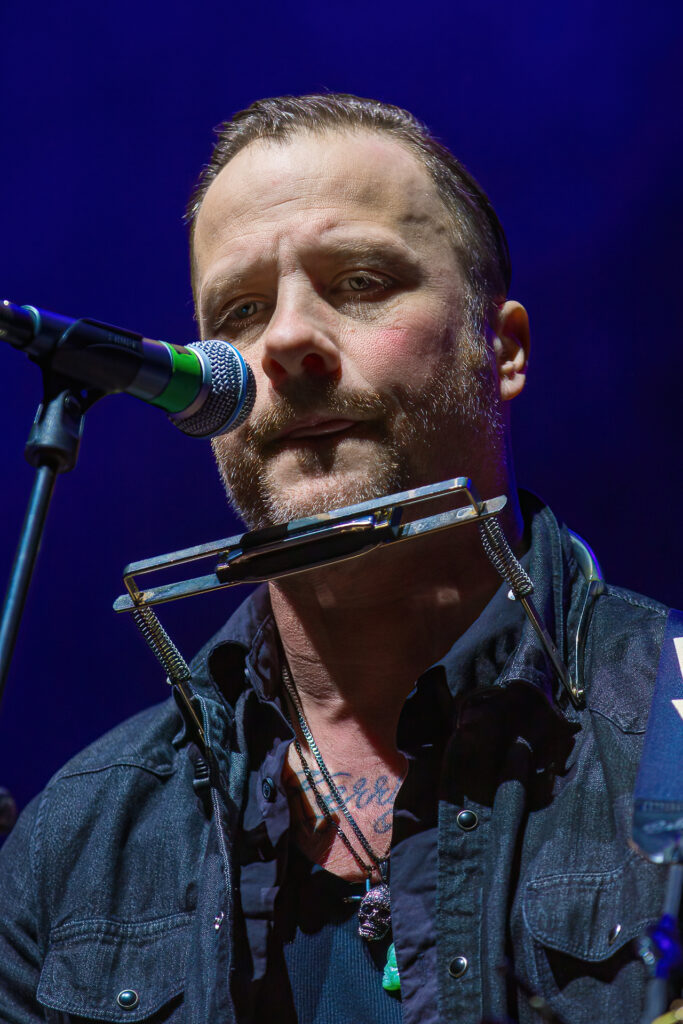 After a very efficient turnaround the stage exploded back into life with the Rumjacks rampaging around it with their first offering 'One for the Road'. The Rumjacks are a boisterous Punk / Folk Punk band, originally from Australia, and now (with some lineup changes) they find themselves living in (and working out of) various parts of Europe. They are known for their high energy levels, and full on shows, (they are very much like my friends The Whipjacks, who hail from the Worcester area). Again I've not seen them live previously, and I've only heard limited stuff from them, but come the end of the set, I wouldn't be disappointed.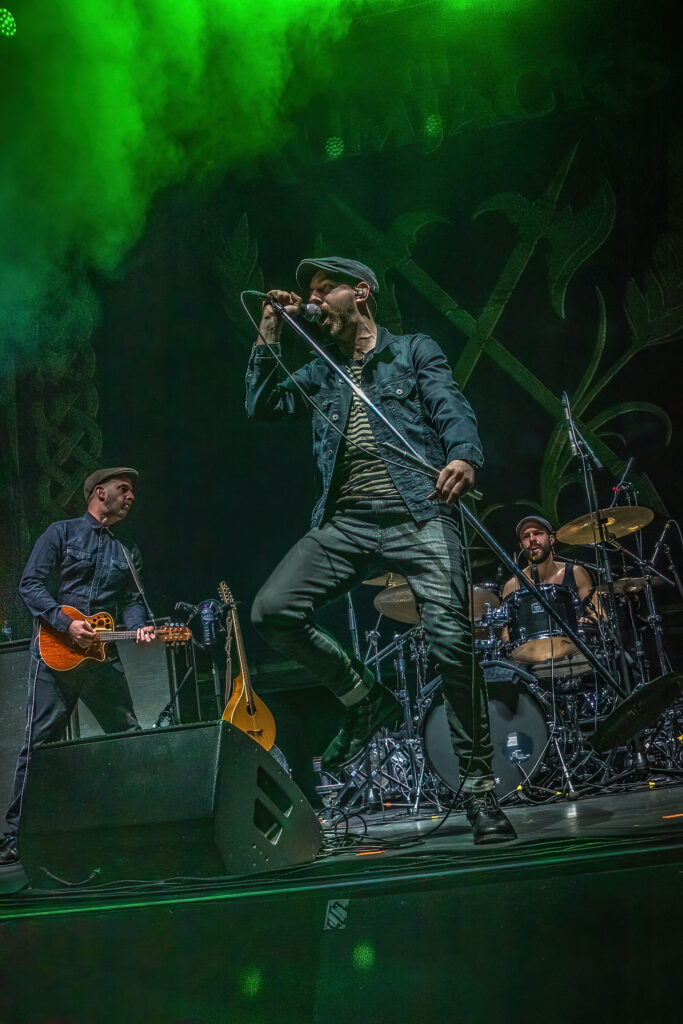 If the opening track was anything to go by we weren't about to be disappointed, and if they continued this intense pace then there would be no sleeping whilst they played, that's for sure! Next up was 'Kirkintilloch', followed immediately by 'A Fistful O'Roses', and then 'Bullhead', all without a break, and all played with hearts & souls, and with unlimited energy. Following on (and still at the same frenetic pace) we were treated to 'Through These Iron Sights', 'Sainted Millions', 'Light in My Shadow', 'Heista', and finally, as a parting gift the fantastic 'An Irish Pub Song'. To fully appreciate these boys you will need to go and see them live; if you use any form of 'streamed music' or video then I can guarantee this will not convey the kinetic energy, the atmosphere, and the absolute pleasure of a live Rumjacks performance!
Next up to entertain are Pennywise. Between the Rumjacks finishing their set and Pennywise taking to the stage it appears most of the population of Cardiff had heard about what was going on and decided to come down to see. From the few spaces that were here and there near the middle there is suddenly nowhere to stand except for right at the back of the hall.
Pennywise (who are named after Steven King's gutter-dwelling shape-shifter clown) remind me of, if you can imagine this, and perhaps if the purists out there can forgive me, a combination of Motörhead / Beastie Boys / Nirvana / Sex Pistols all rolled into one, and they are bloody fantastic with it! At your own peril make any connection between these lads and shape-shifter clowns, for you will be proven completely inaccurate, and totally wrong.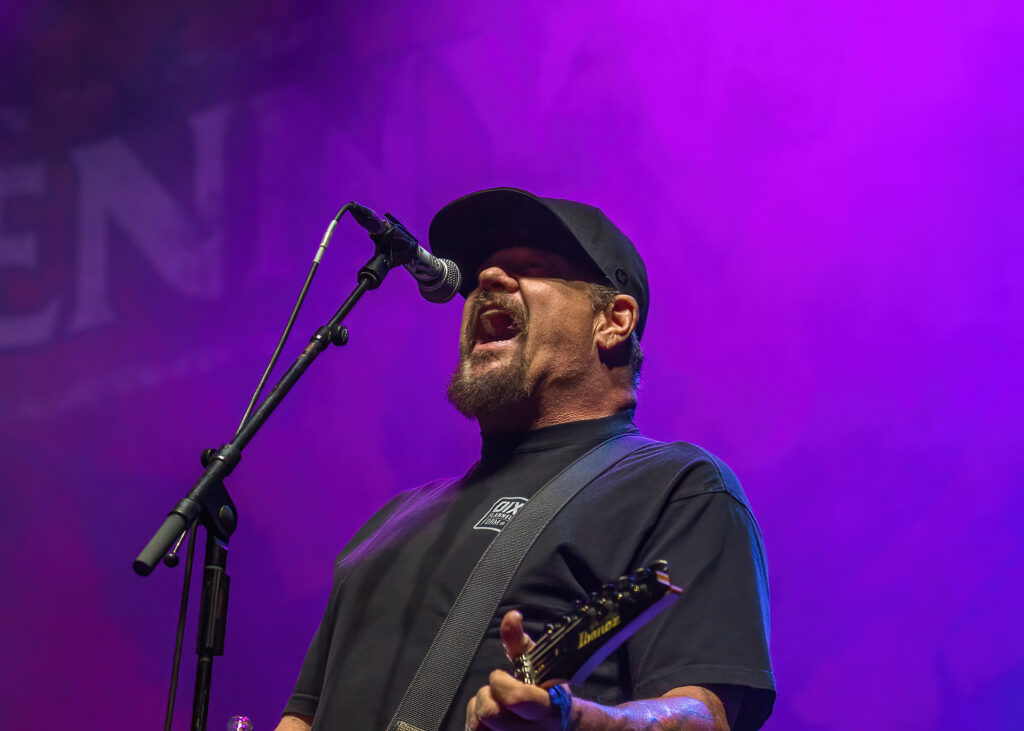 The theme of full on music continues, we are treated to the likes of 'Fight Til You Die', 'My Own Country', and 'Same Old Story'. The audience love them, that's plain to see. The crowd love Pennywise and Pennywise love Cardiff, the mood has moved up a notch since they've taken the stage, Happy State 08 has been reached! The crowd surfing fraternity soon materialise, and it seems constant, like a stream of Lemmings surging forward; the security staff certainly have their work cut out 'delicately' lifting the surfers down and into the pit, and then from there they go straight back out into the audience via a side gate! All except one that is. And that surfer is a young lad (probably no more that 12), who the band take onto the stage from security as he comes over the barrier, they allow him to watch the rest of the set from the side of the stage (nice to see from the band), along with (I assume) his Dad, who wasn't that far behind on the surfing front! Can you imagine explaining to the lads mother if you were his Dad and hadn't followed him?
At one point during a break between songs a conversation starts with the crowd, (the guitarist) Fletcher Dragge gestures to the happy crowd and immediately instills hope into me with his words "that is exactly what is NOT wrong with the world", he is 100% correct, for here there is enjoyment and there is not a care, people here are not burdened with the realities of the world and of life as we currently know it! Next come some words that really strike a chord with me, and they are greeted with a huge cheer from the audience who are listening intently, those words are "Fuck politics, and fuck the media" all accompanied by a middle finger gesture; politics should never be mentioned around music, they are just not in the same class, I despise it when singers start spouting politics on stage, anyway enough of my dislikes, I'll leave that there! Two other standout tracks of the set are are the ubiquitous 'Fuck Authority' along with a cover of the Ben E King track 'Stand by Me', before the set finishes with the rousing, awesome almost anthemic, 'Bro Hymn'.
You can tell by the appreciation they receive as they leave the stage that Pennywise will be welcome back at any time here, they are popular here, and it is plain to see why!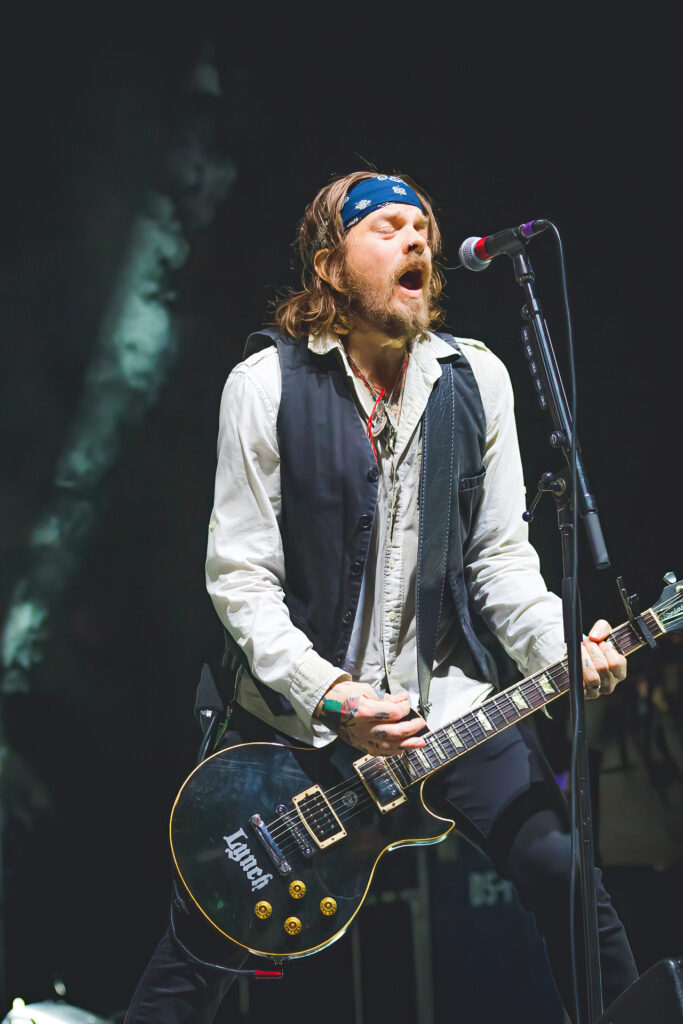 Yes, it's almost time! The eager anticipation can be easily felt, there is an aura in the hall, a feeling of something that has been a long time coming. The lights dim and that has the desired effect of simply ramping it all up a couple of gears. Sinead O'Connor's version of 'Foggy Dew' plays, a piper stands alone in a spotlight and then the Dropkick Murphys (DKM) appear. First up is 'The Lonesome Boatman', following on quickly is the very apt 'The Boys Are Back', with the line 'it's been a long time coming' and it certainly has for (as I said earlier), this has been rescheduled from Feb 2022. The DKM are at full throttle straight away, there is certainly no punches being pulled here, we are not lead in gently, not at all. Currently fronted by the animated Ken Casey, who has temporarily taken on the duties from the DKM's 'normal' frontman Al Barr (who is looking after his mother who is ill), we are served up with such goodies as 'Good as Gold', 'Blood', 'Middle Finger' 'Two 6's' (fantastic track), 'Fonies', along with the FABULOUS 'Going Out In Style', one of my favourites! The crowd at this point are responding as expected, it's absolutely full on, and they're lovin' it all.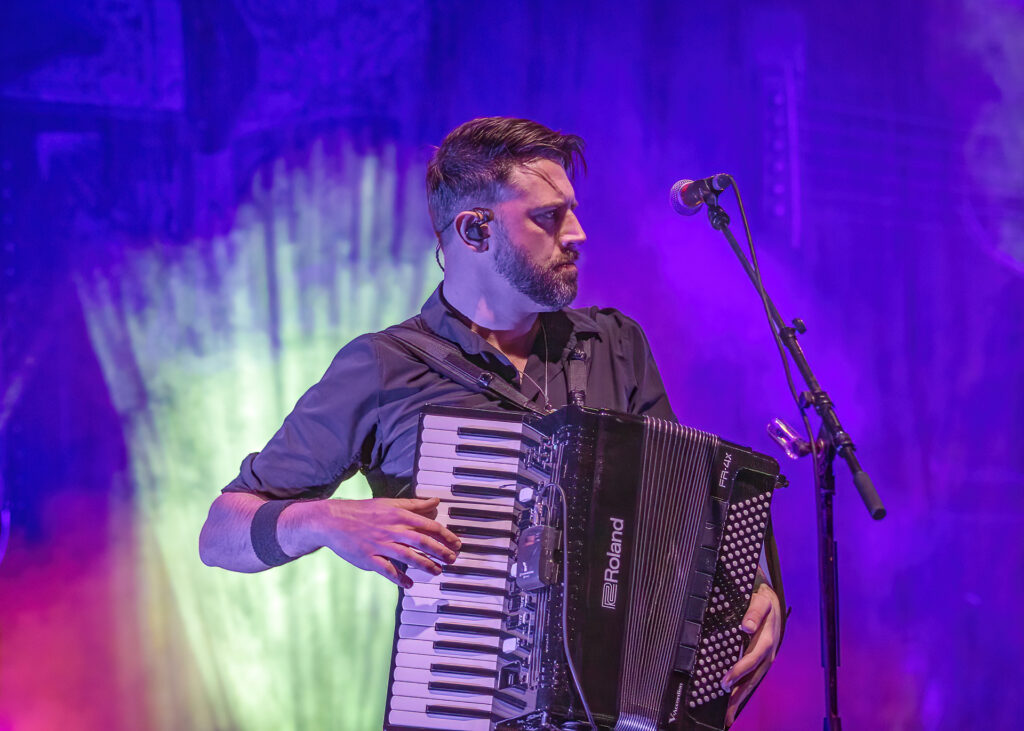 The DKM's have always championed the 'Working Classes' and tonight is no exception, Casey sings the praises of the current batch of 'strikers' urging one and all who are present to support them; this is followed up by 'Cadillac Cadillac', and 'Never Git Drunk No More', the DKM are joined on stage by American Country singer Jaime Wyatt for this song, she handles it with style, effortlessly displaying her vocal talents. Up next is 'The Workers Song' which sees the return of Jessie Ahern to the stage to sing alongside the DKM's. 'I'm Shipping Up to Boston' is always a crowd pleaser, tonight is no exception and the crowd join in, almost to a man from what I can see.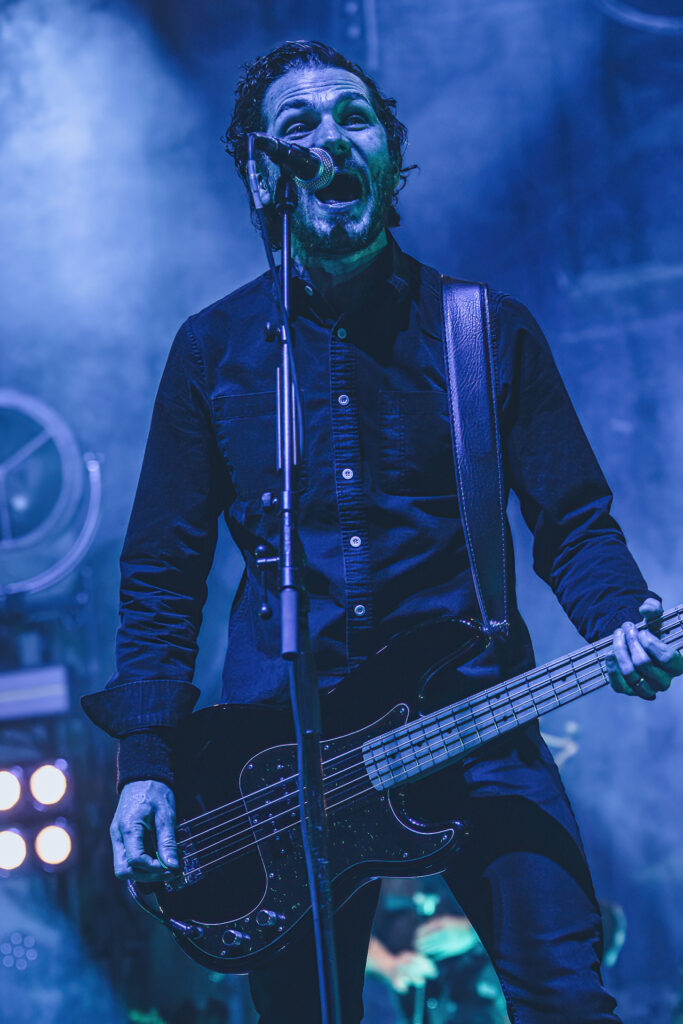 Then all to suddenly it's over! Ah wait, there's still the encore. 'Rose Tattoo' (another of my favourites) is followed by 'The Dirty Glass' and then the track that just had to be played, 'Kiss Me, I'm Shitfaced'. Put your arms around the person next to you shouts Casey, a few do, the rest are probably too shitfaced to!
Based on what I've just seen the Dropkick Murphys will be around another 27 years, and if they are I'd like to be there again to see them. Casey once said "I think our goal is to be the AC/DC of Celtic punk rock", well if I may be so bold as to say, I think you've achieved that lads! Thank You.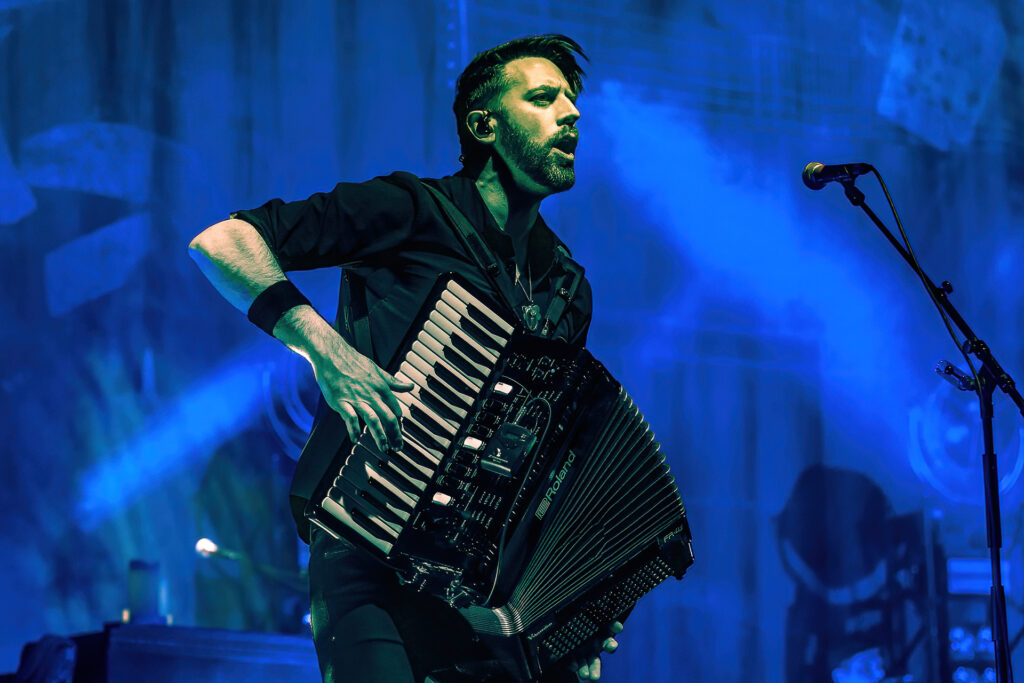 And finally, for the record I need to say a personal thank you to the fabulous Cardiff International Arena staff. Completely professional, yet human, you made my job very easy.
Words & images: Haydn Wiltshire