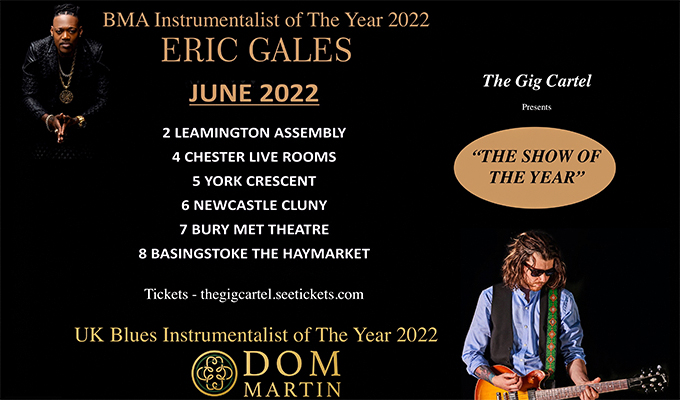 TICKETS: WWW.DOMMART.IN/TOUR
WATCH THE UK TOUR TRAILER HERE
WINNER OF TWO UK BLUES AWARDS 2022
"BLUES INSTRUMENTALIST OF THE YEAR"
"ACOUSTIC BLUES ARTIST OF THE YEAR"
NEW ALBUM "A SAVAGE LIFE"
AVAILABLE FROM
WWW.DOMMART.IN/STORE-1
______________________________________________________
Multi-award winning and multi-nominated Northern Irish blues guitarist Dom Martin is special guest on Eric Gales' UK tour from June 2-8. Tickets are available from www.dommart.in/tour

Dom just won two UK Blues Awards including Blues Instrumentalist of the Year and Acoustic Blues Artist of the Year (the latter for the third year in a row thus placing him in the UK Blues Hall of Fame).
The tour features two guitarists who have been honoured with instrumental guitarist awards on both sides of the pond. Eric Gales is the proud recipient of Blues Instrumentalist of the Year at the BMAs in Memphis (Blues Music Awards).

Dom's support slot on Eric Gales' UK tour follows the release of his current album A Savage Life which has received rave reviews including Classic Rock's "Blues Album of the Month." Dom is featured on the front of Blues Matters and Blues in Britain.

As the UK representative, Dom, recently reached the semi-finals at the International Blues Challenge in Memphis, Tennessee in May 2022.

The music video for Dom's latest single Echoes, is now streaming on YouTube.

Hailed by many as the blues' biggest Irish export since the iconic guitarist Rory Gallagher, 2022 looks like it is going to be ripe for the picking for Dom Martin.

In 2021, Dom won Acoustic Blues Act of The Year at the UK Blues Awards, as well as being nominated for Blues Instrumentalist of The Year and Emerging Artist of The Year. Prior to that, in 2020, Dom won the prestigious Acoustic Blues Act of The Year at the UK Blues Awards. He began this haul of awards in 2019 with Best Solo/Acoustic Artist in the European Blues Awards.

In 2022 Dom received an unprecedented five nominations at the UK Blues Awards including Blues Vocalist of the Year, Blues Album of the Year, and Acoustic Blues Artist of the Year, Blues Instrumentalist of the Year, and Blues Band of the Year.

"In some respects, the new album is like my 2019 debut album Spain to Italy, but still very different," says Dom about his latest album A Savage Life. "It's a mixture of acoustic solo and electric, however, I really wanted to keep this album under-produced so I can reproduce the tracks in a live setting. Similarly, to the Spain to Italy album, the tracks on A Savage Life are mostly based on my own life experiences."

"A Savage Life is another part of my life story and is also, in a small part, in memory of a great friend who passed away in 2021. It's my blues, it's real and I must live with it."
# # #
ERIC GALES JUNE 2022 UK TOUR, SPECIAL GUEST: DOM MARTIN

TICKETS AVAILABLE FROM
WWW.DOMMART.IN/TOUR
WWW.THEGIGCARTEL.COM
LEAMINGTON ASSEMBLY
THURSDAY 2 JUNE 2022

CHESTER LIVE ROOMS
SATURDAY 4 JUNE 2022

YORK, THE CRESCENT
SUNDAY 5 JUNE 2022

NEWCASTLE, THE CLUNY
MONDAY 6 JUNE 2022

BURY MET THEATRE
TUESDAY 7 JUNE 2022

BASINGSTOKE, THE HAYMARKET
WEDNESDAY 8 JUNE 2022
Dom Martin – Official Website: www.dommart.in