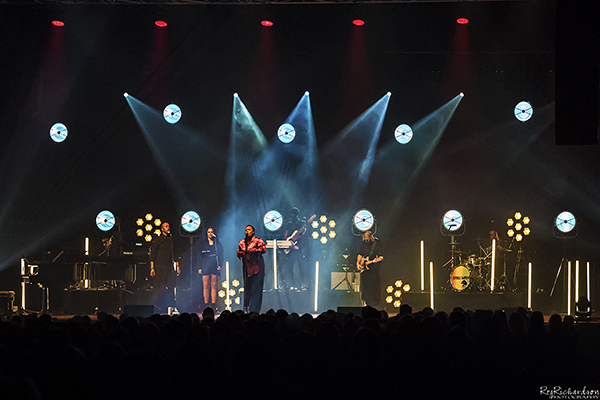 The Jazz festival returned to Cheltenham's Montpellier Gardens after having no events in 2020 or 2021 with a bright array of performers straddling, but not confined to, the jazz genre. The public were treated to everything from the R&B/soul of Lola Young (she was the voice behind last year's John Lewis Christmas advert) to the Americana Blues of Elles Bailey to the riff-filled Blues-Rock of Joanne Shaw Taylor to the Soulful Jazz of Gregory Porter to the Modern Jazz of Ronnie Scott's All-Star Band . . . and just about everything that sits between these. Gregory Porter had been enlisted as the Creative Director for t he event which ensured some top entertainment and organisation.
The Festival offers two main stages in Monpellier Gardens; The Henry Westons Big Top and the Jazz Arena which, between then can hold close to 3,000 people. In addition there are 'fringe' performances at venues close-by including the Cheltenham Town Hall and Cheltenham Ladies College as well as a free stage also in Montpellier Gardens where more traditional jazz was played for the entertainment of the passing public.
I was fortunate enough to be able to photograph a few of the marvellous performers on stage and these are my highlights of the festival.
On the opening night the star of the show was Emeli Sandé. Many people would associate Emeli with the Pop genre having had two chart-topping singles in association with Professor Green and Labrinth. She was also part of the #1 hit, 'Bridge Over Troubled Water' released by Artists for Grenfell in 2017. However, her Gospel, R&B and Soul roots came through admirably as she turned in a great set on a chilly night in the sold-out Monpellier Gardens Henry Westons Big Top venue where the capacity 2,000 or so people sat enthralled by her rich voice.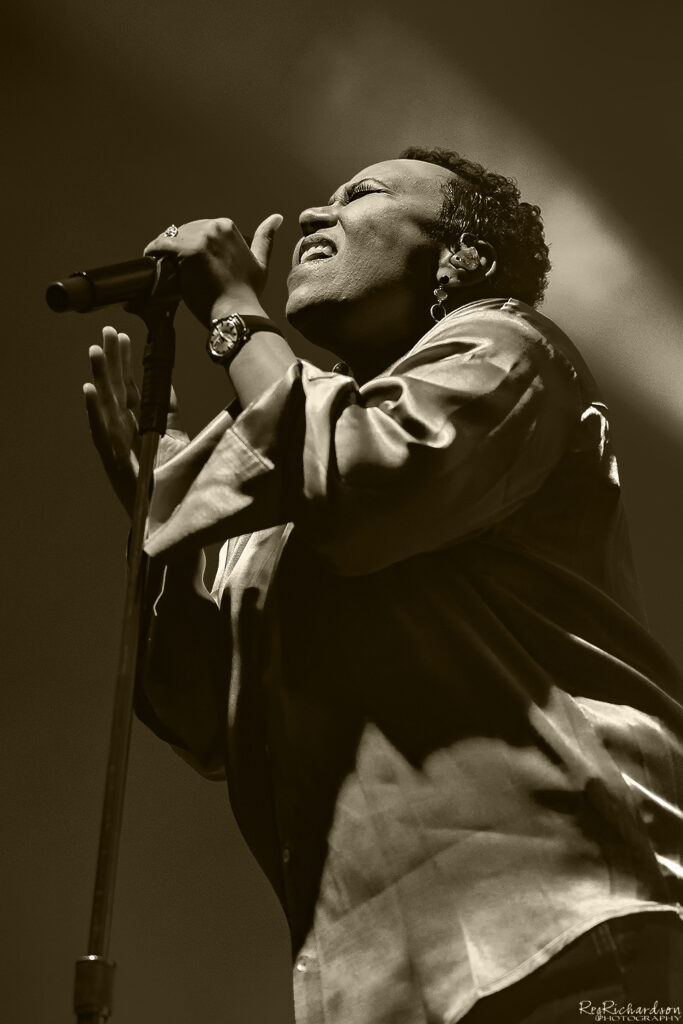 Day 2 of the Festival, offered more variation in the form of Blues-Rock star Joanne Shaw Taylor followed by the BBC Concert Orchestra in the Henry Westons Big Top playing for the live-broadcast Radio 2 Celebrates Jazz show in honour of this, the 25th, Cheltenham Jazz Festival – but the Concert Orchestra wasn't the only star of the show . . . . read on for more.
Joanne Shaw Taylor is a powerhouse for Blues-Rock, she throws everything she has into each performance and, from what I was able to see of this one, it was no different this time around. The smaller Jazz Arena was the venue and, not unexpectedly, was another sold-out show. Joanne has taken on the Americana-blues stance which belies her Midlands roots.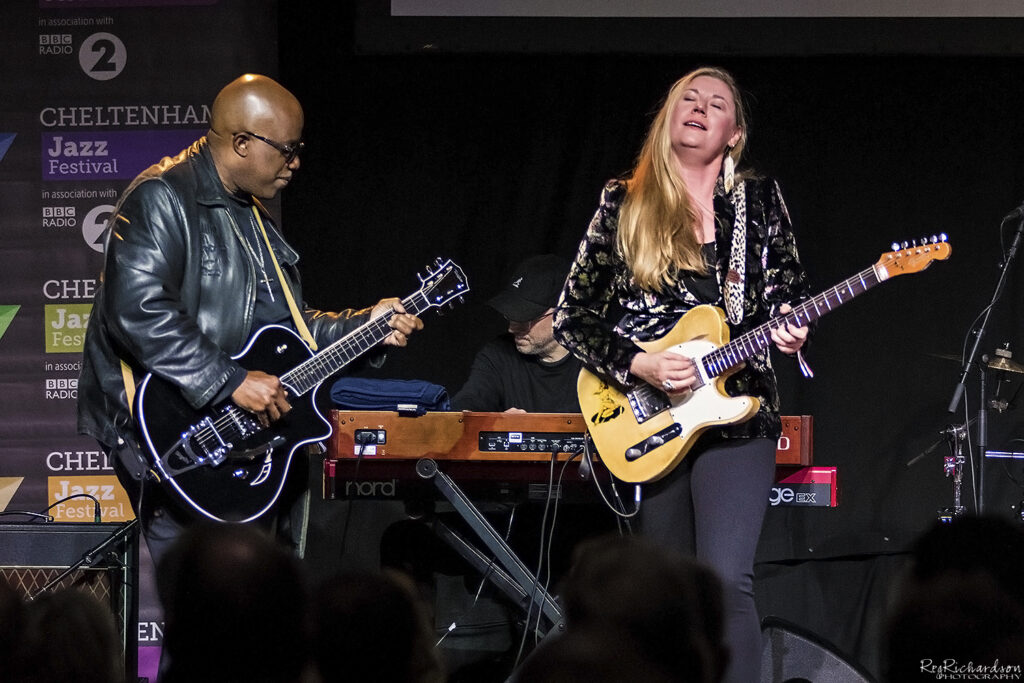 Unusually instead of the first 3 songs I got to stand and watch the final 4 songs of the performance put on by the BBC Concert Orchestra fronted by Guy Barker, along with his Big Band, and additional supporting input from numerous vocalists and instrumentalists. The final 3 songs, plus the finale, included Adeline (Adi Oasis), Tommy Blaize, Vanessa Haynes, Joe Stilgoe, Georgia Cecile, Giacomo Smith, Paloma Faith and Gregory Porter. The final 3 solo performances were from Giacomo Smith who played a speakeasy-style clarinet, Paloma Faith and Gregory Porter before all 8 performers reassembled on stage for a rendition of Ray Charles' 'What Did I say'. Paloma Faith not only exhibited a cracking voice but also a great sense of humour; I'd like to see her doing a full solo show somewhere. Brilliant entertainment.
On Friday I was only able to get to one show, but what a show. Corinne Bailey Rae entertained in the Henry Westons Big Top which was yet another sold-out event. I've never seen her live but would do so again if the chance arose; this young woman has a wonderful, powerful, voice that keeps you enthralled. Corinne is another of those multi-genre performers taking in blues, R&B, jazz and pop winning Grammy's and MOBO's along the way.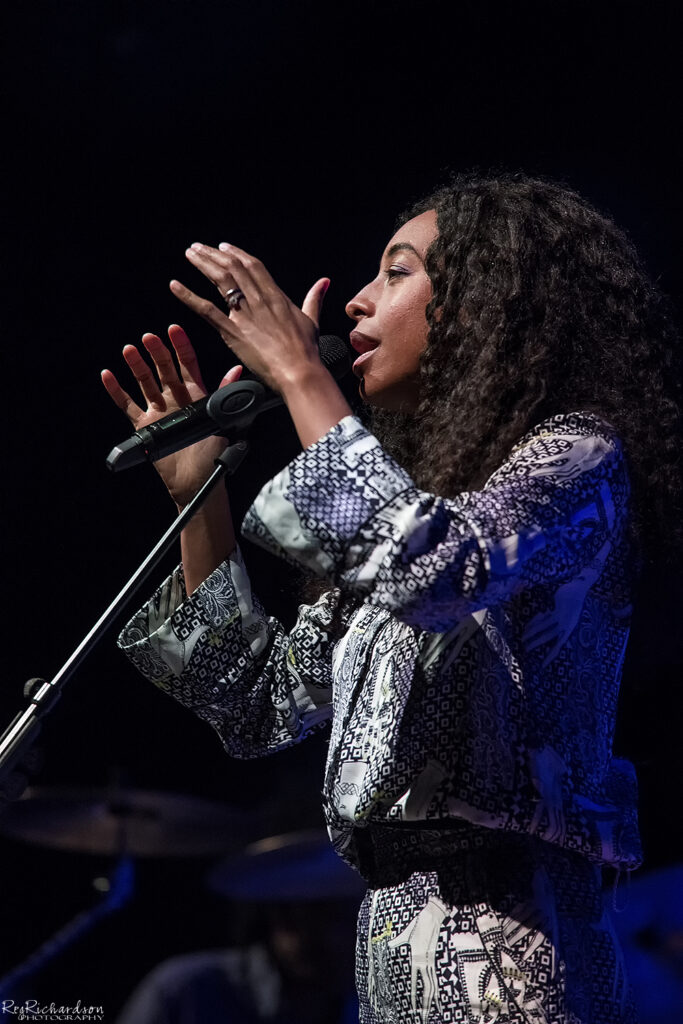 Saturday arrived and along with it, the first full day of entertainment.
For me the day started with Ronnie Scott's Big Band in the Henry Westons Big Top and, guess what, another sold-out show. The attraction for me wasn't just Ronnie Scott's band but a guest performance in the second half of the show by Irish songstress Imelda Mary Higham. Don't recognise that name – try Imelda May instead. The more trad jazz tunes pumped out by the band in the first half of the show was a throw back to my time at university when I'd visit a local jazz club in central Manchester. While not unfamiliar to jazz enthusiasts Imelda May is better recognised for her rockabilly style of music but tonight she gave the lucky audience an impassioned performance showcasing her fabulous voice and style as well as an unrivalled interactiveness with the viewing public.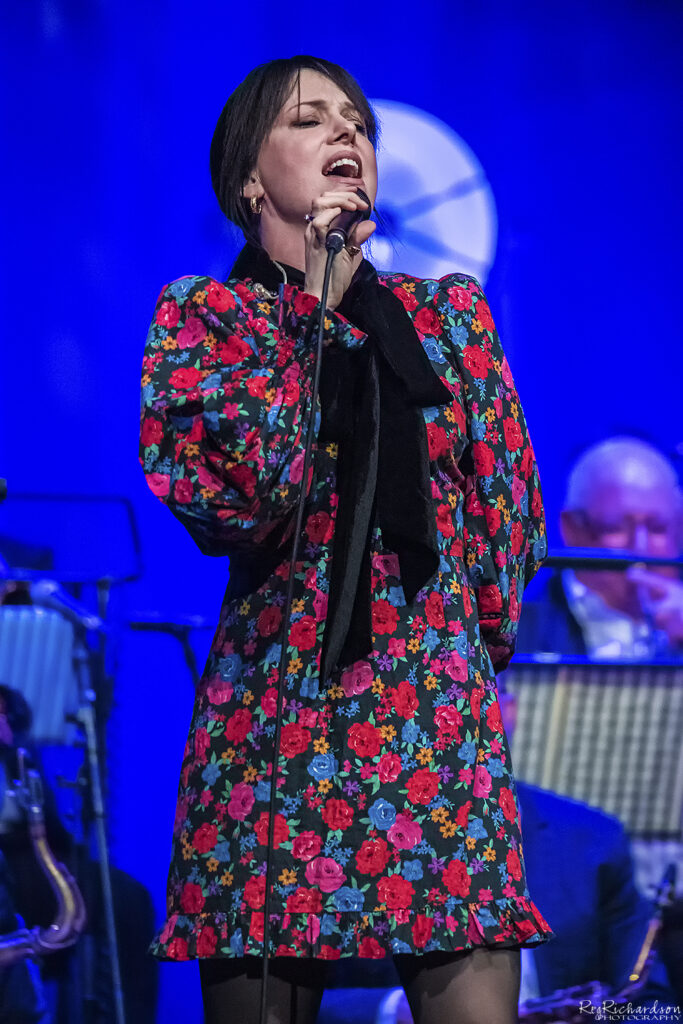 After a short rest the Henry Westons Big Top was fully occupied once again – this time for James Bay. Now, James is really an out-and-out rock musician, some edgy blues thrown in for good measure and even if any member of the audience was looking for a hint of jazz (which I don't think they got) they would not have been disappointed by this performance. One small drawback . . . James wanted everyone on their feet, and most obliged, meaning taking photographs from anywhere except right in front of him was pretty much a 'no'! Full of energy, a full band, a great sound, what wasn't there to like?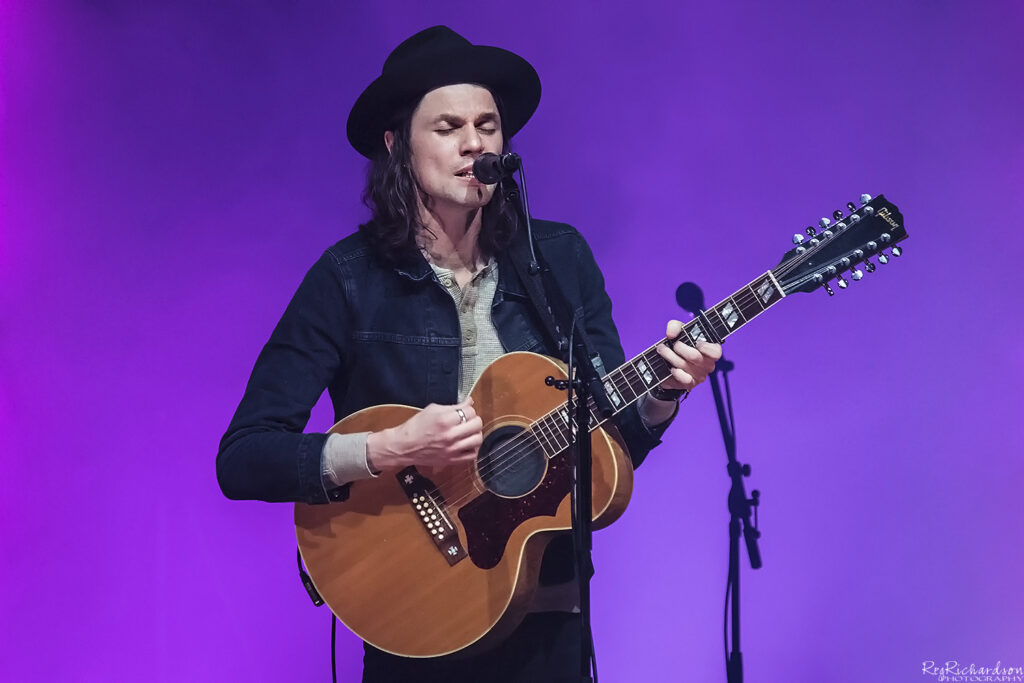 Sunday was a half-day for me; one which kicked off at lunchtime with Georgia Cécile followed by Elles Bailey for the Blues Showcase. Both singers gave it all they had and, in particular, Elles Bailey really hit the spot for me with her energetic blues voice in contrast to Georgia's more traditional blues/jazz sound. Don't get me wrong, I'd see both again in an instant and so would the, once again sold-out, Jazz Arena.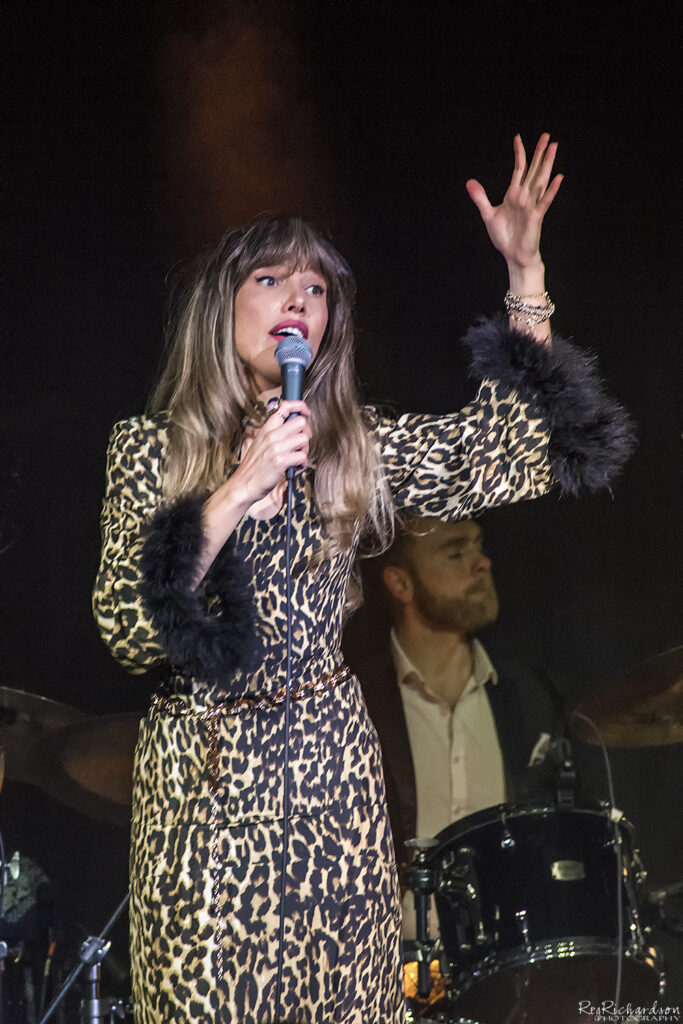 Following on from this delight I went to see Lola Young and Adeline (now renamed as Adi Oasis) and what a contrast between the two. Lola is a 21-year old singer whose voice belies her age but the style was more pop than blues . . . or jazz. That said, her voice was rich with a warmth that came right through. Adeline, or Adi Oasis whichever is your preference, had a more blues-rock attitude and that, coupled with her bass playing skills, took her to another level. A very accomplished guitarist and, yet again, a fabulous voice. So far there hasn't been a single performer that didn't put the ball out of the park vocals-wise. For my last show of the night, and the festival, it was a toss-up between Tom Odell and PP Arnold. I took one look at the smoke being generated for Tom and decided to go more traditional and watch PP instead where there was only marginally less smoke!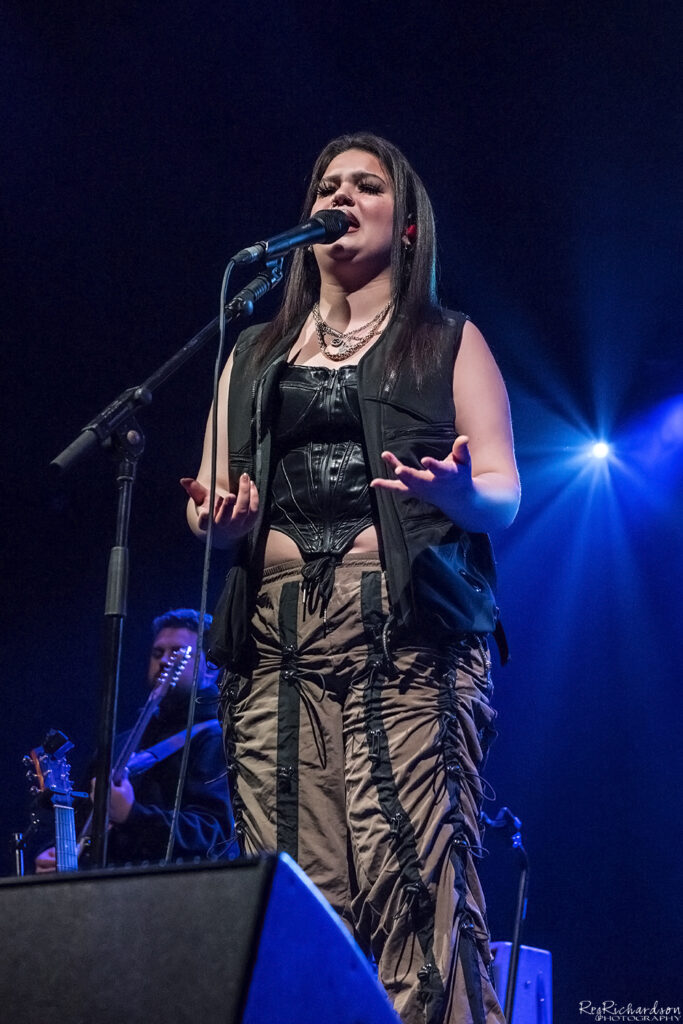 Known as London's Lady of Soul PP Arnold can hold herself against anyone when it comes to Blues, Soul and R&B. Tonight she performed brilliantly at Cheltenham Town Hall and there's not many 76-year old singers I can honestly say that about. She took to the stage with bright blue hair and crooned her way through the first 3 songs, a welcome respite from the more rock-oriented bands I'd seen so far this festival.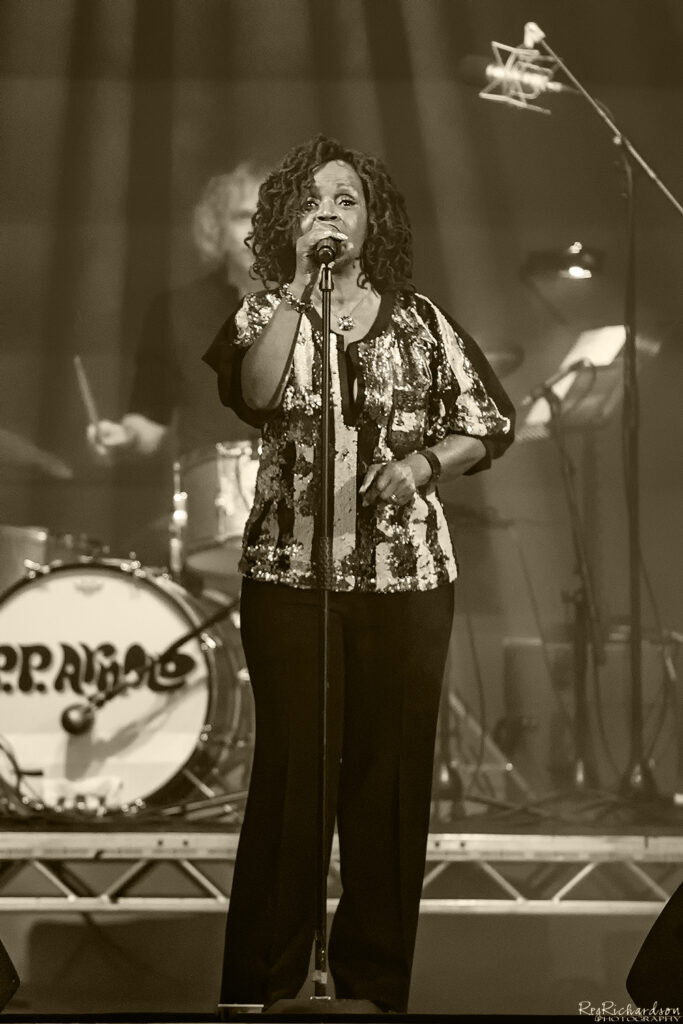 Sadly, that was it for me particularly as Robert Plant didn't want any photographers present. I was going to miss Monday entirely and unfortunately didn't get to see Gabrielle nor Jamie Cullum, but maybe next time.
I think the best of these highlights was seeing, and hearing, Elles Bailey and getting to watch the final few songs of the live BBC broadcast with the BBC Concert Orchestra along with the array of performers who supported. An absolutely excellent festival and one that I hope I can come back to next year.
Words and Images: Reg Richardson