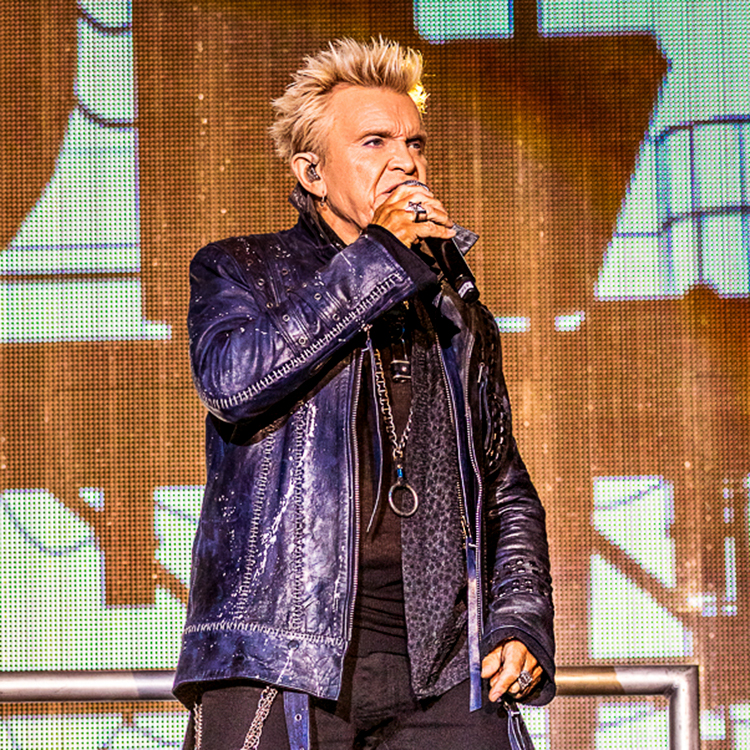 For the last 40 odd years Billy Idol has been one of the two musicians that I've always wanted to photograph, an opportunity to photograph the other one will never happen, for that was the late great Freddie Mercury. Although the two of them are very different characters with very different styles their music has always been unique, you cannot confuse either of them with any other. Last Sunday I was privileged to have the opportunity to photograph and review Mr Billy Idol and his guests at the Resorts World Arena in Birmingham.
Lend me your eyes, and open your mind, I will share the evening with you!
Toyah – The first guest of the evening was the immortal Toyah Willcox and her band. Everyone has heard of Toyah, everyone knows her songs, and Toyah certainly did not disappoint. She has the knowledge and the wisdom gathered throughout her years as an icon in the music business, allied to that she still has the physical presence, the energy, and vocal abilities that she has always had, none have deserted her in 4 decades, she was able to deliver the full package effortlessly to the very appreciative audience.
The set list for the evening was:
Thunder in the Mountains / Echo Beach / Good Morning Universe / It's a Mystery / Neon Womb / Space Dance / I Want To Be Free
From the start a full throttle no holds barred energetic performance saw Toyah pausing only briefly before Space Dance to elude to the dancing style of her husband of 36 years, a certain Mr Robert Fripp, the guitarist in and the founder of King Crimson who she said was in the audience, and then with a wicked laugh she dedicated it to him, and she was off again. Her set ended with one of the two tracks released as singles from the May 1981 album Anthem (the album which grabbed the publics' attention). The track, I Want To Free, was released just prior to the album and propelled Toyah into the limelight, that track was written she told us, when she was at school daydreaming wishing she was somewhere else! Toyah's performance certainly didn't leave any room for daydreaming, and if you wished you were anywhere else but there then perhaps you shouldn't have been there in the first place?
I've seen Toyah a couple of times now, she's never disappointed me, and this time was no different, it was a full on high energy performance from a very accomplished performer who I won't get tired of watching.
Killing Joke – So, what sort of reaction did that name have on you? Intrigue? Horror? Scepticism?
Killing Joke have been around a very long time, but they are most definitely not a mainstream act, they are, and rightly so, unique. Their ardent and dedicated fan base obviously love them, it was easy to see why. I've never seen them live before. Prior to the off as I stood in the pit ready to photograph them, I do have to admit I was firmly in the sceptical bracket.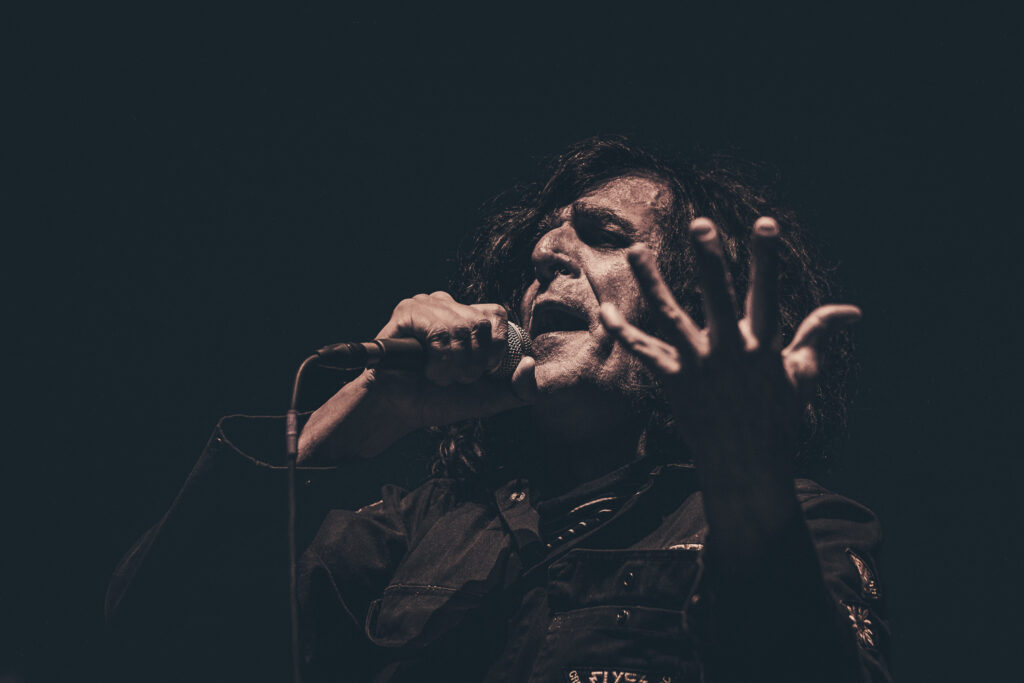 The dark, almost satanic eery atmospheric set initially made me wonder what I was about to witness? 'It', (the atmosphere) already had me at that stage though. Before the end of Unspeakable I could not only see the passion with which the set was being delivered from on stage, but I could feel it as well; there was an energy in there, a very raw basic energy was being circulated, you could feed off of this, this was different.
It would have been so easy to become a part of that energy, part of the whole 'raw' thing that was going on right around me. It quickly became apparent I would need to concentrate on taking images rather than allow myself to get sucked into the moment, to stand there, to succumb to and take part in the delectation of disturbing darkness which surrounded me, to allow myself to do that would have been to do the work of the devil.
The second track (Wardance) was introduced with the words "they're preparing us for war….". Very applicable given the edge on which the world currently teeters!
Tonight's set list consisted of, and we were treated to, Unspeakable / Wardance / The Fall of Because / Requiem / Butcher / Eighties / Change / Loose Cannon / The Wait / Pssyche / Pandemonium, all the tracks were effortlessly performed, all with a class that none can question. I look forward to seeing them again, soon!
Billy Idol – Love him or loathe him, the chutzpah that Billy Idol displays cannot be denied, neither can his talent, and nor can his longevity, even at the tender age of 66 years. I despise arrogance and I loathe attitude, but I've always loved his music, right from his very early Gen X days. There's something about Mr Idol that has always fascinated me and made me want to photograph him, definitely one of those 'Bucket List' things; it might be the sneer, it could be the collar, it may possibly be the swagger, I still don't know, but what I've always known is that he would make a fabulous photographic subject, and when the opportunity arose the gig was all that I expected it to be, it had everything I anticipated it would!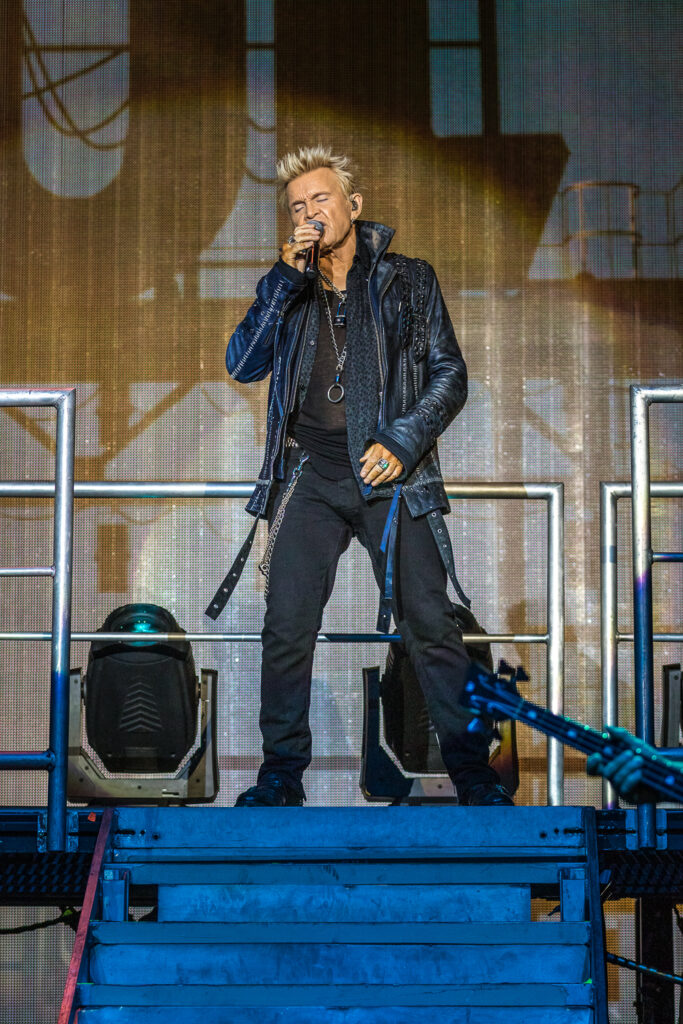 The opening track of the set, Dancing With Myself (a Generation X classic from 1980) was the first offering of the evening from Billy, no doubt to get a reaction from the audience, did they need it, hell no! They were primed and they were ready for the rock behemoth, and for everything he sang and said during his set. Next up was Cradle of Love, a 1990 Idol written track, from the Charmed Life album. Again the audience loved it, and they joined in just to prove it! An impromptu 'striptease' from Mr Idol, was the precursor to Flesh For Fantasy. The three very refined prim and proper not-so-young ladies in the front row right behind me turned immediately into screaming banshees as the leather jacket came off, followed by the shirt, and the singlet; there was, for those 3 ladies at least, flesh, flesh for fantasy, but later that evening!
A reference to the film Speed (staring Keanu Reeves) hailed the track of the same name, written by Billy and his regular collaborator Steve Stevens. The energy of the track has not diminished one single bit, it still has everything it had when it was initially released as part of the film soundtrack back in 1994.
Billy then spoke of his continuing desire to work with new and emerging talent, and of how 'they' (the band) are always on the look out for artists to collaborate with. This led on to how during lockdown he had needed a subject to write about, the pandemic he told us was too close to home at the time, so having avoided the subject for 3 decades, he decided on writing about his 1990 motorbike crash where he sustained serious physical injuries. Bitter Taste was the outcome.
The haunting Eyes Without a Face is next. This was written using the French horror film "Les yeux sans visage" as the inspiration. The film is about how a plastic surgeon, whose daughter had her face disfigured in a car accident, vows to restore her face, so he uses the faces of murder victims, failing time after time until all that is left of her, are, eyes without a face. Billy disappears from the stage and his departure is followed by a huge Steve Stevens guitar solo which receives rapturous applause, it is during this applause that Billy returns to the stage to deliver the perfect Mony Mony, a personal favourite of mine!
Running From the Ghost is all about Billy's struggles with drugs in the 80's & 90's. He tells us, very openly and honestly (in his trademark gravelly voice) of the struggles surrounding his addiction. This track is fabulous, this along with his frank chat should be played as part of any therapy programme, it will hit home. It's definitely a new favourite of mine.
Next up is another nod to his Generation X days, the fabulous One Hundred Punks, I love it! This is followed by Blue Highway / Top Gun theme, then the high energy anthem Rebel Yell is served up. This is a track that the audience have obviously been expecting and waiting for, looking around I cannot see one single person, including me, who does not join in with "More, More, More".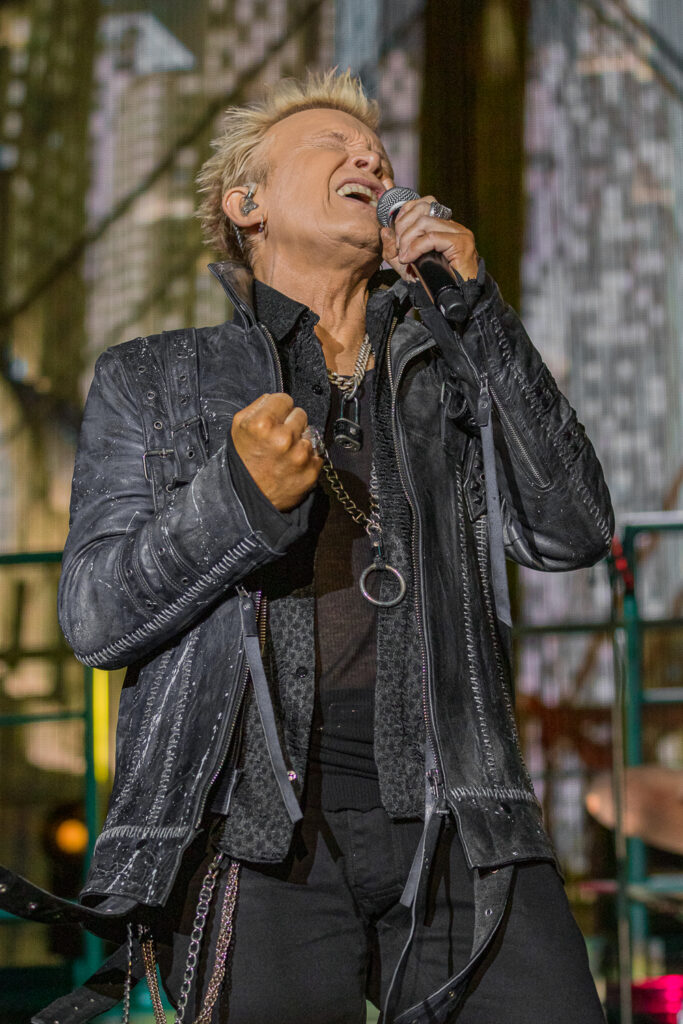 The band depart, but they are soon back for the encore and they serve up Rebel Like You and Born To Lose (a Heartbreakers cover), the realisation that the end of the gig is nigh strikes that deadly blow, the feeling of sadness that the gig is ending, but the elation that you were there, that you were part of it all; only one song will do now…..and that is? Yes, it's White Wedding! I don't need to say any more about this, it's sold itself countless times over and over again. It's an audience favourite and the audience participated fully, as I would have expected them to, not a single soul was unaffected, every single soul in the venue wanted to be part of the climatic finale.
Would I have changed the set list? No, I don't think so!
Billy Idol, The King Rocker still retains his crown!
Words & images: Haydn Wiltshire