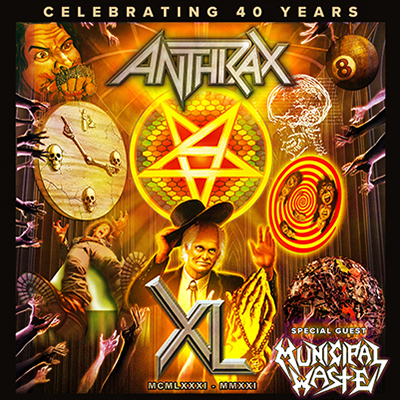 Speed Metal Punks Municipal Waste Will Be Main Support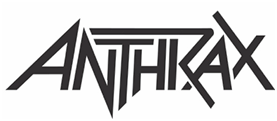 Celebrating its 40-year tenure as one of music's premier thrash metal bands, Anthrax announces its first European tour since the summer of 2019. Kicking off on September 27, 2022 in Birmingham. Crossover thrash band Municipal Waste will support on all dates. Tickets on sale now; go to www.anthrax.com for all purchasing information.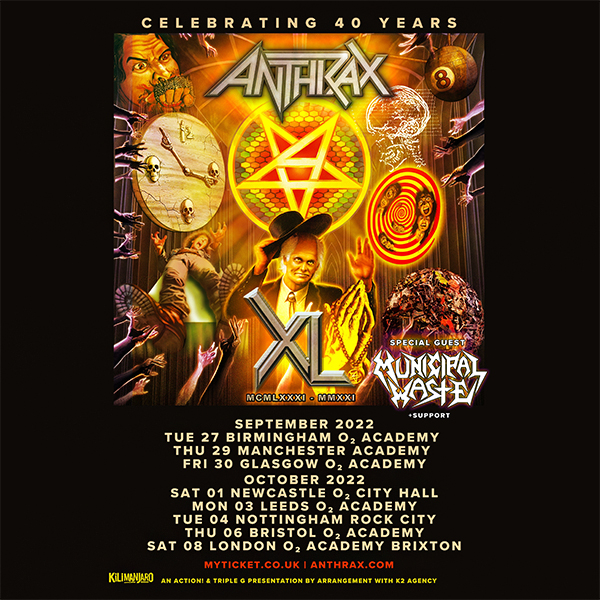 "It sure has been a long time since we rock'n'rolled in the UK and Europe," said Anthrax's Charlie Benante, "but we're coming back soon to bring the noise to all of you guys. Being that we can't get over there until 2022, we're going to make sure that every show will be an eventful one. We won't just be playing four decades of songs to celebrate our ongoing 40th anniversary – hey, we'll be giving YOU some history! – but we just might have some brand new ones for you as well. Can't wait to see all your happy, smiling faces!!!"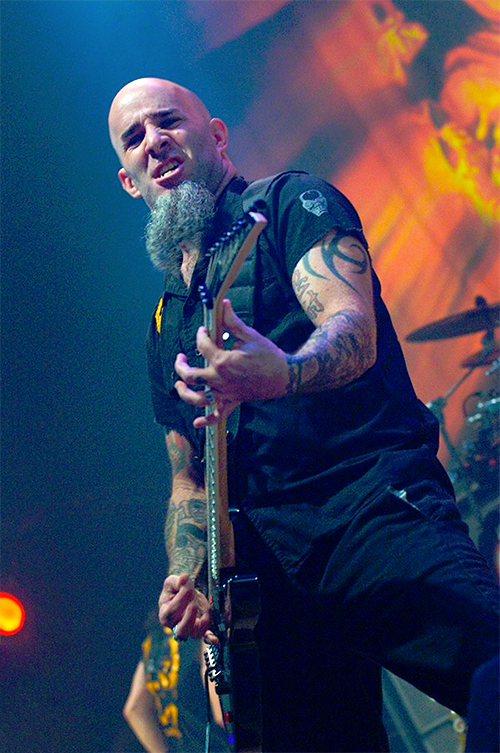 On this tour, fans can expect Anthrax – Joey Belladonna/vocals, Scott Ian/rhythm guitar, Frank Bello/bass, Charlie Benante/drums, and Jon Donais/guitar – to draw from all four decades – fan favorite and deep cuts – for their nightly setlist.
"There's just something special about Europe," said Belladonna. "Our fans there have always had a full-fledged excitement about our shows, and I enjoy performing more than anyone can imagine, so we're really looking forward to this tour."
Dates for the UK leg of Anthrax's 2022 European tour are as follows:
SEPTEMBER
27 O2 Academy, Birmingham
29   O2 Academy, Manchester
30 O2 Academy, Glasgow
OCTOBER
1 O2 City Hall, Newcastle
3 O2 Academy, Leeds
4 Rock City, Nottingham
6 O2 Academy, Bristol 8 O2 Academy Brixton, London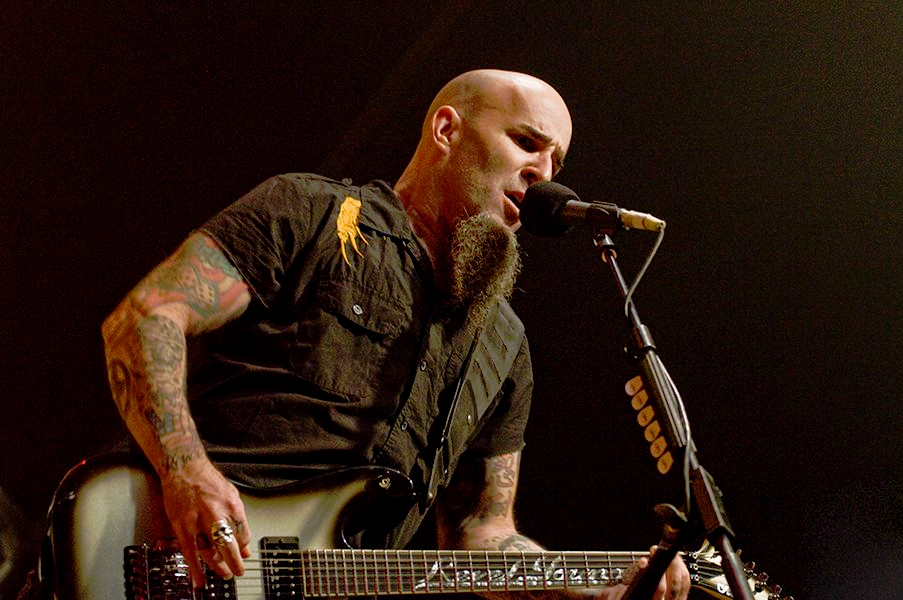 July 18, 2021 marked Anthrax's 40th anniversary, during which time the band released 11 studio albums, was awarded multiple Gold and Platinum certifications, received six GRAMMY nominations, and a host of other accolades from the media, the music industry, and fans. In 1991, the band helped break down race and genre barriers when they collaborated with Public Enemy on the track "Bring The Noise," and was the first metal band to have its music heard on Mars when NASA played "Got The Time" to wake up the Mars Rover in 2012. Along with Metallica, Slayer, and Megadeth, Anthrax is a card-carrying member of The Big Four, the four bands that defined the speed/thrash/metal genre. Anthrax has also introduced a series of now sold-out signature whiskeys and bourbons and partnered with the Stockholm-based NEZUMI Studios for a high-end, limited-edition Baleine dive watch. Twenty-twenty-one also saw the release of Z2 Comics' "Among the Living" graphic novel with a track-by-track storyline inspired by Anthrax's iconic 1987 album, Among The Living. The book pulls together a "who's who" of names from the worlds of comics and music who created "bubble dialogue" and original artwork to express what the songs meant to them. Taking advantage of COVID-19's prohibition of concert touring, the band has been hard at work writing the next Anthrax album.
For Anthrax, 2022 is already off to a great start, but their 40th anniversary isn't quite in the band's rear-view mirror. Unable to launch a planned 40th anniversary world tour due to COVID, the band will launch that World Tour this year. The celebrations start with an headline trek in the UK and Europe in the fall.
About the band:
Anthrax is an American heavy metal band from New York City, formed in 1981 by rhythm guitarist Scott Ian and bassist Dan Lilker. The group is considered one of the leaders of the thrash metal scene from the 1980s and is part of the "Big Four" of the genre, along with Metallica, Megadeth and Slayer. They were also one of the first thrash metal bands (along with Overkill and Nuclear Assault) to emerge from the East Coast.[1] The band has released 11 studio albums, several other albums, and 26 singles, including collaborating on a single with American hip hop group Public Enemy. According to Nielsen SoundScan, Anthrax sold 2.5 million records in the United States from 1991 to 2004, with worldwide sales of 10 million. Four of the band's studio albums have also achieved gold certifications by the RIAA, including their third full-length record Among the Living (1987), which cemented Anthrax's reputation as one of the most successful thrash metal bands.[2][3][4][5][6][7]
Anthrax's lineup has changed numerous times over their career, leaving Scott Ian as the only constant member of the band. The band has had a revolving cast of singers and lead guitarists, including Neil Turbin, John Bush, Dan Spitz and Rob Caggiano. Since 2013, the band has consisted of Ian, drummer Charlie Benante, bassist Frank Bello, vocalist Joey Belladonna and lead guitarist Jonathan Donais. Ian and Benante (who replaced one-time drummer Greg D'Angelo in 1983) are the only two members to appear on every album, while Bello has been a member of Anthrax since 1984, replacing original bassist Dan Lilker. After two stints in Anthrax, from 1984 to 1992 and again from 2005 to 2007, Belladonna returned to the band in 2010.
Anthrax is:Scott Ian/guitars, Frank Bello/bass, Charlie Benante/drums, Joey Belladonna/vocals, Jonathan Donias/guitars.
Official Links