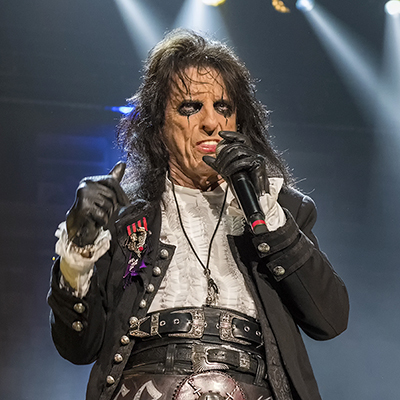 This was touted, by some, to be a co-headline tour between Alice Cooper and The Cult, but, in reality, few people were in any doubt whatsoever as to who was the headline band!
It's been seven years since I last saw Alice Cooper and, back then, the band were touring on the undercard to Mötley Crüe who were undertaking their 'farewell tour'. As part of the tour which took place around Halloween Alice Cooper announced three headline shows away from Mötley Crüe. One of those shows was in Plymouth where I saw them for the first time after having listened to the band for around 45 years!
Before the master of shock'n'roll came on stage we had South-coast band Creeper doing a short set followed by The Cult. Shortly after getting into the venue and collecting my credentials I was told that, like the Glasgow show, The Cult were not allowing any photographers – not only in the press pit but from anywhere inside the arena. Thankfully that turned out to be false and we were allowed to photograph the band from almost half way back in the venue – better than nothing, but not for everyone as it turned out. More on that later.
First on stage was Creeper, a six-piece (touring set-up) band out of Southampton. Describing themselves as a Horror Punk or Goth Rock band seems to be at odds with their appearance but the band are full of energy, slightly pop-py at times, and interacted really well with the audience. This was a short set, just 5 songs, two from each of their previous albums, Eternity in Your Arms (2017) & Sex, Death and the Infinite Void (2020), and one from their most recent EP, American Noir (2021).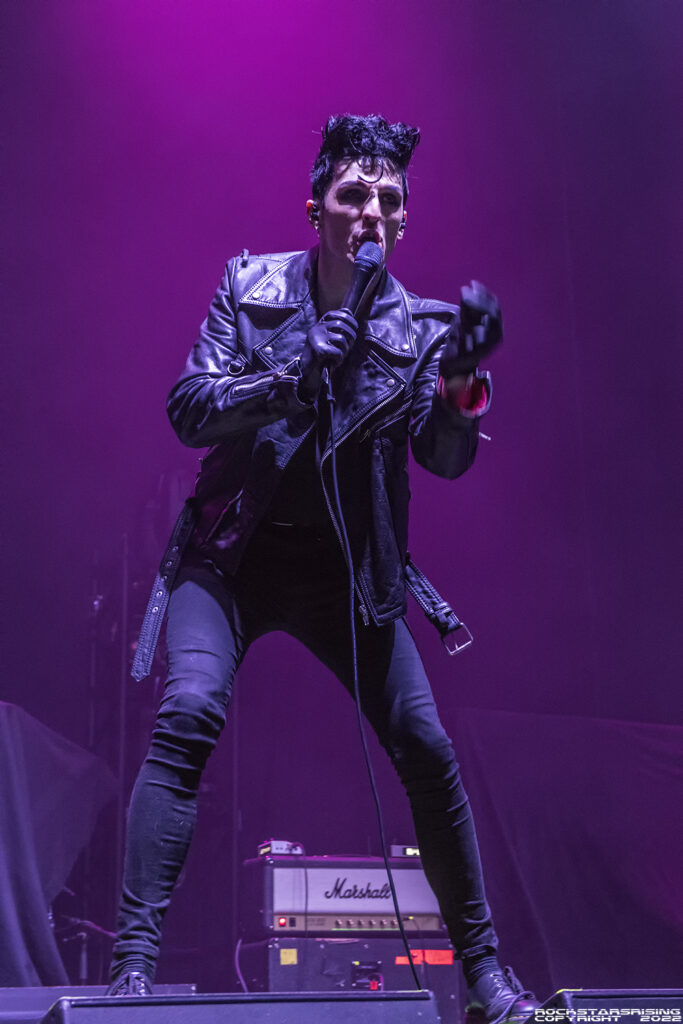 Fronted by the very theatrical Will Gould, the band played, danced and performed above and beyond what I expected. They kicked off with the catchy 'Cyanide' then a change of pace for 'Thorns of Love'. 'Down Below' came next with its Misfits-esque sound and this followed by 'Midnight' from their 2021 EP. The band finished with 'Annabelle', a song with a bigger sound than the others but just as musical. The band deserved a longer slot than just 25minutes but it left many in the crowd wanting more and I hope they go on to much bigger things given the exposure they've had on this tour.
The origins of The Cult go back to 1981 when founding member Ian Astbury formed Southern Death Cult in Bradford. In 1983 he joined with Billy Duffy and the name changed to Death Cult before finally settling on The Cult at the start of 1984. Although the single, 'Spiritwalker' released in 1984 topped the UK Independent Chart it was their fourth single, released the following year, that planted the band in most music-lover's memories. That single was 'She Sells Sanctuary' and has remained a fan favourite ever since. Thankfully it was on the setlist tonight – how could it not be!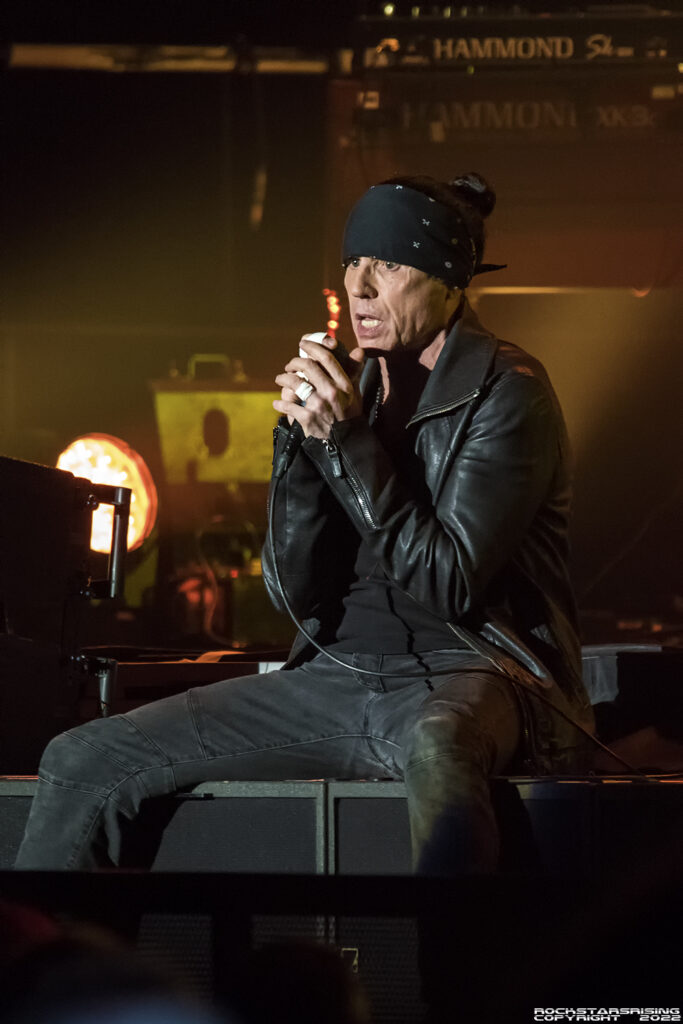 Now for the fun part . . . the photographers assembled almost half way back in the arena over to one side but as soon as he came on stage Ian Astbury told the audience to get on their feet. For me, not so much of a problem but for the vertically challenged amongst us it was a bit of a disaster.
The set relied very heavily on the singles released prior to 1990 and kicked off with 'Sun King' and 'Sweet Soul Sister' from Sonic Temple (1989) and these split by 'Automatic Blues' also on the album and released as a maxi-single also in 1989. Ian Astbury has one of those highly distinctive voices that is unmistakable and the songs flow with a strange familiarity. The Sonic Temple source continued with 'Soul Asylum' and 'Edie (Ciao Baby)'. A change of album source for the next three songs with 'Aphrodisiac Jacket'. 'Lil' Devil' and 'Wild Flower' all being plucked from 1987's Electric album but the return to Sonic Temple seemed inevitable; and so it was with the band knocking out 'Fire Woman'.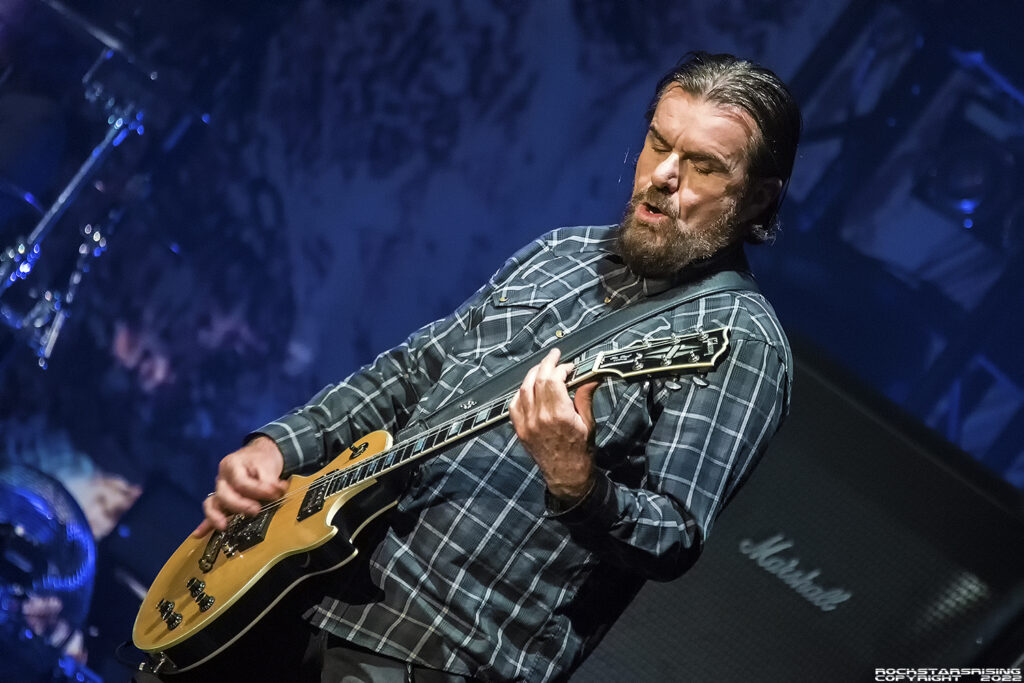 The band seemed to be in a time warp and instead of playing any of the newer material they went even further back, to 1985, and the Love album from which their anthemic single originates. The three singles taken from the album were played consecutively, starting with 'Revolution'. This was followed by 'Rain' and then the ever popular 'She Sells Sanctuary'. What were the band going to finish with . . . something new? Well, no, it was back to Electric for the closer, 'Love Removal Machine'.
Throughout the performance Billy Duffy's guitar roared alongside the inimitable Ian Astbury as the band continue to entertain with a collection of brilliant songs.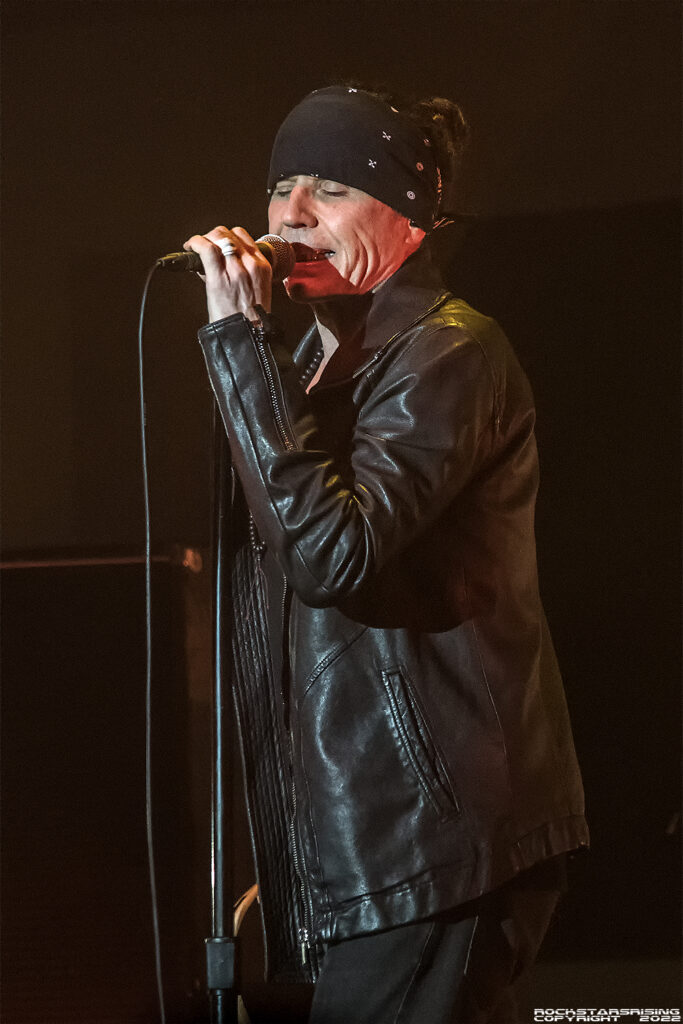 Having said all that, despite the band having had six studio albums out since 1991 everything on the setlist tonight came from just three of the albums released in the 1980's. Are the band dissatisfied by their later work? Perhaps we'll never know but they seemed to supply what the audience demanded and there was a significant number of people there to see The Cult.
It's time for Alice Cooper's Nightmare Castle to open its doors.
As expected it didn't take any encouragement from anyone on stage to get the entire audience back on its feet. Alice Cooper walks through the castle doors on a smoke enwrapped stage to rapturous cheers and applause as 'Nightmare Castle' tuneage is played in the background. Within seconds the band launch into 'Feed my Frankenstein' and from this point it's full on, no punches pulled shock'n'roll. Now, 20 songs in around 75minutes doesn't give much time between tunes so it was pretty much non-stop action. With songs taken from the 1971 releases Love it to Death and Killer right through to 2021's Detroit Stories the band covered just about everything Alice Cooper could possibly offer. Yes, there were fan favourites that were missing but the band would have been here all night (if only!) to answer everybody's needs.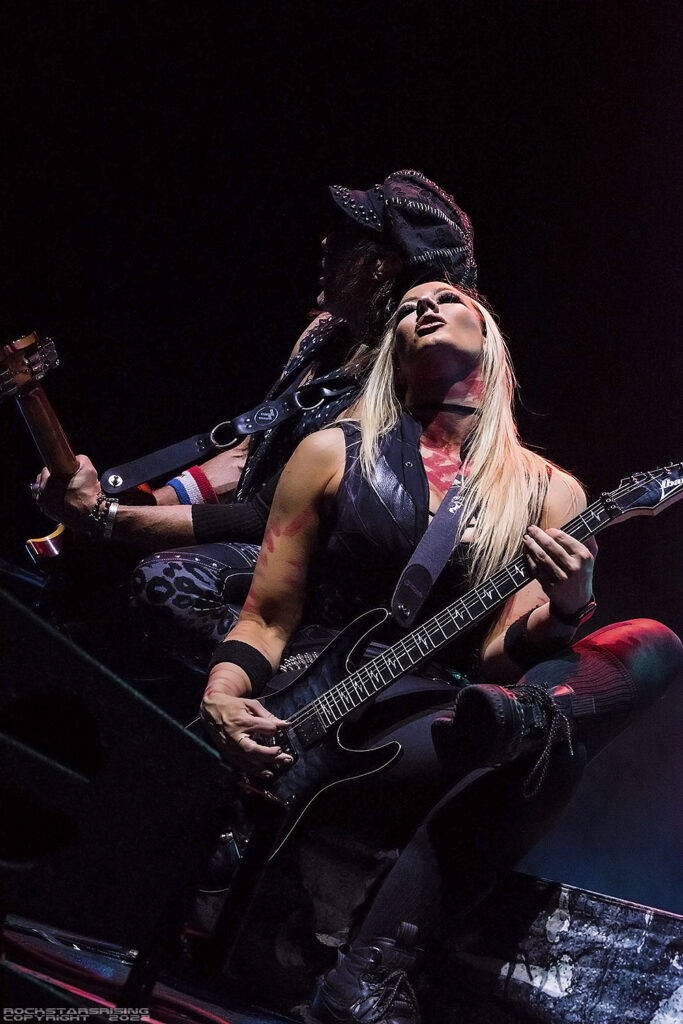 Down at the front I got to see 'No More Mr. Nice Guy', 'Bed of Nails' and 'Hey Stoopid' close up and watched the rest of the set from further back. Here's some of the highlights. The testing vocals of 'Under my Wheels' proved little problem but AC did get a break after this to make way for a superb solo from Nita Strauss. For 'Roses on White Lace' we see Sheryl Cooper come on stage in white dress and ghostly make-up and this was followed by 'I'm Eighteen' with old man Cooper sporting a crutch. If you're into 10ft tall babies then 'Billion Dollar Babies' is just for you. As the song gets moving a giant baby's head appears in the 'castle' tower before the baby comes bursting through the wall on to the stage. Time for another short break for the boss as the band play 'Devil's Food' and then have 'The Black Widow Jam' which is followed by a drum solo and time for Glen Sobel to shine. The very weird 'Steven' is next as AC is dragged onto the stage in a straightjacket; it's the strange sounding vocals that make this song stand out so much.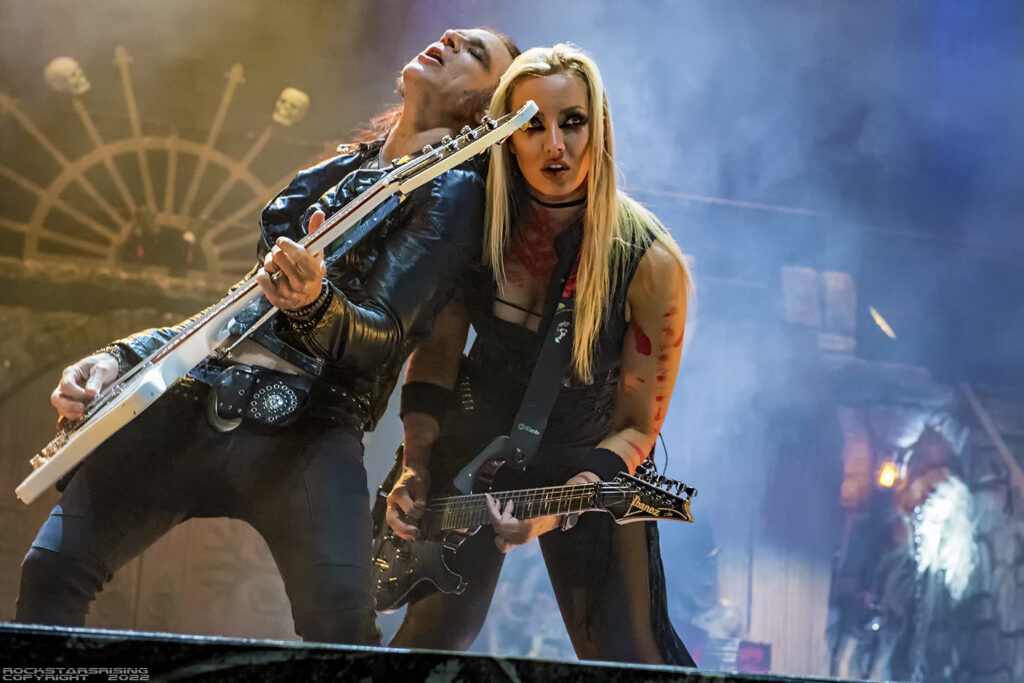 We're getting close to the end but not before Sheryl makes further appearances during 'Dead Babies' and then 'I Love the Dead'. She appears dressed all in black, pushing a pram around the stage and collecting a 'dead baby' brought on by AC first and then no show would be complete without the boss losing his head – and only Sheryl can look so pleased with herself after picking her other half's head out of the guillotine basket!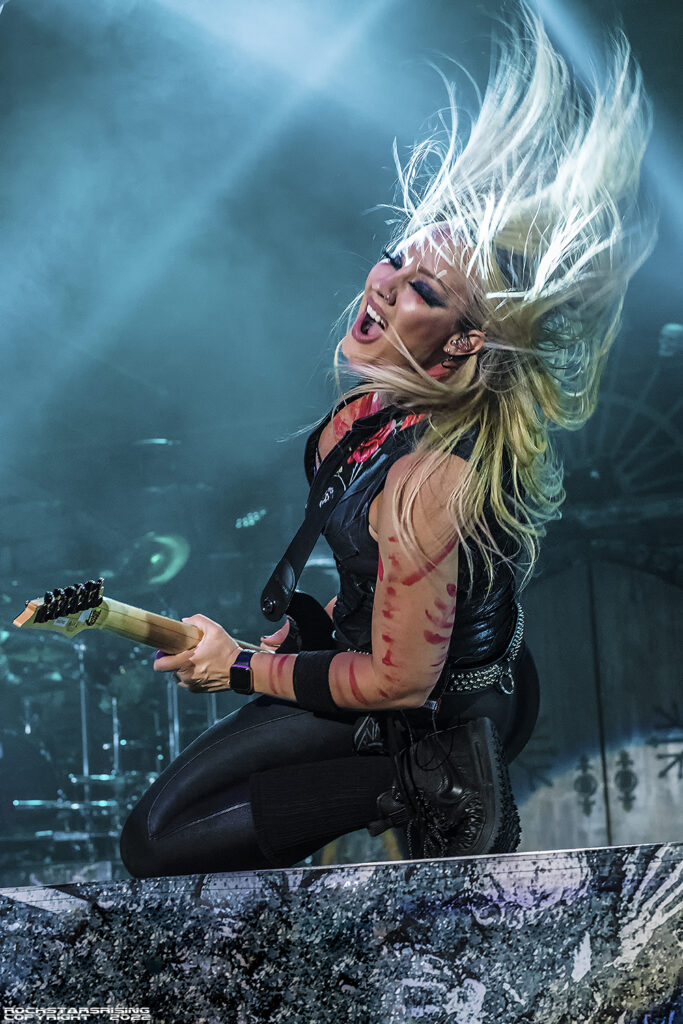 The set starts and ends with Frankenstein's involvement. 'Feed my Frankenstein' at the start, 'Teenage Frankenstein' at the end.
The encore is the crowd favourite, 'School's Out' with a snippet of 'Another Brick in the Wall' from Pink Floyd chucked in for good measure.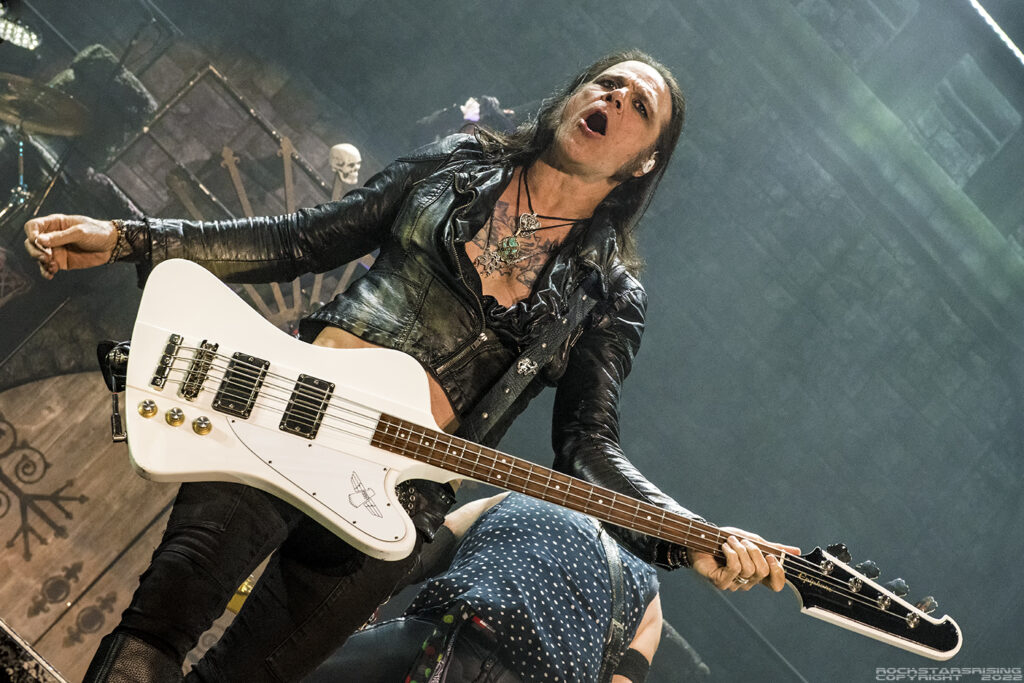 What can you say about Alice Cooper that hasn't already been said? The truth of the matter is 'not much' because it has all been said. He's a showman, an entertainer and, at times, a shocker. Having said that, after more than 50years in the business he continues to thrill audiences all over the world, I just hope he's not thinking of packing it in any time soon. A fabulous evening of goth rock, punk and shock'n'roll. More please.
Words & images: Reg Richardson